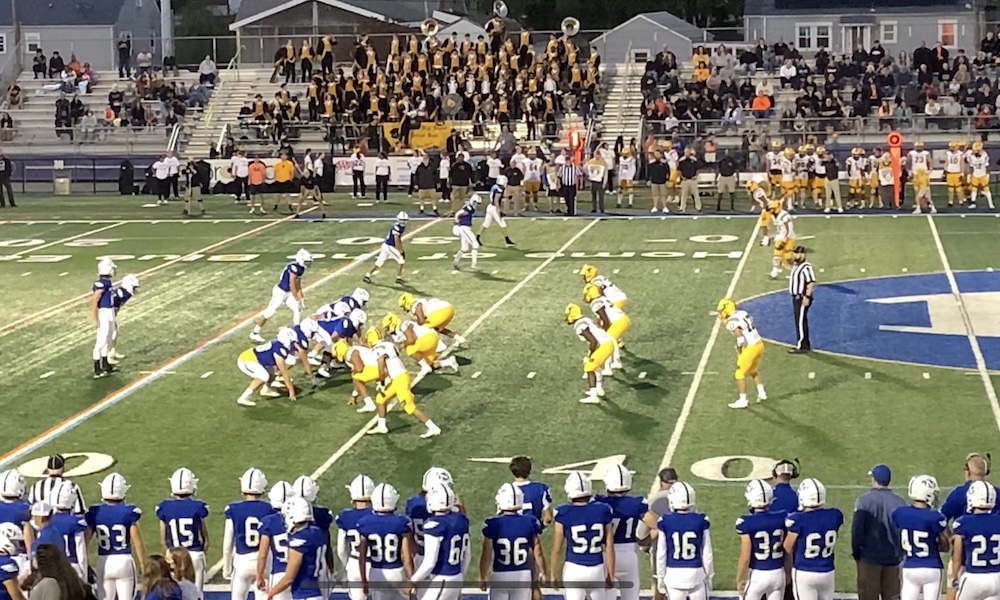 Last Friday night was filled with plenty of tension for both Nazareth and Freedom fans and athletes alike. This was their first game since their District 11 Championship game last year at Whitehall's Zephyr Stadium. After making a miraculous comeback last week against Bethlehem Catholic, Nazareth was in pursuit of another win to add to their record. Freedom was looking to redeem themselves, as they had lost to Parkland the week prior.
Throughout the first half, the game remained very close amongst the two teams. Nazareth would be the first to score a touchdown and an extra point, gaining a 7-0 lead. This lead would be short-lived however, as Freedom soon followed with a 28-yard pass for a touchdown. With the extra point scored, they tied the score up 7-7.
Entering the second quarter, Nazareth's Tyler Rohn carried the ball into the end zone for a one yard touchdown for the Blue Eagles. With the kick up and good, Nazareth gained the extra point and brought the score up to 14-7. Freedom also scored a one-yard touchdown and the extra point.
At halftime the score was 14-14. For the rest of the game though, Nazareth failed to take the advantage over Freedom, leaving the score 24-14 at the end of the third quarter. Nazareth scored one more touchdown in the fourth quarter, but by then it was already too late. Freedom finished the second half leading by 17 points.
Although Andrew S. Leh Stadium was filled with great tension during Friday's game, it was also filled with plenty of orange from Nazareth and Freedom fans alike. Nazareth's Eagle's Nest decided to wear orange to Friday's game to raise awareness about leukemia, since a Nazareth alumni from the Class of 2021, Caid Lutz, is currently battling cancer. Though the initiative was started by Nazareth students, Freedom took to social media days later and announced that they would also encourage their own students and fans to wear orange to support the cause.
Both Nazareth and Liberty currently hold a 3-2 record, and both teams will be playing at BASD Stadium for their next game. Freedom will be playing against Allentown Central Catholic on Friday night, and Nazareth will be playing against Liberty Saturday night.