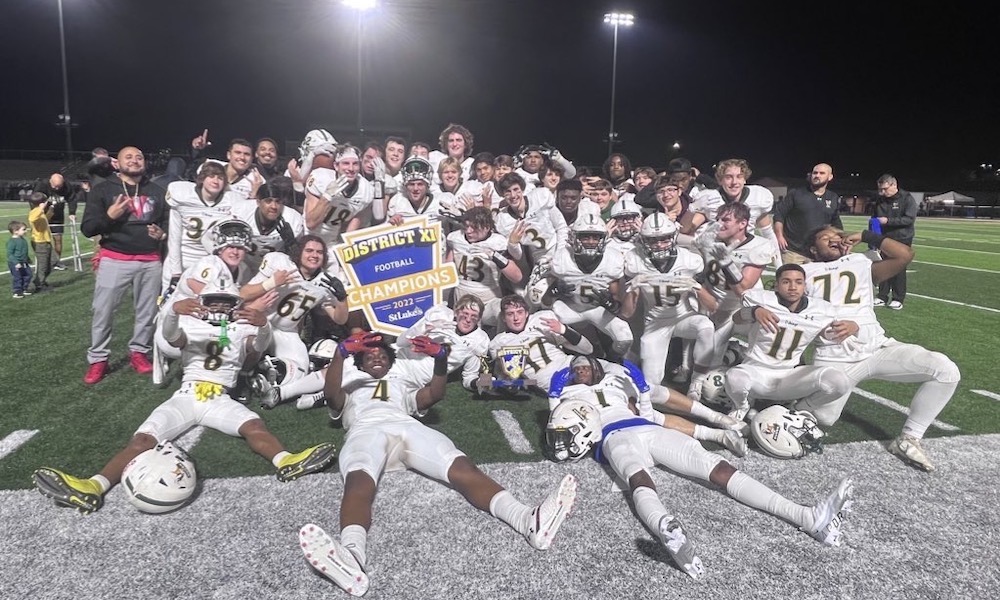 Will he be back on the sidelines someday? Never say never! That is how my article ended in 2020, when Rob Melosky stepped down as the Head Football Coach at Pocono Mountain East. Now, three years later, Melosky is set to return to the sidelines after being named the new Head Coach at Allentown Central Catholic, replacing Tim McGorry, who stepped down after four years leading the Vikings.
McGorry loved his stay at Central Catholic, a place that he won a State Championship as a player in 1998 and a place he led the Vikings to three District XI 4A titles over his four years. This past season, he guided the Vikings all the way to the PIAA 4A semifinals vs Aliquippa.
As his new role as a Community Ambassador for St. Luke's Sports Medicine continues to take up much of his time, McGorry, is saying goodbye to his alma mater, a decision he has known for a while, but finally making official. McGorry tells D11Sports.com, "It was kind of in my head a little bit right after the loss to Aliquippa and I was going take some time over the holidays to decide. To be a Head Football Coach, you need to be in the weight room every single day in the offseason and you need to be around these kids be able to hold them accountable. My schedule at St. Luke's was not allowing me to be in there very often and I think that's sending a bad message. The most important thing to me is Central Catholic football and making sure that the progress we've made over the last four years continues."
With that said, McGorry, feels very good that his Viking Football family is in good hands, and the timing was perfect knowing Melosky was looking to get back on the sidelines after turning down an offer from Bethlehem Catholic last month. McGorry said, "I think it made perfect sense for me to step aside, given my schedule and his availability of being retired. He's had a lot of success and he's been on our staff for two years helping with the offensive line and the run game. McGorry added, "I'm sure he's going to change things and add his own stuff offensively and defensively, and I think part of the reason myself, Rob, Dennis Csencits, and Randy Rice wanted to go this route, was to try and keep as much continuity within our coaching staff as possible and he understands that's one of the things about Central Catholic."
While McGorry ends his reign 32-17 over four years with multiple District Championships, Melosky brings in a ton of experience as well, having won a State Championship with Parkland in 2002 and then winning a District XI title in 2011 when he was the Head Coach of the Nazareth Blue Eagles. Melosky also guided Pocono Mountain East to the District playoffs for two straight years and for the first time since the 1987 season.
Melosky said, "There are not many jobs I would consider, and Central Catholic is probably really the only one I would because of what the team has established, the continuity that we have already on the staff, and the experience that we have with the players."
He added, "I told Tim, I had no idea that he was considering stepping down and he has done a tremendous job with his new position at St. Luke's and just it seemed right for him to step down and allow things to keep going in the right direction and present me with the title as Head Coach. I look forward to having his help whenever he has time and thank him for all his hard work and energy that he has put into the program, and I look forward to continuing that."
In 2018, Melosky battled through Stage 3 Tonsil Cancer battling days of radiation and chemotherapy, but a couple months back, he was pleased to share that he is cancer free after five years. "I know what my energy level can keep it going in the right direction and it was a foundation that has been built by Tim and the coaching staff and I'm here to continue with hard work moving forward."
This will mark his fourth time as a Head Coach at the Varsity level, following success at Parkland, Nazareth, and Pocono Mountain East. As for his new position as the Head Coach of Central Catholic, Melosky couldn't be more excited. He said, "Central Catholic is a tradition-rich program, you know what Jim Morgans established here in the late 80s-90's, and it continued with Harold Fairclough, John Cupples, Tim McGorry and others."
Melosky concluded by saying, "I am very excited to be back on the sidelines. This is an honor and a privilege to be a part of this program. I am fortunate to have this opportunity."
Wishing the best of luck to Rob on his new venture on the sidelines and Tim on what he has accomplished and his future moving forward.