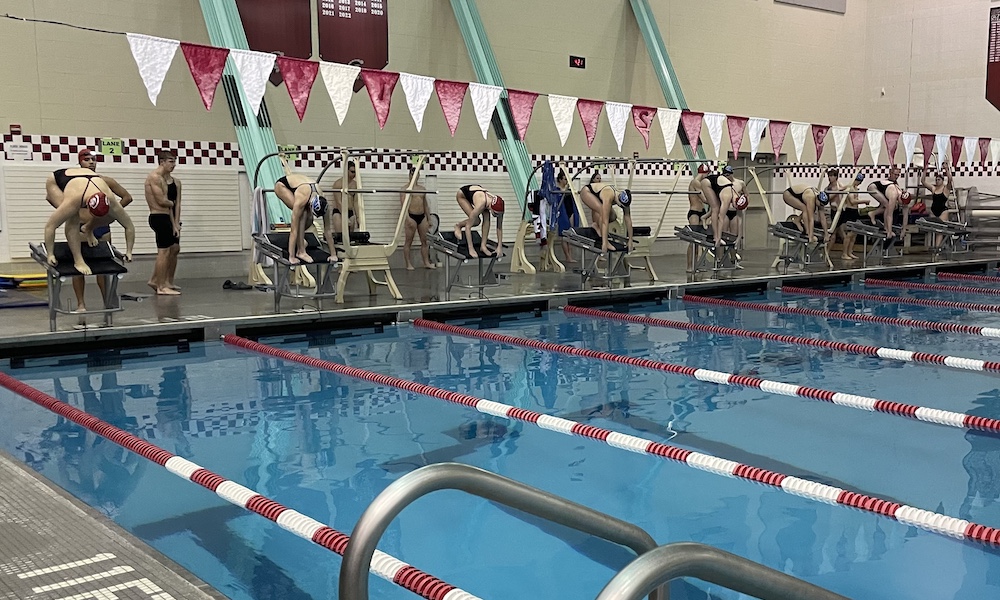 The Parkland Swimming and Diving Teams hosted Nazareth on Tuesday, January 17th. The Parkland girls advanced to 8-0 with a 110-75 over the Blue Eagles while the boys team lost to Nazareth 119-66, falling to 6-2 on the season. Both teams put on a show for the large crowd, which also featured many of Parkland's future Trojans on hand to watch the meet.
The Lady Trojans were only ahead by six points before diving, but managed to still pull out a big win. Senior Simone Lin won both her individuals, the 200 free and the 500 free. Freshman Milla Hahn also finished first in both of her events, the 100 fly and 100 breast. Additional event winners of the night included senior Ashley Settle in the 200 IM, and all three of the girls relays, 200 medley, 200 free, 400 free, took first. The medley relay consisted of Lin, freshman Kelsey McPeek, Hahn, and junior Madison Roseman. Hahn, McPeek, and Roseman were joined by fellow senior teammate Sydney Platt in the 200 free relay, and at the end of the meet Platt, Lin, and Settle were joined by senior Natasha Goldman for the 400 free relay. As for diving, freshman Johanna Cook placed first with a score of 163.45.
The boys put up a battle against Nazareth, but fell short of a victory. There were still plenty of great swims and dives along the way. Senior Blaine Christ had an impressive swim in the 100 breaststroke and took gold by 0.71 of a second to get the fans excited. Another exciting swim of the evening was sophomore Gabe Krizel's 200 IM second place finish where he kept close against Cole Coffman of Nazareth. Fellow sophomore Pedro Teran put up a notable effort in the 500 free and earned second place by just out touching Nazareth's Joseph Laguna by .54 of a second. Leading the 1-2-3 finish for diving with a score of 183.20 was sophomore Bradley Kunz. In second was senior Ryan Beltrame, and in third was sophomore Harry Epstein.
The next meet for Parkland will be their Tri Meet away at Cumberland Valley on Saturday, January 21st starting at 10am. The team will continue to keep pushing themselves and working hard as they move closer to districts and the championship season. Good luck teams.