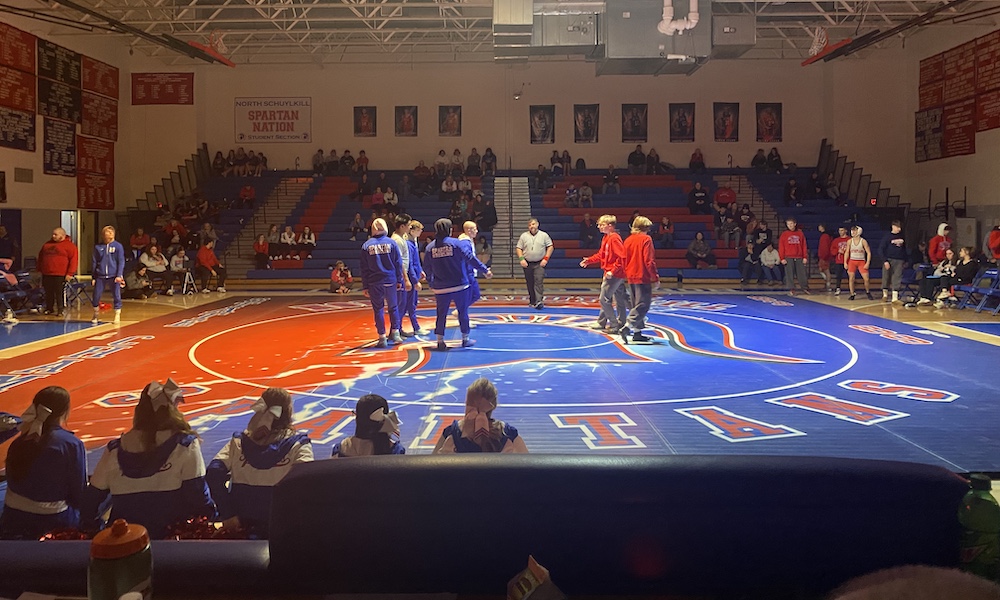 The North Schuylkill Spartan wrestling team won all but one bout against the Jim Thorpe Olympians after celebrating their seniors. The Spartans secured nine pins in a dominant statement victory.
The 127 pound bout started the night off with Nathan Sterner taking on Christopher Jacobacci. Sterner secured a pin fall victory in the second period.
Jim Thorpe would win their lone match at the 133 pound class with Ridge Snyder pinning Zak Kluchinsky in the first period.
The Spartans then rode a string of four pin fall victories. Wrestlers Zander McElhenny, Braydon Kessler, Ricky Halford, and Jimmy Weikel picked up the wins.
After a forfeit victory for Dawson Kleeman, Spartan wrestler Cadyn McGraw got his first pin fall victory of the year in the third period of his match. The Spartans would get a pin at 215 for Jared Tinari and a forfeit win at 285 for Yerick Tlacuatl.
The night closed out with two more pin fall victories for the Spartans with Noah Gilgore and Kaden Casey securing wins. The Spartans, now 6-1, will take to the mat next at the Trojan Duels tournament on Saturday in Tulpehocken.