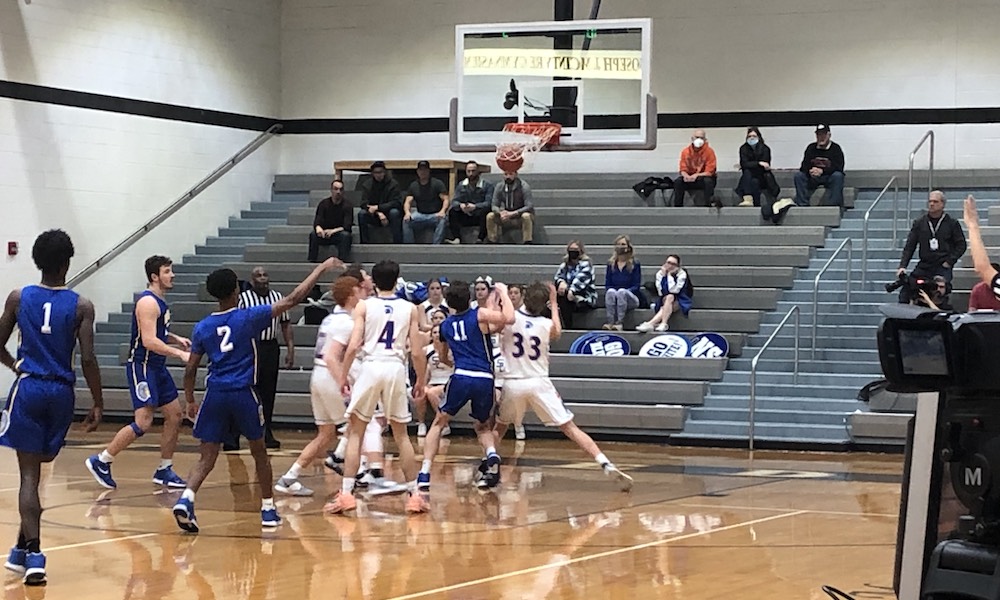 Last night at Freedom High School, two teams met to determine who would be the champion of the Colonial League: the Southern Lehigh Spartans or the Wilson Warriors. After thirty-two minutes of play it was the Warriors who emerged triumphant with 56 points to the Spartans' 50.
Coming into the game both teams knew the other held strengths they would need to combat if they wanted to win the game and go home with the gold.
"We had to control their guard play. They have some talented guards and I felt like we never really got control of that on the defensive end," Southern Lehigh head coach Ryan Wehr said, "Their bigs, 11 [Eric Shunk], 12 [Cayden Stem], and 13 [Anthony Shaw], didn't do much against us the first time around. They certainly came out to prove a point tonight and I thought they did that."
Wilson's Head coach Michel Glovas felt that his team was facing a team which had the "full package" of strengths. "They were undefeated the whole year and they could have just as easily won this game. They have the size, the quickness, and the shooting ability. They have it all. They had everything," he said.
And shoot the Spartans did, junior Maxwell Pristas led the team in points with 17. Senior Dominik Lisicky scored 13 points, and junior Christian Gordon rounded out the Spartan's top scorers with ten points.
Wilson did not have had a 17 point scorer as the Spartans did. Their highest scorer was sophomore Anthony Shaw with 14 points on the board. Jones was followed closely by seniors Nasawn Jones with 13 points and Eric Shunk at 12 points.
In the eyes of Coach Glovas, the outcome of tonight's game could have gone either way.
"If we played them ten times I don't know how many times we win, but tonight, this game, we won," he said.
After tonight's game Wilson sits at first in the power rankings for the District 11 4A basketball tournament while the Spartans sit at second in the 5A Power rankings.