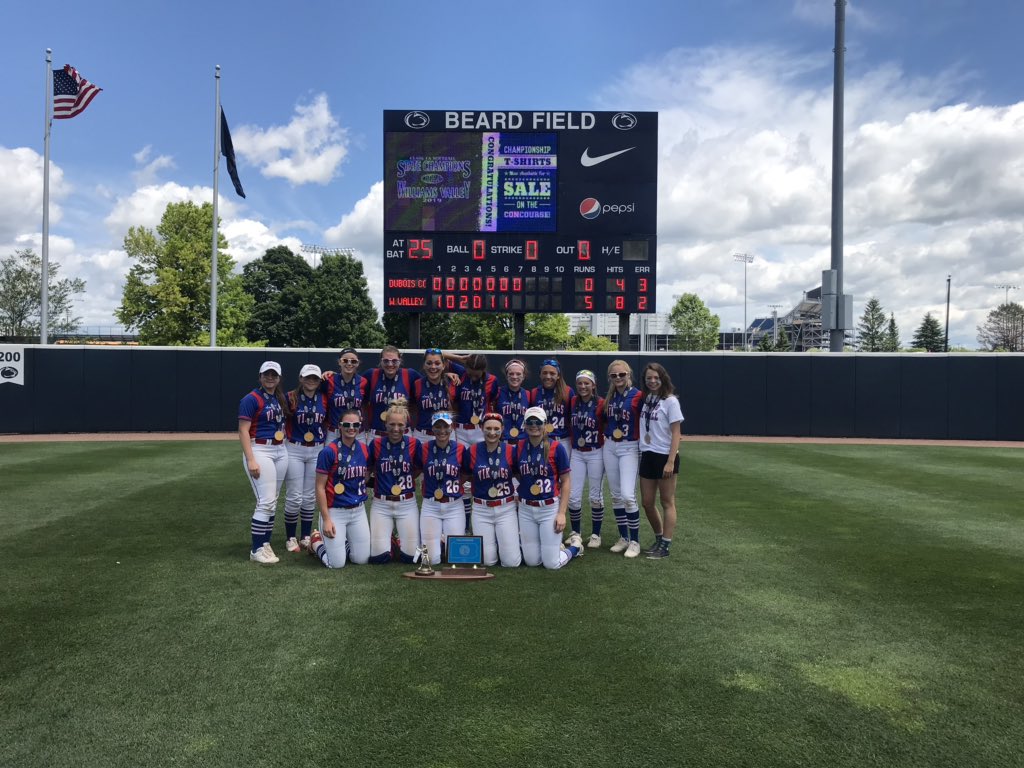 The colors of red, white and blue filled the stands at the Nittany Lion's home field on Friday for the PIAA 1A State Championship between the Williams Valley Lady Vikings and Dubois Central Catholic Cardinals.
The Lady Viking's offense was aggressive right off the bat in the bottom of the first. A leadoff walk and a steal from senior Kenna Ferron put the momentum in the hands of the Lady Vikings. Junior, Stevie Unger hit a sac fly to center field to move Ferron to third to bring up Maddie Bordner with one out. Bordner grounded out to the right side which allowed Ferron to score easily.
That was just the beginning of the sound performance from Williams Valley.
Defensively, sophomore pitcher, Emma Crisswell only gave up 4 hits and didn't allow any Cardinals to score.
Williams Valley extended their lead to 3-0 after a string of hits and some errors on the Cardinals defense. Unger starts the 2 out rally in the bottom of the 3rd with a single to left.
Bordner gets the job done again by hitting a hard hit ball to the shortstop which causes her to rush and makes an over throw to first. That error puts Ugner at third and Bordner at second. The pitcher, Crisswell, comes to the plate and hits a 2 RBI double to right-center field and reaches third on an error but ends up stranded.
The Vikings were still not satisfied and put up one run in the 5th and another in the 6th. Making the score 5-0. Bordner and Crisswell both went 2 for three on the day.
Williams Valley will bring home their third state championship trophy in 6 years, their first being in 2013. The Lady Vikings will end their season on a high note and with a final record of 27-2.
Pitcher, Emma Crisswell hits a 2 out, 2 RBI double and reaches third on an error for the @wv_vikings to extend their lead to 3-0 in the bottom of the 3rd pic.twitter.com/2k3n7CwznE

— Dani Fey (@danifey_6) June 14, 2019
After a hard base hit up the middle and a steal by Achenbach, Maddy Bordner sends her home with a RBI single to right @wv_vikings @D11Sports pic.twitter.com/1QQXdPE9jV

— Dani Fey (@danifey_6) June 14, 2019
Rabuck doubles, Hoffman moves her to third on her ground ball out to the pitcher, and Kenna Ferron scores Rabuck on a base hit through the 5/6 hole. The Vikings are up 5-0 heading in to the top of the 7th @D11Sports pic.twitter.com/Ed9Dio3F85

— Dani Fey (@danifey_6) June 14, 2019
The final play for the Willams Valley Lady Vikings after a dominating performance both offensively and defensively against the Dubois Central Catholic Cardinals. Congratulations on the gold! @wv_vikings @D11Sports pic.twitter.com/2G5yvlc5BH

— Dani Fey (@danifey_6) June 14, 2019