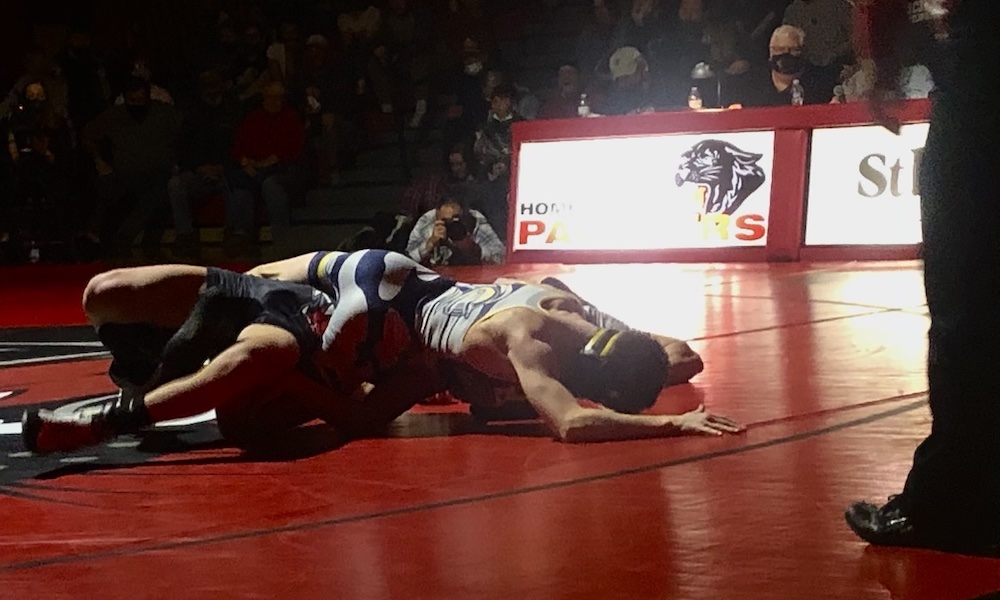 The top two AA wrestling teams in the state faced off Thursday night in what was a competitive matchup. The Saucon Valley Panthers played host to Notre Dame Green Pond Crusaders, wrestling in a packed gymnasium filled with energetic fans from both teams.
The evening started off at weight class 132 where Notre Dame's Brandan Chletsos defeated Saucon Valley's Connor Nicholas by fall in 2:20.
Then at 138, Notre Dame's Bryson Vaughn defeated Saucon Valley's Travis Riefenstahl by fall at 4:46.
At 145, Notre Dame's Evan Maag defeated Saucon Valley's Cael Markle by decision.
In the match at 152, Saucon Valley's Christopher Arciuolo defeated Notre Dame's Keegan Ramsay by major decision.
Then at 160, Notre Dame's Holden Garcia defeated Saucon Valley's Liam Scrivanich by major decision.
At 172, Saucon Valley's Jake Jones defeated Notre Dame's Garrett Tettemer by decision.
Then at 189, Saucon Valley's Ty Csencsits defeated Notre Dame's Joey LaPenna by decision.
In the match at 215, Saucon Valley's Dante Mahaffrey defeated Notre Dame's Mason Ludlow by decision.
Then at 285, Notre Dame's Jared Blobe defeated Saucon Valley's Tyler Pfizenmayer by decision.
At 106, Notre Dame's Ayden Smith defeated Saucon Valley's Cole Hubert by decision.
Then at 113, Saucon Valley's Aiden Grogg defeated Notre Dame's Cooper Feltman by decision.
At 120, Notre Dame's Adam Schweitzer defeated Saucon Valley's Jackson Albert by fall in 38 seconds.
Finally, at 126, Notre Dame's Jacob Wehr defeated Saucon Valley's Hector Mateo by major decision.
The final score of Thursday night's showdown was 35-15 Notre Dame. The Crusaders get to enjoy this win tonight, but hit the road again tomorrow as they travel to the "Escape the Rock" Wrestling Tournament in Holland, PA, this weekend.