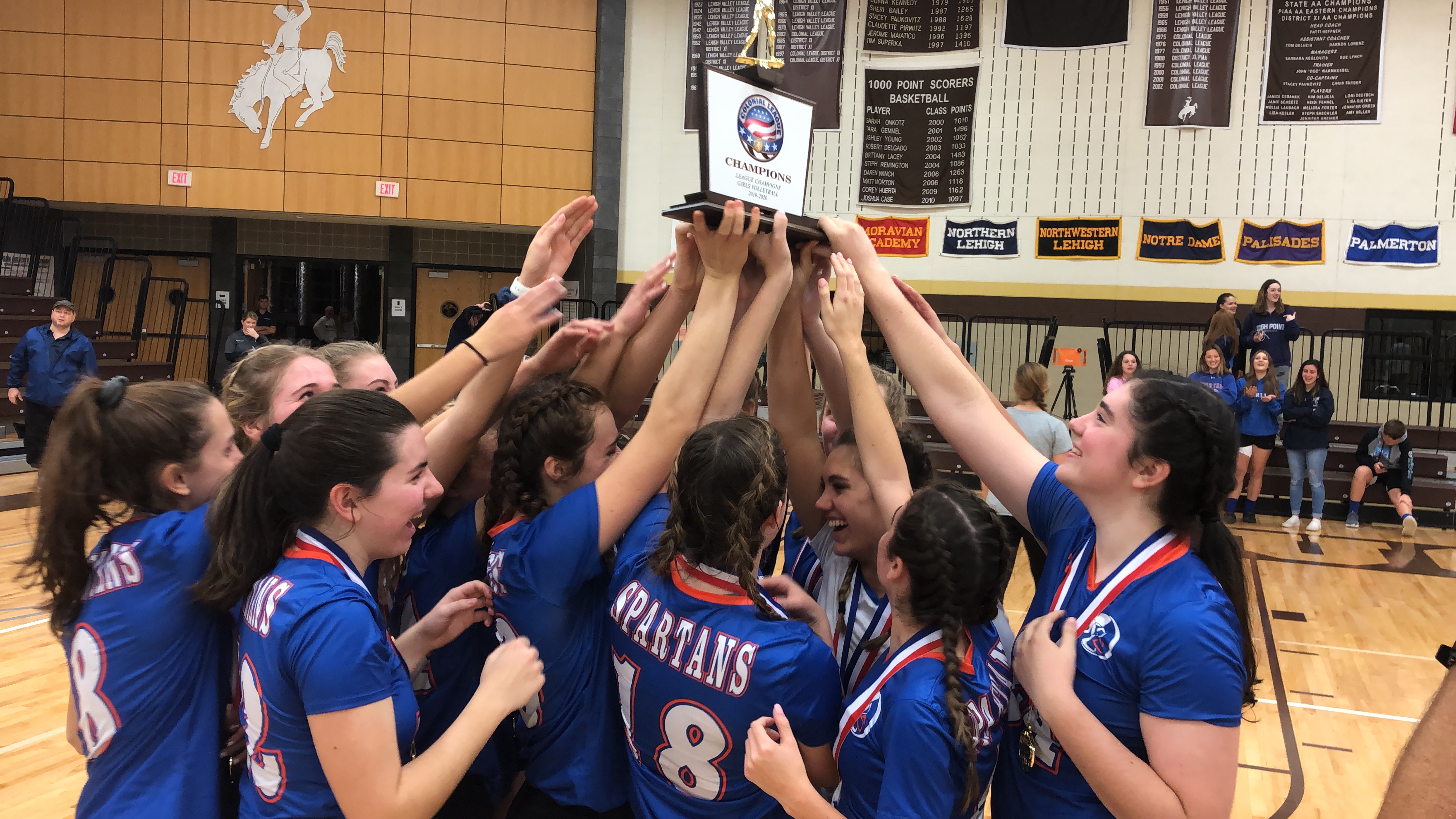 The Southern Lehigh Spartans have won Gold once again after sweeping the Notre Dame Crusaders to capture the Colonial League Volleyball Championship.
The Spartans set the tone early in this one as they jumped out to a 7-0 lead in game one before winning 25-12. Game two was a bit closer before Alyssa Adams and Brianna West recorded kills to help Southern Lehigh win 25-16.
The Spartans never took the foot off the pedal in this one. Despite Notre Dame trying to keep the third game close in the early going, Kate Miller and Cortney Kylish helped guide the Spartans to the 25-13 win and with that another Colonial League Title.
Next up for both teams will be the District XI tournament which gets underway next week.
At Catasauqua High School for the @Colonial_League Volleyball Championship between @notredamegp and @SolehiSpartans. pic.twitter.com/GBqZ29Awn2

— D11Sports (@D11Sports) October 16, 2019
The Spartans take the first set 25-12. @D11Sports pic.twitter.com/V5aCnlbbmC

— Ben Carlin (@bencarlin171) October 16, 2019
Game one in the books. @SolehiSpartans cruises to a 25-12 win behind a couple kills by Mackenzie Feight. pic.twitter.com/BWgLMKrHsy

— D11Sports (@D11Sports) October 17, 2019
\
Game 2 goes to @SolehiSpartans 25-16. They lead the @Colonial_League Championship two games to zero. Alyssa Adams with a solid kill to help lead the Spartans. pic.twitter.com/WvFAvFCL78

— D11Sports (@D11Sports) October 17, 2019
The Crusaders fall to the Spartans in the second set 25-16 @D11Sports pic.twitter.com/dWyUiwcS7R

— Ben Carlin (@bencarlin171) October 17, 2019
The Spartans take the third set 25-13 and win the Colonial League Championship @D11Sports pic.twitter.com/WfxieVqb9N

— Ben Carlin (@bencarlin171) October 17, 2019
It's over from Catasauqua HS. @SolehiSpartans captures the @Colonial_League Volleyball Championship over @notredamegp 25-12,25-16,25-13. pic.twitter.com/2PDJLmw24y

— D11Sports (@D11Sports) October 17, 2019
.@SolehiSpartans win their third straight @Colonial_League Volleyball Championship. Here is a look at their medal Presentation. pic.twitter.com/1IZG09azhg

— D11Sports (@D11Sports) October 17, 2019
The 2019 @Colonial_League Volleyball Champions @SolehiSpartans holding up the hardware after a 3 game sweep of @notredamegp. pic.twitter.com/f2KJCxUpQF

— D11Sports (@D11Sports) October 17, 2019
Congratulations to the @Colonial_League Volleyball runners-up @notredamegp and best of luck in the @PIAADistrictXI tournament. pic.twitter.com/25q40EFBBH

— D11Sports (@D11Sports) October 17, 2019
Don West Jr. Talks about his team three-peating. @SolehiSpartans win the @Colonial_League Volleyball Championship. pic.twitter.com/mN4ghcuGUJ

— D11Sports (@D11Sports) October 17, 2019
A solid performance all around for @SolehiSpartans as they capture the 2019 @Colonial_League Volleyball Championship. They sweep @notredamegp 25-12,25-16,25-13. Senior Mackenzie Feight talks about her teams milestone. pic.twitter.com/w2iTYWyKgE

— D11Sports (@D11Sports) October 17, 2019
Here are the sights and sounds of the @Colonial_League Volleyball Championship won by @SolehiSpartans @SoLehighSD @SLSpartanNation @SLHSspartans pic.twitter.com/wGODmdH4c8

— D11Sports (@D11Sports) October 17, 2019