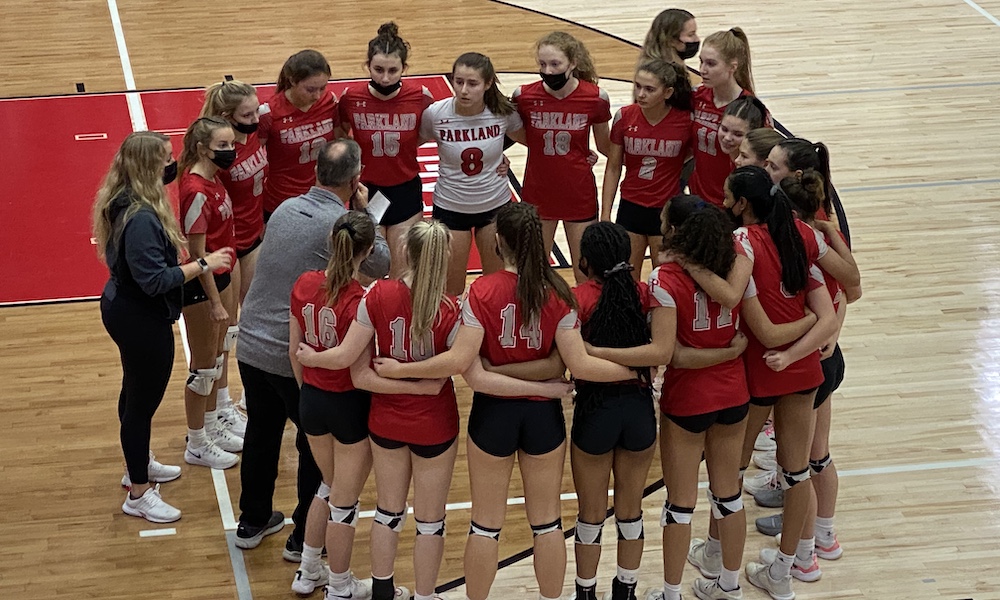 Cumberland Valley High School was the site for the PIAA 4A Girls Volleyball Championship between undefeated Parkland and 4-time defending champion North Allegheny. The Trojans brought their "A" game but came up short falling to the Tigers 3-1 (23-25,27-25,25-18,25-15).
The Trojans got the Parkland fans very involved right away as they scored the final four points to take the first game 25-23. From there, the Trojans fell behind in the second game 13-5 and later 15-9 before getting a couple of kills from Brynn Dreisbach and Elena Pursell tying the game at 23-23. They would have the opportunity on two occasions to take a commanding 2-games to none lead but the Tigers would win the game 27-25 to even the match at 1-game apiece.
Game three belonged to North Allegheny as they went ahead 18-9 before winning 25-18. The Tigers would step it up from there and take game four to win the match and capture their 5th straight State Championship.
Pursell led the Trojans with 19 kills while Dreisbach added 15. Scarlett Jago ended with 16 digs, while Maggie Smith added 40 assists. The Trojans would fall for the first time ending their year at 25-1 as they finished runner-up. Parkland would say goodbye to Dreisbach, Sydney Esquieres, Emma Stalsitz, Meredith Steirer, and Sydney Johnston.
A dream season came up just short for the Parkland Girls Volleyball team but despite losing some key players they will also bring back a solid core in 2022. Head coach Mike Krause while sad for the loss had great praise for his team. He said, "They love each other they worked hard, and they improved so much, and they support each other and never point a finger. They want to get better, and they cheered other successes more than just cheered their own." Krause added, "I am just so proud of these girls going against a really good North Alleghany Squad."
The Senior class ends with an overall record of 79-12 to go along with four straight district titles and two East Penn Conference Championships.