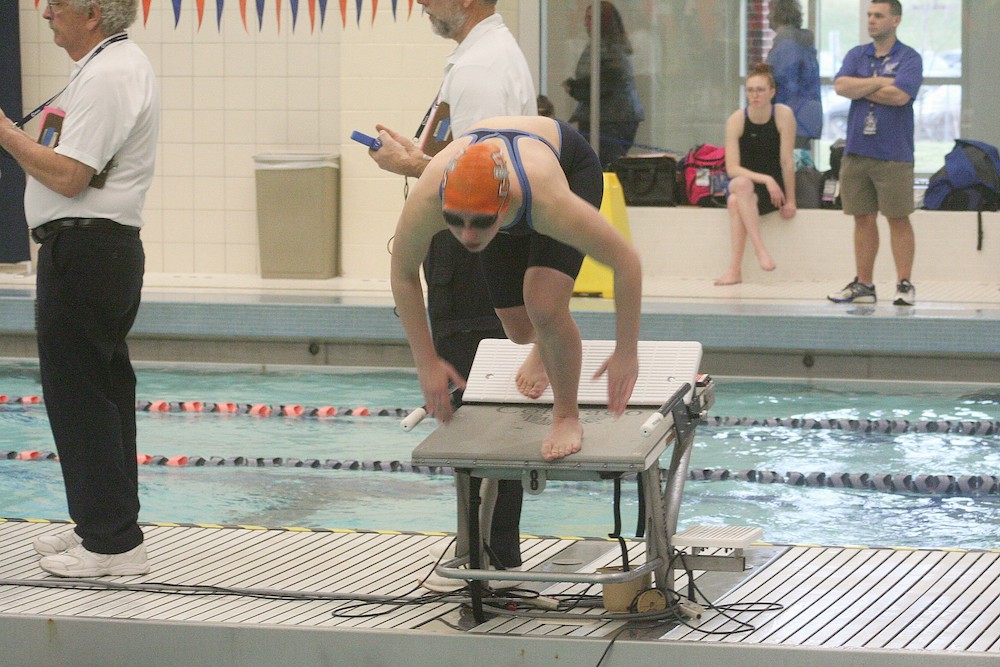 In a day that took weird, but not completely unexpected turns, four District 11 swimmers, two local divers and a Parkland relay team all took home medals from the PIAA Swimming and Diving Championships at Bucknell University.
The morning preliminary races went off as planned, but shortly after their completion, the PIAA announced that the 2A events scheduled for Friday and Saturday were being postponed for at least two weeks due to concerns surrounding the spread of the coronavirus. Divers from 2A schools were practicing and told to stop when the announcement was made. Meanwhile, 2A swimmers had already gathered in the Gebhard Field House to register for tomorrow's events.
Just as that news sank in, word came that the PIAA had decided to cancel Thursday night's finals and consolations. The decision was made not to postpone the events, but in this case, to cancel them and declare the results from the morning's preliminary sessions to be the official finishes. That move made Parkland senior Annie Walls a silver medalist in the 50-yard freestyle and teammate Gavin Webb a bronze medalist in the boys 500-yard freestyle. Nick Soares of Emmaus was awarded the fourth-place medal in the 100-yard backstroke and the Emmaus 400-yard freestyle relay team took a fifth-place finish in what would be the final 3A swimming event of the meet.
"It is really disappointing," said Walls just prior to leaving Bucknell. "This was going to be my last swim representing Parkland High School and I was really looking forward to it and going for a gold. "I had a really good swim this morning and felt especially good in the first 300 of it and it was really easy. The closing got a little tougher, but I'm a finals swimmer and do well in finals, so I was really looking forward to tonight."
The swimmers who won medals based on their morning performance were denied the opportunity to be introduced to the crowd and appear on the medal stand.
"It really is unfortunate, especially for the seniors," said Parkland coach Rob Robitaille. "My phone has been going off every 10-seconds and nobody is really quite sure about everything that is going on."
In diving, Parkland's Lexi Lehman was hanging in third place for most of the meet but struggled on one dive in the late rounds that dropped her to sixth on the medal stand. Alexa Brinker also finished in the top 10, placing seventh. Both will continue their diving careers, with Lehman going to James Madison and Brinker heading to Dartmouth.
"I was just hoping to go out with something really strong and I know I could have done better," said Lehman.
As for Brinker, she was also disappointed with her performance and is now turning her attention to continuing her diving career in college. Brinker worked through a difficult season and spent much of the year with a cast on her left wrist. The recovery was initially thought to be a six-week period but took six months.
"It's hard to tell how much it affected me at all this season," said Brinker, whose wrist is now in a brace rather than a full cast. "I got my cast removed on Friday, so I don't know if it was an issue at all this season; I just know I could have done better today."
Lehman's dad, Cary Lehman, has been coaching diving at Parkland High School for 19 years and spent seven years prior to that coaching at Allen. He announced after the meet that he was retiring from coaching and looking forward to spending time watching his three kids in their college activities.
"It's been 26 years and that's enough," said Lehman. "I've spent a lot of time working with my kids and other people's kids and now I'm going to spend some time just watching my kids and following them."
The diving wrapped up the abbreviated version of this year's PIAA Swimming and Diving Championships. Team scores that were tabulated after the first day were not immediately available.