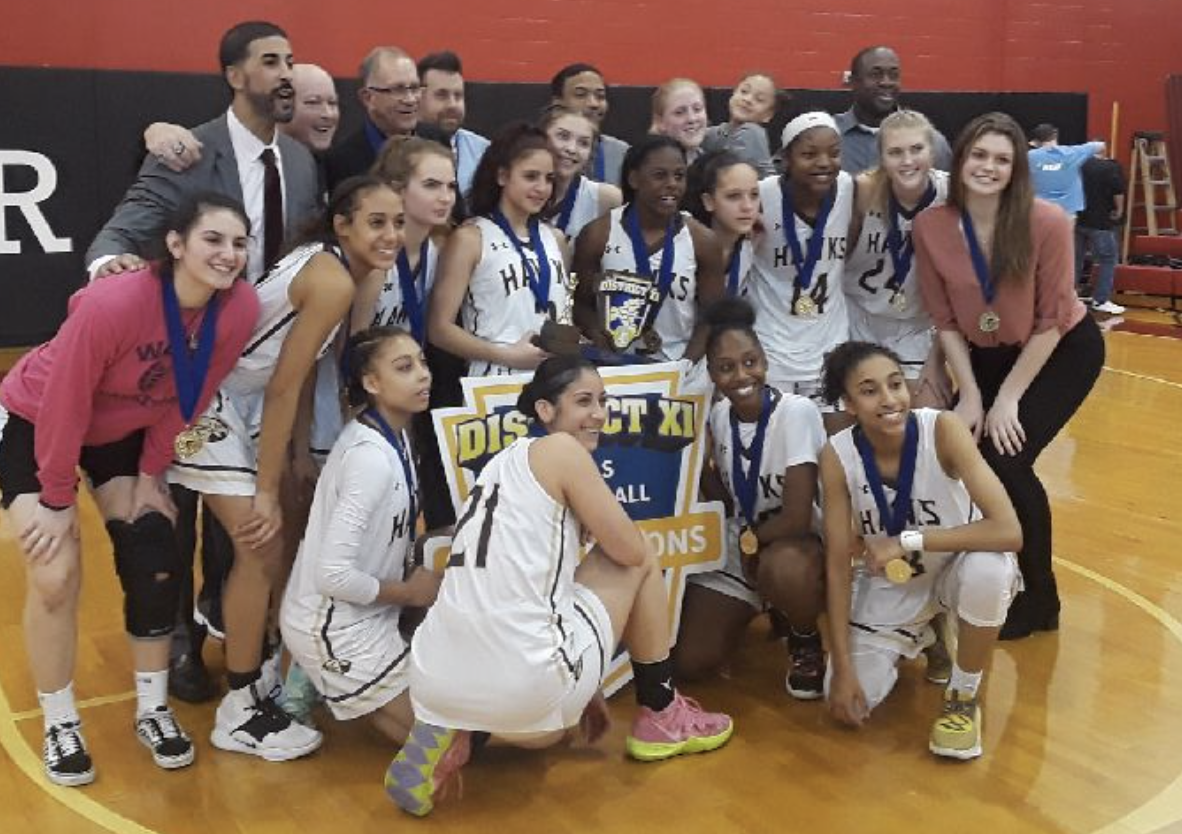 The PIAA is down to the final eight teams in their respective classes but instead of hitting the hardwood on Friday and Saturday, they find themselves in a holding pattern. That's because on Thursday, the PIAA announced their plans to suspend not only the Basketball but also the Swimming Championships for a two-week period.
While this is a time for a last second shots, as we saw in Chester's dramatic win over Simon Gratz on Wednesday night, it's also a time where teams, players, and fans live for this moment. And just like that, teams across District XI and the State are at a standstill because of the impact of Covid-19.
If and when the tournament gets back underway, District XI will still have seven teams in the mix looking to bring home state titles. The five teams on the girls' side include Freedom and Nazareth in 6A, Bethlehem Catholic in 4A, Mahanoy Area in 2A, and Nativity BVM in 1A. The boys side has two teams remaining in contention with Nativity BVM joining the girls in 1A, along with Tamaqua in 4A.
So, what do some of these coaches think of the sudden hiccup in the season? A number of them shared their thoughts with me as they, along with everyone else, hope the season does actually resume.
Nazareth Head Coach Rich Bickert-14th YR:
"It's been a fun ride and exciting ever since we got to play in the PPL Center. We have been playing really well and playing teams we have never seen before makes it better. Since in our league and districts we play so many of the same teams, I think as Coaches and players we got more focused and excited about new challenges from different teams. The Virus did not come at a perfect time for our team since we were just playing with a lot of confidence. But I do understand it is still a game and life and death are much more serious than a game. The two-week layoff is going to be very challenging. Basketball is a long season to begin with and adding two weeks with no game will be tough to keep the team interested and focused. The weather is getting nicer and they start wanting to be outside plus many have other commitments to spring sports and club sports that start up now."
Bethlehem Catholic Head Coach Jose Medina-6th YR:
"We are blessed and excited as a program in making the Elite 8. Our players and program take nothing for granted. Our team is playing very well, especially defensively. I like how the players trust one another on offense and really share the basketball. As with the Coronavirus, safety first. We hope that everyone and their families stay safe. I remain faithful that God is in control and better days are soon to come. We will use this layoff to rest up and to our advantage. Our girls are a great group of kids and will adapt to whatever the ruling is."
Freedom Head Coach Dean Reiman-5th YR:
"I'm very excited for our players and for them being only the 3rd team in Freedom history to make it this far with the chance of becoming the only girls' team in school history to make it to the semi-final round. Our last two games have been some of the best team basketball we have played all year with very balanced scoring and utmost attention to game plans. I am very concerned that decision will be made to cancel the tournament—would be heartbroken for our kids, especially our only senior, Jenn Kokolus. Everyone is in the same situation so just trying to keep the team focused & stay healthy while continuing to work on skills and individual development thru this longer period to prepare for next game."
Nativity BVM Girls Head Coach Scott Forney 4th YR
"We are honored and privileged of being 1of 8 teams left. I feel we played the toughest opponents in the first and second rounds and truly earned our spot into the quarterfinals. I'm very proud of how girls are playing. They are fully invested and playing their best ball right now as well as playing aggressive hard nose defense. In response to the Coronavirus, first is the safety of the players and all people involved with tournament and of course the public. The PIAA has put the best interest of the student athlete first and it was very tough decision to make, but I think it is right one with just postponing the tournament. With schools being shut down for 2 weeks as well, it will allow the mass testing to be distributed as school buildings are cleaned and gives us the best chance to resume play. It will be difficult with conditioning aspect but more importantly keeping players focused and staying invested as they are now. We will keep in touch through communication tools such as Remind app and utilizing Hudl for film study and scout to continue to prepare mentally.
Tamaqua Head Coach Jim Barron 5th YR:
"We are really excited. Only one other team in school history has made it this far and we are really playing well right now. I think we are playing the best basketball we've played all year. On the defensive end, we are doing a great job being mentally prepared for each game and using that knowledge to defend on the court the way we need to win games. Obviously, the whole world is concerned with the Coronavirus, and we just need to be smart and do what we can for the best interest of the athletes and the community. Two weeks is a long time, especially now with schools closing. Not sure if we will get the opportunity to finish or how we will even be once we get back on the court. We have to try to not worry about that and just enjoy the ride if we are allowed to get back to playing. I love this team I was blessed with. I couldn't ask for a better group of kids to be around and they make my job as a coach so easy."
Other Notes:
Nazareth (26-4) school record for wins in a season
Bethlehem Catholic (29-0) Looking for back to back state titles
Freedom (24-5) Looking to become Freedom's only girls' team to advance to Final 4
Nativity BVM Girls 20-6 overall
Tamaqua (21-8) 2nd team in school history to reach this round
PIAA BOYS AND GIRLS BASKETBALL CHAMPIONSHIPS
*WHEN THE TOURNAMENT RESUMES IN TWO WEEKS, HERE ARE THE MATCHUPS*
TIMES AND DATES TBA
GIRLS:
6A GIRLS: 11-2 FREEDOM (24-5) VS 3-2 CENTRAL YORK (23-5)
6A GIRLS: 11-1 NAZARETH (26-5) VS 7-1 NORTH ALLEGHENY (24-3)
4A GIRLS: 11-1 BETHLEHEM CATHOLIC (29-0) VS 2-1 SCRANTON PREP (28-0)
2A GIRLS: 11-1 MAHANOY AREA (22-5) VS 3-1 LINDEN HALL (22-2)
1A GIRLS: 11-1 NATIVITY BVM (20-6) VS 1-1 JENKINTOWN (27-0)
BOYS:
4A BOYS: 11-3 TAMAQUA (21-7) VS 1-1 POPE JOHN PAUL II (20-5)
1A BOYS: 11-1 NATIVITY BVM (20-7) VS 12-1 SANKOFA FREEDOM (10-14)