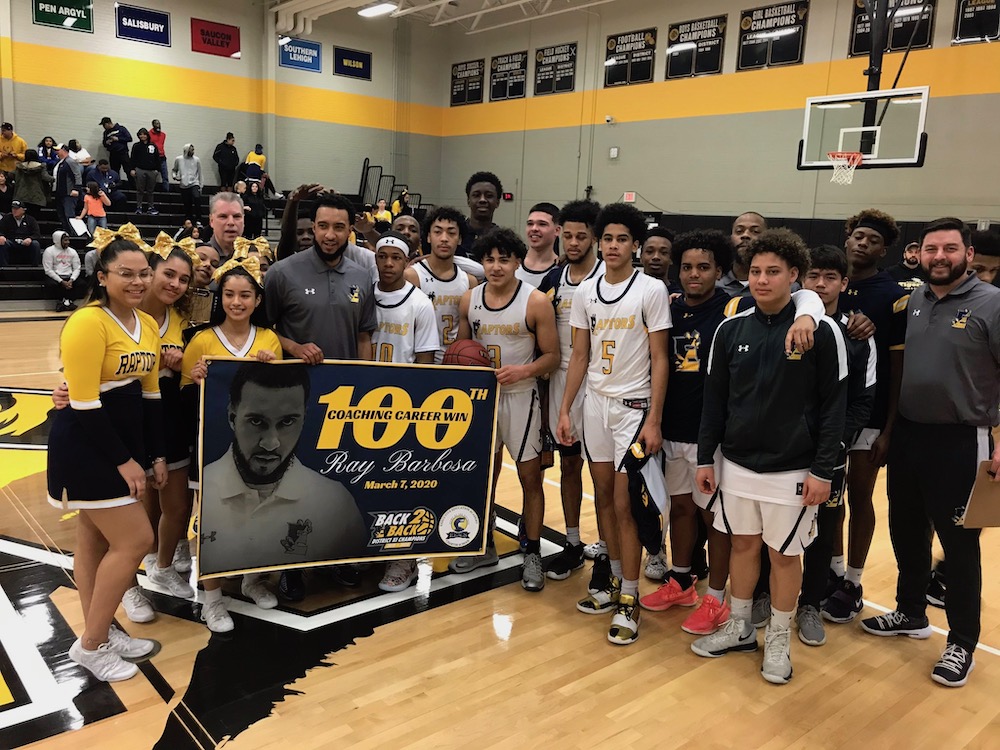 The former Allen High star that scored 2,220 points in his high school career, went on to play collegiate basketball at James Madison University, made it to the NCAA tournament at the University of Maryland, Baltimore County, and played professional basketball in Puerto Rico was the 2019-2020 boys basketball coach of the year as the Executive Education Charter High School Head Coach.
In five seasons as a boys basketball head coach in the Lehigh Valley, Ray Barbosa has won four District 11 titles. He won two at Bethlehem Catholic and two at Executive Education Academy Charter.
At Bethlehem Catholic, Barbosa coached Ryan Young, Kyle Young, and Justin Paz. Three players that went ahead to play division I & division II collegiate basketball. At Executive, he also has stars, including Jevin Muniz a three star 6'4 Shooting Guard, a top player in the class of 2021 in the Lehigh Valley. Having great players is one thing, but getting them to play together is what's more important and Barbosa has shown that winning district titles in four of his last five seasons and developing great athletes.
In his coaching career, Barbosa has proven he has the ability to put together young talented players and get them to play as one unit. He did it multiple times at Bethlehem Catholic, did it in the 2018-2019 season at Executive, and he did it again this season at Executive, leading the team to an 18-7 record, a second straight District 11 2A championship, and a first-round win in the state tournament.
In a year that featured great coaches, such as Freedom's Joe Stellato, Allen's Doug Snyder, Liberty's Chad Landis and Notre Dame's Pat Boyle, Barbosa still managed to accomplish this award, win a District championship, and win his 100th game. Through his first five seasons as a head coach, Barbosa's record is 100-37.
After succeeding in 2A and winning the District 11 2A Championship back to back, Executive will play at the 3A level because of the new success formula created by the PIAA, which takes under consideration championships won and transfers.
During this pandemic, I had the chance to interview Ray Barbosa over the phone and he told me a few interesting things — how he is doing during this pandemic, different virtual activities he is doing with his players, his decision on stepping down from Bethlehem Catholic, putting together an independent schedule, and he also told me his best five players he's ever coached.
To view that interview, scroll down and you'll see the twitter post.
Phone Call Interview With Executive Charter's Ray Barbosa (part 2). @EEACSBasketball @D11Sports pic.twitter.com/AgyizIO0TA

— Elijah A. Rivera (@ElijahARivera1) April 23, 2020
Phone Call Interview With Executive Charter's Ray Barbosa (part 3). @EEACSBasketball @D11Sports pic.twitter.com/UbV49etxkl

— Elijah A. Rivera (@ElijahARivera1) April 23, 2020