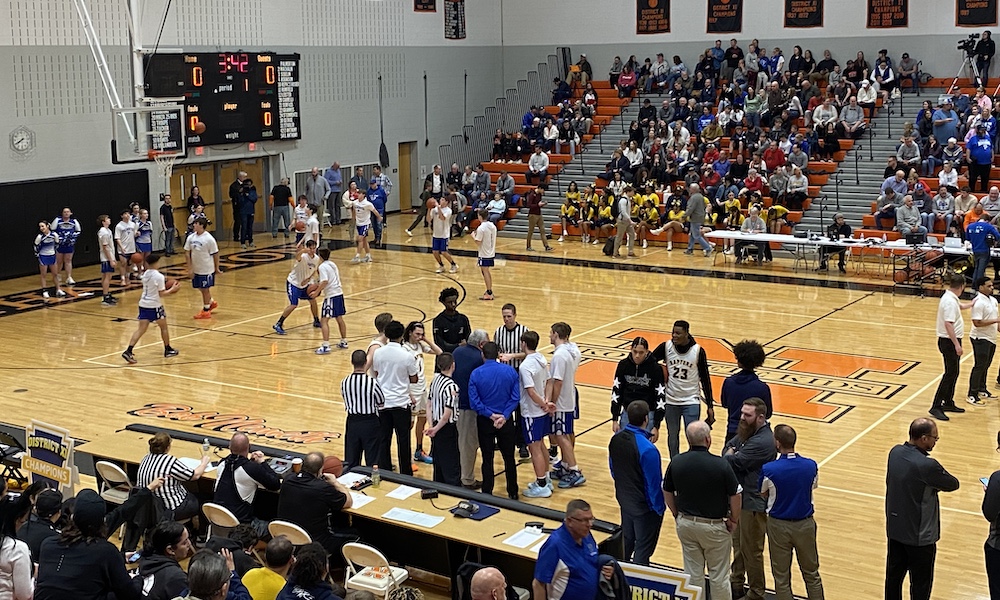 Notre Dame of Green Pond and Saucon Valley were back and forth in the first quarter with Notre Dame taking a 10-9 lead into the second quarter of play. Notre Dame took the momentum and energy they created in the first quarter and brought it into the second quarter. Notre Dame took control of the game in the second and had a 22-16 lead at half time. Saucon Valley coach Brett Synder was asked what his message was to his team at half. He replied, "Stay together and we were settling for too many outside shots." His emphasize was to win or lose the game in the paint in the second half.
Coach Synder's message to his team was received as they started the second half with a 6-0 run and began attacking inside in the paint giving his team a 34-32 lead heading into the final quarter of play. The fourth quarter of the game was much of the same, both teams were punching and landing counter punches on one another. The Panthers of Saucon Valley landed the final punch, defeating the Crusaders 54-51 behind Cydae Joseph-Davis'19 points and excellent defense in the paint. Synder was asked his thoughts going into the 3A district final on Saturday. He said, "Come back with a good practice. There are two good teams we will potentially face."
The second semi-final game featured Palmerton and Executive Education Academy Charter School. Palmerton jumped on Executive early taking a 13-5 lead into the second quarter. Executive eventually settled in and started attacking inside with their big man Moustapha Sanoh. Palmerton had a 25-21 lead at the half. The second half was back and forth with Executive finally getting their first lead of the game early in the fourth.
The Raptors continued to attack inside with Sanoh and controlled the defensive and offensive rebounds setting themselves up for second chance points. Executive's presence in the paint was too much in the second half for Palmerton. The Raptors defeated them 54-42 and will take on Saucon Valley on Saturday. Executive head coach Ray Barbosa was asked how it feels to go to their fifth straight District final. He replied, "Feels great and our guys battled." We asked his thoughts on Saucon Valley. He replied, "They are a big team and like to pound the ball along with controlling the tempo."