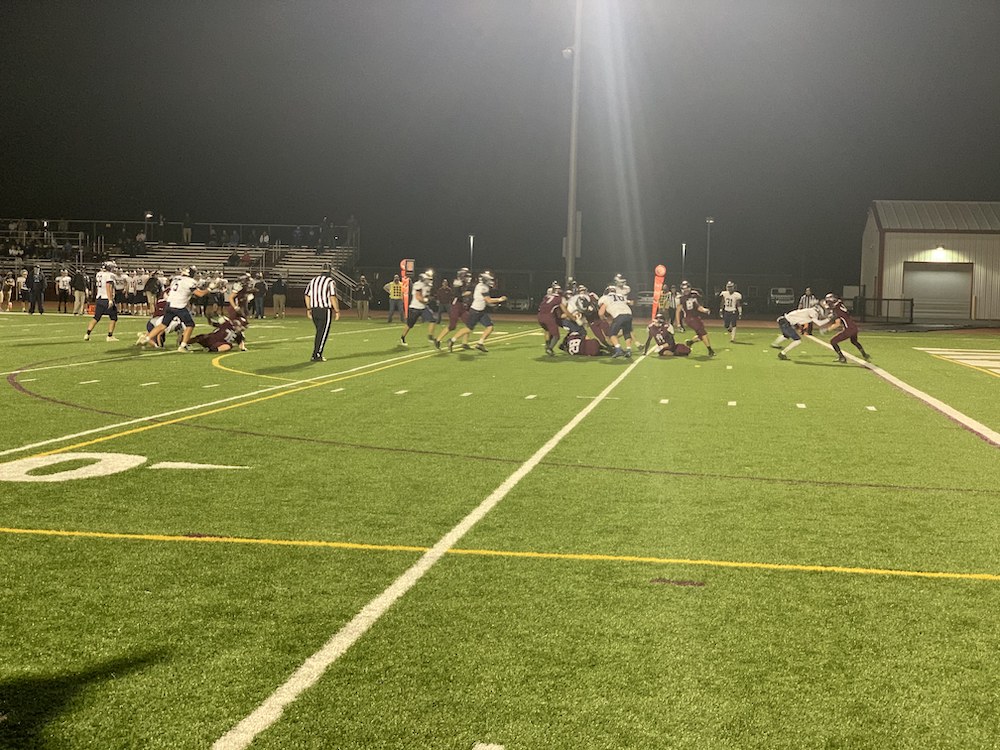 Blue Mountain and Lehighton both came into Thursday night's matchup with 2-3 records, eager to get another victory. The D11 Sports Game of the Week provided a live stream of the matchup with Al DiCarlo and Matt Evancho in the booth and Rylee Clifford, Jade Schleicher, Jonathan Macsay, Abby Buffington, and myself reporting on the sidelines. Blue Mountain used a diverse running and passing attack as well as a strong defensive effort to take a 35-0 victory over the Indians.
Gavin Bartholomew was the star of the game last week against Tamaqua and proved it again this week. On the first play from scrimmage, he dropped back into coverage, picked off Richard Fronheiser's pass on the far sideline, and returned it all the way back to the end zone for a touchdown only 20 seconds into the ballgame. Carson Steinruck nailed his first of five extra points on the night to make the score 7-0.
Both teams traded possessions before the Eagles drove down to the goal line. Carter Thompson punched in a five-yard touchdown. Later in the second quarter, the Eagles faced a second and 28 from the Lehighton 35 yard line where Eman Parker took a misdirection sweep around the left side for a touchdown to increase the Eagles lead to 21-0.
Lehighton could not get the running attack of JJ McDowell going much in the first half and relied on some completions to Hunter Crum and Zach Hunsicker to gain yardage. After Tanner Sidella got a piece of a punt, Gavin Bartholomew found Bryce Hensley on the ensuing play for a 30-yard touchdown to put the Eagles up 28-0.
Blue Mountain would score once more before the half on another Eman Parker touchdown, this time for five yards. Lehighton put together three long pass plays before Zach Hunsicker was pushed out of bounds at the five-yard line when time expired for the half.
The mercy rule was in effect in the second half, keeping the clock running for the remainder of the game. Lehighton threatened to score multiple times throughout the second half, but could not punch it in the end zone. Both teams pulled their starters in the fourth quarter and gave some younger kids some action.
Neither team put any points on the board in the second half and the final score ended as 35-0. Gavin Bartholomew was named player of the game after his two-touchdown performance. Blue Mountain faces Mahanoy Area next Friday at home for their homecoming game.