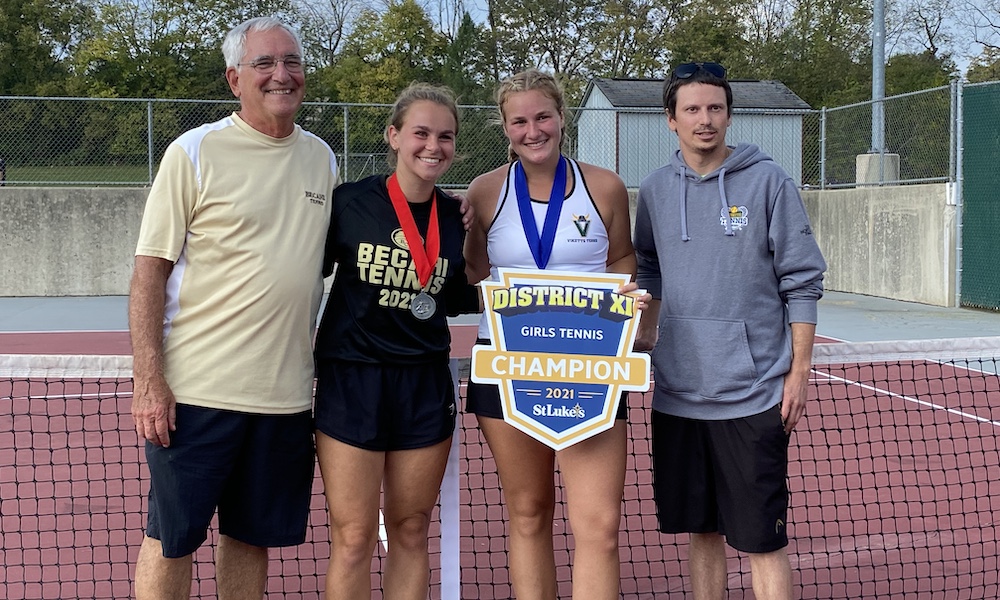 Family tradition and a Three-peat. All part of the District Xi Tennis Singles championships on Thursday afternoon at Parkland High School. All eyes on this day were focused on Paraskevi Briegel of Stroudsburg High School, who was vying for her third straight 3A singles title and she did not disappoint.
Briegel brought her "A" game to the title match against Parkland junior Erin Joo, jumping quickly out to a 5-1 first set advantage behind her solid serving and ground strokes. After winning the first set 6-1, Joo closed to within 3-4 but Briegel was to strong once again and she went on to win 6-1 6-3.
After winning her third consecutive District Xi singles titles, Briegel, who will stay close to home and play Division 1 tennis at Lafayette College, will now focus on the PIAA state tournament which gets underway during the first week of November.
On the 2A side of things, It was an all-East Penn Conference Championship featuring Senior Sabrina Yurconic of Central Catholic and Cara Magliochetti of Bethlehem Catholic. These two players very familiar with one another having faced off in the EPC title match last week, won by Yurconic.
The first set went back and fourth with the players tied at 3 games a piece. But It was Yurconic who took advantage of some unforced errors by Magliochetti to close out the first set 6-4. Down 1-2 in the second set, Yurconic found some rhythm and won 5 straight games to finish off Magliochetti and win the District Xi 2A Singles title 6-4 6-2.
For Yurconic, who will move on to the State tournament in November, she joins some very familiar company. Her singles title puts the name Yurconic on another trophy, as she joins a host of family members who also captured District Gold.
Her father John won the singles title in 1985 while her brother John took home District Gold in 2017 and a state doubles crown with Mason Groff. If that name sounds familiar it should, he is the cousin of the Yurconics' and son of Monica Yurconic-Groff, Sabrina;s aunt. She won the singles crown back in 1986.
It's all in the family for the Yurconics which featured a great scene at the end of the match as Sabrina shared a big hug with her father John.
Still to be played in the coming weeks are the District XI Team Tennis Championships to go along with the Doubles Championships.
Video Highlights
A YURCONIC MOMENT- @sabrinayurconic gets congratulated by her dad John for winning the @PIAADistrictXI 2A Singles championship. 👍👍👍@ACCHSVikings @ACCHS_Athletics pic.twitter.com/9SOveuviFG

— D11Sports (@D11Sports) October 7, 2021
CHAMPIONSHIP PHOTOS @sabrinayurconic of @ACCHSVikings beats Number 4 seed Cara Magliochetti of @Becahi_Hawks 6-4 6-2 to win the @PIAADistrictXI 2A Singles Championship. @ACCHS_Athletics pic.twitter.com/VrJWe7XSV1

— D11Sports (@D11Sports) October 7, 2021
A YURCONIC CELEBRATION: Congrats to @sabrinayurconic of @ACCHSVikings for winning the @PIAADistrictXI 2A Singles Championship. She joins her dad, brother @johnyurconic, aunt Monica and more. @ACCHS_Athletics pic.twitter.com/mNlaqeMtzV

— D11Sports (@D11Sports) October 7, 2021
MEDAL-PRESENTATION #3 seed @sabrinayurconic of @ACCHSVikings beats Number 4 seed Cara Magliochetti of @Becahi_Hawks 6-4 6-2 to win the @PIAADistrictXI 2A Singles Championship. She joins a family of champions. @johnyurconic @ACCHS_Athletics pic.twitter.com/LHe4DZslv5

— D11Sports (@D11Sports) October 7, 2021
MATCH POINT: @sabrinayurconic captures @PIAADistrictXI Gold. @ACCHS_Athletics @ACCHSVikings pic.twitter.com/GUQqGbLxlF

— D11Sports (@D11Sports) October 7, 2021
CHAMPIONS: #3 seed @sabrinayurconic of @ACCHSVikings beats Number 4 seed Cara Magliochetti of @Becahi_Hawks 6-4 6-2 to win the @PIAADistrictXI 2A Singles Championship. @ACCHS_Athletics pic.twitter.com/jyuZF6WrIf

— D11Sports (@D11Sports) October 7, 2021
PHOTOS OF THE @PIAADistrictXI 3A Singles Championship. @ParaskeviBrieg1 @sburg_ath_activ @parklandtrojans pic.twitter.com/JOGUog5G8C

— D11Sports (@D11Sports) October 7, 2021
MEDAL PRESENTATION: @ParaskeviBrieg1 of @sburg_ath_activ beats #3 seed Erin Joo of @ParklandAthlet1 6-1 6-3 to capture her third straight @PIAADistrictXI 3A Singles Championship. @parklandtrojans pic.twitter.com/BYoead88Qy

— D11Sports (@D11Sports) October 7, 2021
THREE-PEAT: Top seed @ParaskeviBrieg1 of @sburg_ath_activ enjoying another magic moment as she takes home the @PIAADistrictXI 3A Singles Championship. @parklandtrojans pic.twitter.com/lxt3TYF9Ev

— D11Sports (@D11Sports) October 7, 2021
THREE-PEAT: Top seed @ParaskeviBrieg1 of @sburg_ath_activ beats #3 seed Erin Joo of @ParklandAthlet1 6-1 6-3 to capture her third straight @PIAADistrictXI 3A Singles Championship. @parklandtrojans pic.twitter.com/MXiGu6Bvn8

— D11Sports (@D11Sports) October 7, 2021
CHAMPIONSHIP THURSDAY: Number 4 seed Cara Magliochetti of @Becahi_Hawks and #3 seed Sabrina Yurconic of @ACCHSVikings tied 3-3 in the first Set of the @PIAADistrictXI 2A Singles Championship. @ACCHS_Athletic pic.twitter.com/COYcanYBqE

— D11Sports (@D11Sports) October 7, 2021
CHAMPIONSHIP THURSDAY: Number 4 seed Cara Magliochetti of @Becahi_Hawks leads #3 seed Sabrina Yurconic of @ACCHSVikings 2-1 in the 1st set of the @PIAADistrictXI 2A Singles Championship. @ACCHS_Athletics pic.twitter.com/AV46KKrPKF

— D11Sports (@D11Sports) October 7, 2021
CHAMPIONSHIP THURSDAY: Top seed @ParaskeviBrieg1 of @sburg_ath_activ leads #3 seed Erin Joo of @ParklandAthlet1 2-1 in the 2nd set of the @PIAADistrictXI 3A Singles Championship. @parklandtrojans pic.twitter.com/VggPnp6jKA

— D11Sports (@D11Sports) October 7, 2021
CHAMPIONSHIP THURSDAY: Number 4 seed Cara Magliochetti of @Becahi_Hawks goes head to head with #3 seed Sabrina Yurconic of @ACCHSVikings for the @PIAADistrictXI 2A Singles Championship. @ACCHS_Athletics pic.twitter.com/euy75shGk3

— D11Sports (@D11Sports) October 7, 2021
CHAMPIONSHIP THURSDAY: Top seed @ParaskeviBrieg1 of @sburg_ath_activ takes the first set 6-1 over #3 seed Erin Joo of @ParklandAthlet1 in the @PIAADistrictXI 3A Singles Championship. @parklandtrojans pic.twitter.com/tqDrE8Xi4U

— D11Sports (@D11Sports) October 7, 2021
CHAMPIONSHIP THURSDAY: Top seed @ParaskeviBrieg1 of @sburg_ath_activ leads #3 seed Erin Joo of @ParklandAthlet1 4-1 in the first set of the @PIAADistrictXI 3A Singles Championship. @parklandtrojans pic.twitter.com/nIoBqdXd4P

— D11Sports (@D11Sports) October 7, 2021
CHAMPIONSHIP THURSDAY: Top seed @ParaskeviBrieg1 of @sburg_ath_activ goes head to head with #3 seed Erin Joo of @ParklandAthlet1 for the @PIAADistrictXI 3A Singles Championship. @parklandtrojans pic.twitter.com/Q5PLWTpy5b

— D11Sports (@D11Sports) October 7, 2021