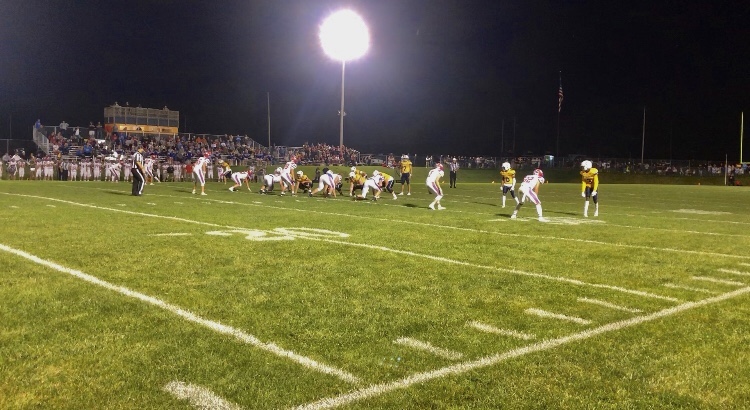 The Notre Dame Crusaders played host to the Spartans of North Schuylkill Friday night in a competitive matchup. The Crusaders' stadium was packed right from the very beginning and fans from both sides were electric and loud.
The Crusaders and Spartans started out strong when they both scored in the first quarter. The score was tied 7-7. The Spartans then stepped up their level of play in the second quarter by scoring two touchdowns, taking the lead 21-7. With 5:40 left to go in the third quarter, the Spartans scored a touchdown bringing the lead to 28-7 over the Crusaders. Notre Dame fumbled the kickoff, leaving the ball at the Spartans' ten-yard line.
The Spartans scored their second touchdown of the third quarter, extending the lead 35 – 7. At the start of the fourth quarter, Sophomore Danny Darno threw to Tarif Muhammad for the Crusader touchdown. The PAT was good. The score at that point was 35-14 Spartans. The Spartans then converted a 46-yard touchdown run completion and the PAT was good. This made the score North Schuylkill (42) – Notre Dame (14).
With a little under four minutes left in the game, Logan Castellano scored a touchdown for the Crusaders. The PAT was good, making the final score of Friday night's big match up, North Schuylkill (42) – Notre Dame (14).
The Crusaders fought their way through the game and improved within each play. Notre Dame has to block this game out and continue to focus on the rest of their season.