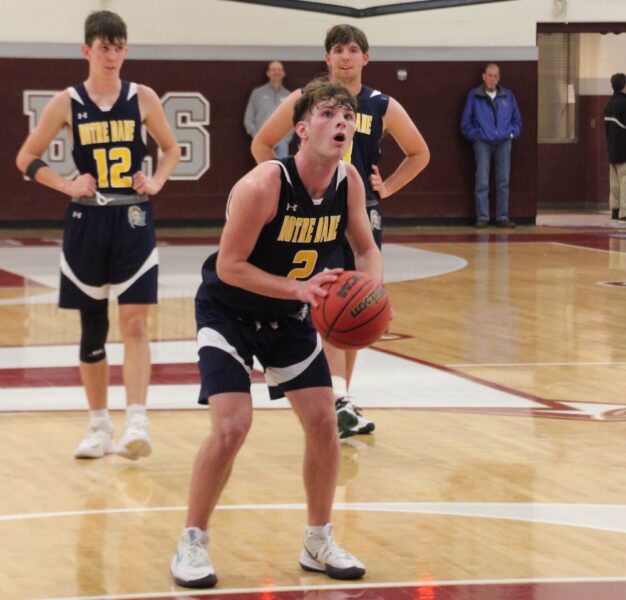 On December 16th, the 2-1 Notre Dame Green Pond Crusaders traveled to Bangor for a rematch of the 2021 Colonial League Basketball Championship game. Last season, the Slaters rose above the competition and won the Colonial League Championship and the District 11 5A Championship. The Crusaders were Colonial League Runner Ups and District 11 3A Runner Ups. This Colonial League rematch ended with a Crusader Victory 78-67.
The Slaters won the tip off, but turned the ball over. Notre Dame capitalized off the turnover and scored. The Crusaders dominated in the first quarter, outscoring the Slaters 16-9. The Crusaders got around the Slater defense and made their way into the paint several times.
Bangor's coach Colin Kessler reconfigured his defense to slow the Crusader's momentum for the rest of the half. The second quarter was fast paced with lots of alternating possessions. The halftime score was 40-27 Notre Dame. Boyle had 18 of Notre Dame's 40 points. Bangor's lead scorer was Dan Heald with 9 points.
The third quarter went back and forth. The Slaters were led by Junior Ashton Kluska with three three-pointers. Boyle led the Crusaders in the third quarter scoring 15 points. At the end of the third, the score was 62-46 Notre Dame.
A few times during the fourth quarter the Slaters almost had the Crusaders beat, but the Crusaders prevailed. The final score was 78-67.
Boyle ended with 42 points for Notre Dame. Josh Giaquinto for the Slaters had 16 points. Three freshmen for the Slaters, Michael Miller, Ari Johnson, and Carmine Diaz helped the Slaters try to conquer the Crusaders. All three of them combined for 21 points, Diaz scoring ten of those.
On Saturday, December 18th, Bangor defeated the Palisades Pirates 65-41 to make them 1-3 so far in the season. Bangor travels to Salisbury to take on the Falcons. Notre Dame will travel to Pen Argyl to try and beat the Green Knights.