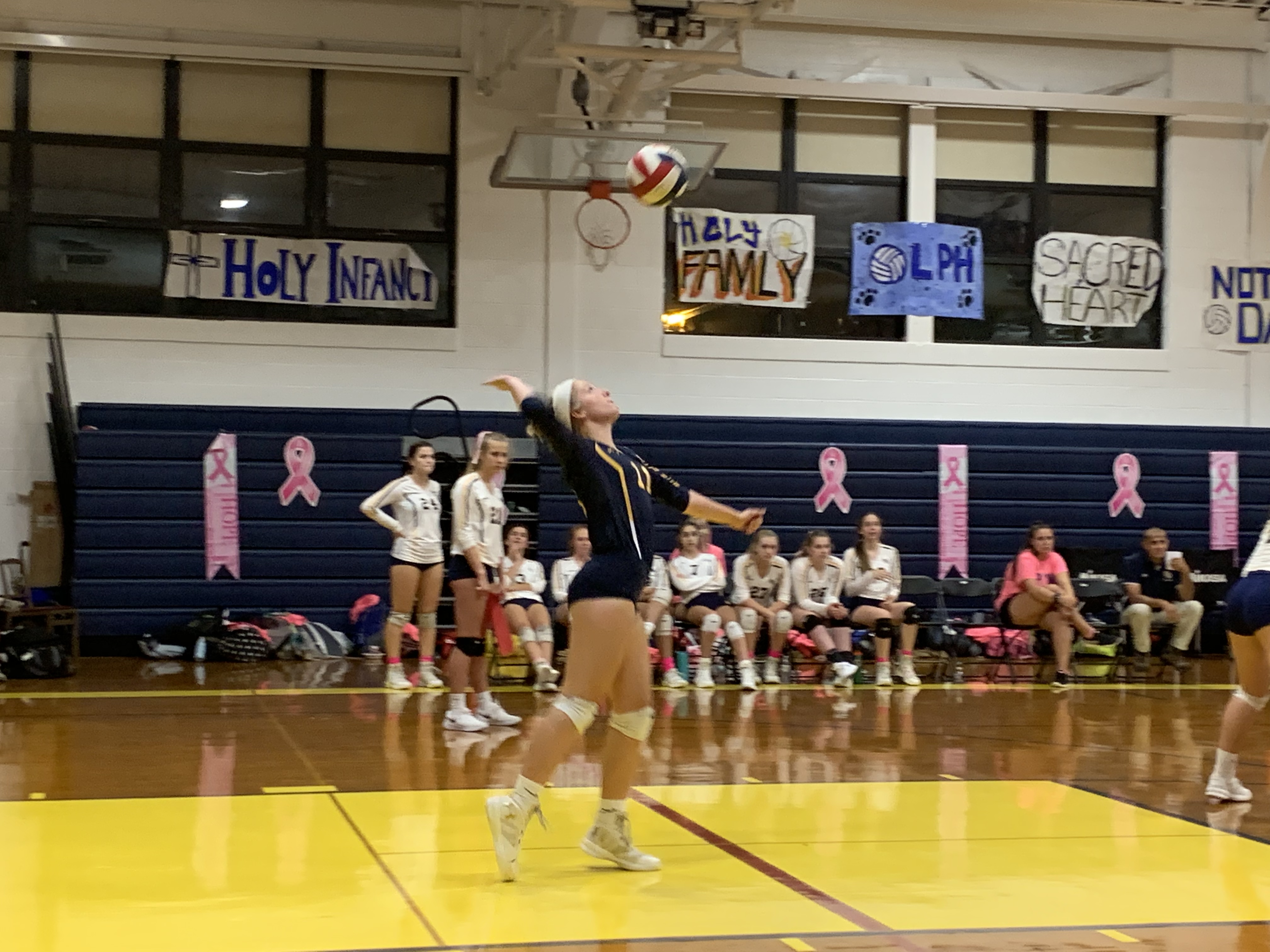 The Notre Dame girls volleyball team held their annual "Dig Pink" game facing off against the Northwestern Tigers on October 1. The Crusaders host the Dig Pink game every year to raise funds for cancer research. All proceeds from the 50/50 raffle, bake sale, and shirt sales goes toward a foundation of choice for cancer research. The crowd and the players wear pink in order to spread awareness for breast cancer.
This year, the Crusaders gave their funds to Team Decker, a foundation created by Gene Decker, to aid cancer patients in the Lehigh Valley. Gene Decker is a doctor at the St. Luke's facility in Phillipsburg, New Jersey. He founded Team Decker with his family and has hosted numerous events to raise money.
The Crusaders and the Tigers began the first set in a heated back and forth match. Big defensive plays made by Grace Silfani and Kelsey Priestaf kept the Tigers off the scoreboard and let the Crusaders jump to a 17-8 lead. The Tigers responded with an explosive offense to narrow the Crusaders' lead. The comeback was shut down and Notre Dame won the first set 25-17.
A similar trend of a tug-of-war began in the second set as neither team could pull away. A score of 14-14 quickly faded away for the Tigers. Several aggressive plays at the net by Mary McFarland set the Crusaders up for an 11-2 run to win the second set 25-16.
The Crusaders broke the first and second set trend by opening up the third set with a 7-1 lead. Senior captain and libero, Kelsey Priestaf, asserted her dominance with her serves by scoring several aces to assist Notre Dame in this quick lead.
Northwestern showed that they were not going to give up, forcing their way back into the game with a 6-2 run to make the score 9-7. The Crusaders were able to shut down the Tigers yet again, winning the third set 25-13 and coming away with the win.
The two performances that stood out from the Crusaders were their two captains, Mary McFarland and Kelsey Priestaf. I was able to interview both of these players after the game which capped off a fun and inspiring night at Notre Dame High School. The Crusaders will face the Catasaqua Rough Riders at home on October 3, hoping to ride off with a great win.
Excited to watch the #DigPink game tonight! @NDHSCrusaders take on the Northwestern Tigers at 7:00 P.M.‼️@D11Sports pic.twitter.com/sVM1bYsM3f

— Ben Carlin (@bencarlin171) October 1, 2019
The Crusaders start out strong and take the first set 25-17! @D11Sports pic.twitter.com/HD6YmupdqD

— Ben Carlin (@bencarlin171) October 1, 2019
Notre Dame wins the second set 25-16 after going on a 11-2 run! @D11Sports pic.twitter.com/B5XhPcRT1Q

— Ben Carlin (@bencarlin171) October 2, 2019
The Crusaders complete the 3-0 sweep and beat the Tigers 25-13 in the third set‼️ @D11Sports pic.twitter.com/rjFlwg3OLE

— Ben Carlin (@bencarlin171) October 2, 2019
It was great to interview senior libero, Kelsey Priestaf, and junior center, Mary McFarland, after the Crusaders win! @D11Sports pic.twitter.com/bd4b0Yzjmj

— Ben Carlin (@bencarlin171) October 2, 2019