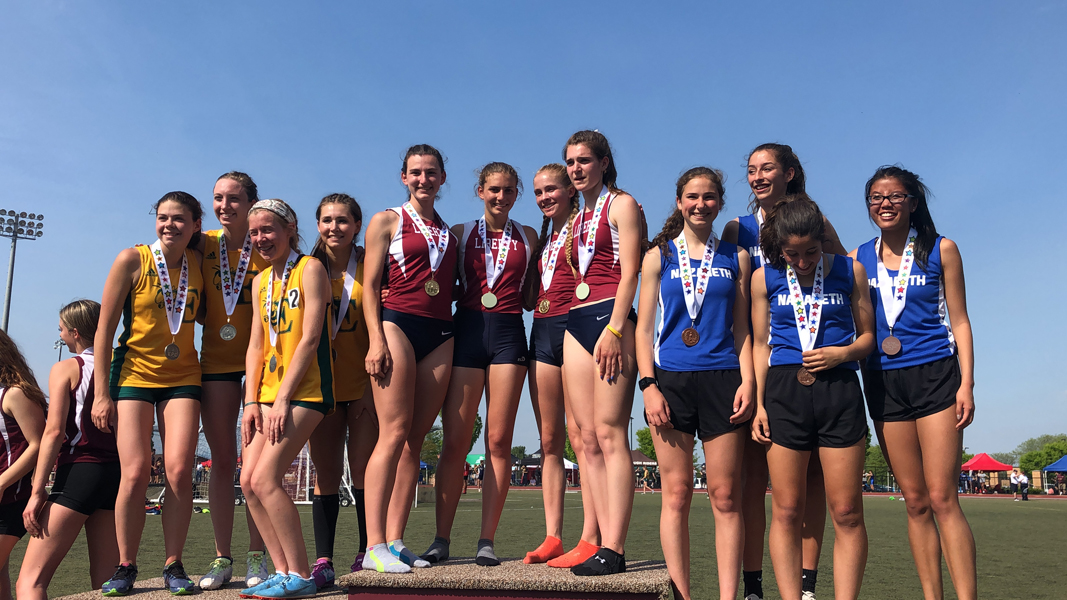 Whitehall High School the site for the 2019 Epc/ Colonial League Track and Field championships. Day one featured school records in a number of field events.
The day also saw Lydia Bottelier of Palisades add more hardware after capturing the high jump with a height of 5'9".
See below for some highlights of Day one with more gold coming with Day two events on Wednesday May 8.
The @Nwtigerstf girls team of Madeline Consuelos, Allie Costa, Sarah Supplee and Alyssa Zack capture the @Colonial_League gold in the 3200 relay with time of 9:42.55. @nwlehighsd pic.twitter.com/oR1t4UCPwG

— D11Sports (@D11Sports) May 8, 2019
Another @Colonial_League gold medal for @PSDAthletics Lydia Bottelier who wins the high jump at 5'9". On the boys side, teammate Josh Volak wins long jump at 22-05. @PalisdSUPT @rheffPSD @palisdPHS pic.twitter.com/5hPdMh4xUM

— D11Sports (@D11Sports) May 8, 2019
The @LibertyHSTrack Girls team of Rachel Byrne, Greta Stuckey, Emily Jobes, and Camryn Bortz take home the @EastPennConf18 gold in the 3200 relay. Their time 9:39.46. @EmmausTF finishes second. @_EHSAthletics @LIBERTYATHCLUB pic.twitter.com/YOyqWeHaqz

— D11Sports (@D11Sports) May 8, 2019
A down to the wire finish in the @EastPennConf18 Boys 3200 relay. @EmmausTF edges out @ParklandAthlet1. Taking home the gold is the team of Keshav Shankar, Mark Magee, Jake Brown, and Paul Petre in a time of 8:08.37. The Trojan foursome finished in 8:08:44. pic.twitter.com/vRv1LExrVH

— D11Sports (@D11Sports) May 8, 2019
The @SoLehighTF Boys team win the @Colonial_League 3200 relay in a time of 8:16.72. Capturing gold is the Spartan team of Marc Ramsen, Alec Di Cesare, Chase Hensinger and Alex Fillman. @SolehiSpartans pic.twitter.com/iFrKlveiwX

— D11Sports (@D11Sports) May 8, 2019