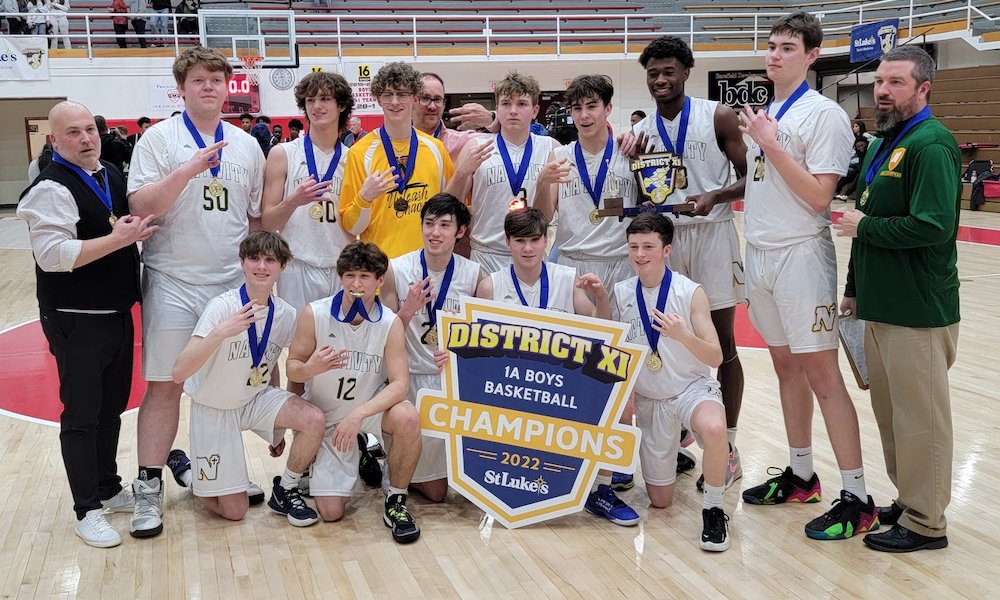 POTTSVILLE – Guard play in the postseason is crucial in having success on the hardwoods. That was evident Saturday night at Martz Hall. Behind Cody Miller and Julius Walborn's barrage of long range jumpers, the Hilltoppers of Nativity BVM captured their third consecutive Boy's 1 A District Championship over Notre Dame East Stroudsburg 71-47.
Miller finished with 22 points with five three pointers while Wilborn scored 15 points and six assists. They combined for six threes in the first half alone as both teams played at a hectic pace as the teams combined for six threes in eight trips down the floor.
Notre Dame held a slim 15-13 lead after the first quarter as Trevor Hardy connected on two buckets behind the arc and had eight points in the quarter.
BVM's defense stepped up though in the second stanza as they forced six Spartan turnovers behind the play of the two guards. Notre Dame had to come out of their 2-3 zone, meant to stop the inside presence of Marquis Ratcliff. Ratcliff then hit a three-point basket of his own at the horn gave him nine points for the quarter and a 39-27 at intermission. Ratcliff also finished with 15 points along with 15 boards.
The closest the Spartans came to making it a contest in the second half was 43-35 after scoring six consecutive points. The the Toppers went on a 12-0 run of their own to seemingly put the game away.
"The play of Cody, Jules and Jack Miller really stepped up tonight. They were knocking down shots from everywhere and really allowed us to open things up inside when the game out of that packed in zone," said Nativity coach Mike Wilborn afterwards.
Nativity will face West Shore Christian on Tuesday in the opening round of state playoffs.
Final game of the day at Martz Hall @PIAADistrictXI 1A boys championship @NDSpartans vs @Toppers_bball @D11Sports @SteveLloydWNEP @CoachWeaver3 @circlewsports pic.twitter.com/jVWCvvqMpz

— Brian Ptashinski (@BPtashinski) March 5, 2022
Justin Sickles hits one of two ft's for Nativity at end of one quarter @nativitybvm55 leads @NDSpartans 17-15 @D11Sports @CoachWeaver3 @SteveLloydWNEP pic.twitter.com/LImFC8WzMB

— Brian Ptashinski (@BPtashinski) March 5, 2022
Marquis Ratcliff answers Joshua Quijadas bucket for @nbvmathletics as we go to half @Toppers_bball lead @NDSpartans 39-27 @D11Sports @CoachWeaver3 @SteveLloydWNEP @circlewsports pic.twitter.com/RPQ61LfBpt

— Brian Ptashinski (@BPtashinski) March 6, 2022
End of 3rd quarter @Toppers_bball 55 @NDSpartans 38 @D11Sports @SteveLloydWNEP @PAcatholic @CoachWeaver3 @circlewsports pic.twitter.com/Fho2wbuu7M

— Brian Ptashinski (@BPtashinski) March 6, 2022
Final score @Toppers_bball 71 @NDSpartans 47 @D11Sports @SteveLloydWNEP @PAcatholic @CoachWeaver3 @circlewsports pic.twitter.com/98KiJxHFaE

— Brian Ptashinski (@BPtashinski) March 6, 2022
2022:@PIAADistrictXI 1A boy's champions @Toppers_bball @D11Sports @SteveLloydWNEP @PAcatholic pic.twitter.com/zCy1SD9v1A

— Brian Ptashinski (@BPtashinski) March 6, 2022