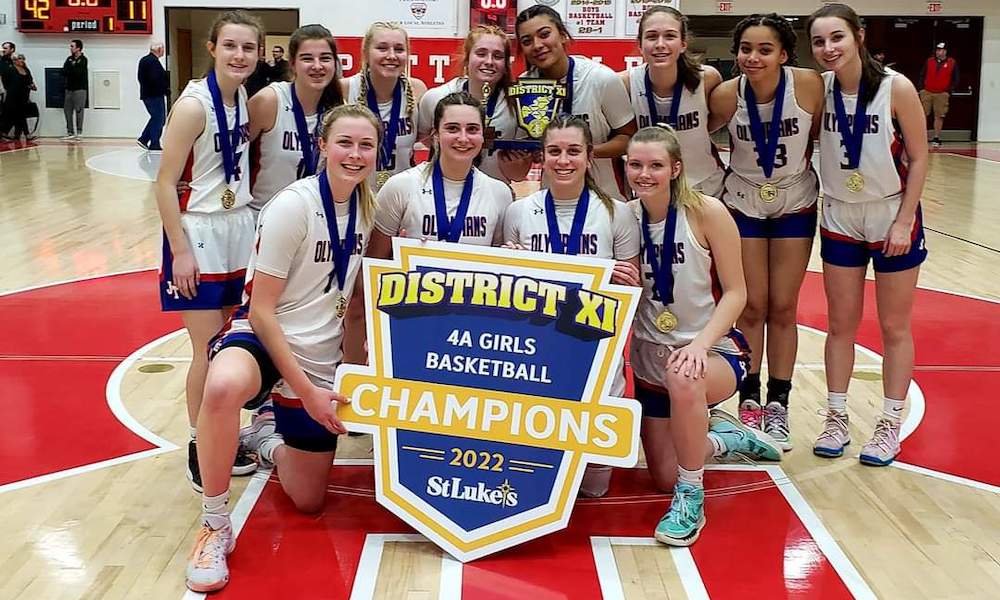 POTTSVILLE – The classic cliche is that defense wins championships and on Saturday afternoon, that was evident as the Olympians of Jim Thorpe forced Allentown Central Catholic into 20 turnovers and rolled to a 42-11 victory in a PIAA District XI 4A Girl's Championship game at Martz Hall.
This was the first District title for Jim Thorpe, as they were denied the last three years by Bethlehem Catholic twice and by Central Catholic last season. They earned a first round state playoff game at home on Tuesday against the District 12 fifth seed.
Central Catholic, playing without Julia Roth, due an injury, was held to 16% shooting (4 of 21) and was held scoreless in the second quarter and led 21-5 at intermission.
Leila Hurley led the Olympians with 12 points followed by Leah Snisky and Skyler Searfoss added 11 each. Searfoss also added seven boards and three steals to her stat line.
Central Catholic ended their scoring drought mid way through the third quarter when Madi Szoke hit a free throw making it 25-6, but with 1:15 left in the quarter a Searfoss put-back bucket put the game into mercy rule the rest of the way.
Jim Thorpe's (25-1) second year coach Nadia Gauronsky was pleased with the way her team played with intensity saying, "They accomplished one of their goals. We still have work to do, but our girls are focused."
This was legendary coach Mike Kopp's last district playoff appearance. He is retiring at the end of the season after 42 years of coaching. His career spans five state championships and 21 district titles at Central Catholic. The Vikettes will face the seed out of District 4 on Tuesday.
In the consolation game, North Schuylkill defeated Lehighton 62-35 and they will face the second seed out of District 2.
My interview with @JTGirlsBball coach Nadia Gauronsky after her team won @PIAADistrictXI 4A Championship 42-11 over Allentown Central Catholic @D11Sports @JTOlympians pic.twitter.com/EuJ3a3faTg

— Brian Ptashinski (@BPtashinski) March 5, 2022
My interview with Allentown Central Catholic Vikings coach Mike Kopp after his team dropped a 42-11 decision to Jim Thorpe this afternoon @D11Sports @ACCHS_Athletics @ACCHSVikings @ pic.twitter.com/xxIaSpR3QK

— Brian Ptashinski (@BPtashinski) March 5, 2022