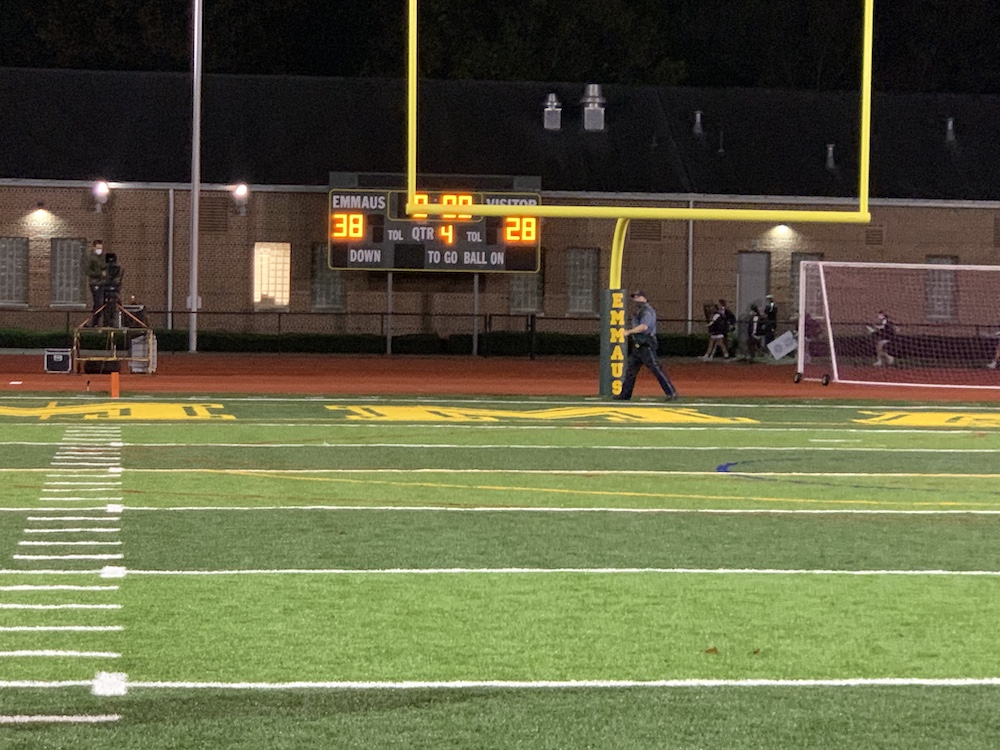 Matt Seneca and the Zephyrs traveled to EPSD Stadium to take on the undefeated Emmaus Hornets on Friday night. The Zephyrs were trying to get above .500 for the first time under Matt Seneca and the Hornets trying to go 4-0 for the first time since 2018.
Emmaus forced a three and out on Whitehall's opening possession. The offense only needed three plays to score. Fotta connected with Jaiden Robinson for a 15-yard touchdown. Emmaus went for two and converted to take an 8-0 lead. Whitehall quickly responded as QB Quinn Wentling found Damonte Foreman for a 57-yard score to make it 8-7. Emmaus didn't even need the offense to come out on the next possession as Brandon Camire took the kickoff 96 yards to the house for the touchdown. Again the Hornets went for two and made the score 16-7. Quinn Wentling found Ryan Kovalchick for a 79-yard touchdown on the next Zephyr possession. An exciting first quarter ended with Emmaus up 16-14.
Whitehall dominated the second quarter. Their defense frustrated the Emmaus offense and Whitehall took advantage. Foreman found pay dirt for the second time on the night to give Whitehall a 21-16 lead going into halftime.
Emmaus got the ball to start the second half. They needed to find momentum, as they trailed for the first time all year going into quarter three. Emmaus moved the ball well and Camire eventually scored from 38 yards out to put Emmaus up 23-21.
Whitehall responded as Wentling found Bryce Bashore for a 32-yard touchdown to re-establish the Zephyrs lead at 28-23. Emmaus and Whitehall traded possessions for a brief time until Emmaus' Tanner Ritter came up with an interception to give the Hornets life.
Emmaus looked to take the lead. Quarterback Jake Fotta found Brandon Camire for a 76-yard touchdown. Fotta connected with Jameel Sanders for the two-point conversion. Emmaus led 31-28 after three-quarters of play.
Emmaus took control in the fourth quarter as Tanner Ritter got his second interception of the night and set the Hornets up on the Whitehall 45-yard line. The Hornet offense drove down the field. Brandon Camire punched in his fourth touchdown of the night, making the score 38-28 Hornets late in the fourth. Emmaus' defense just needed one more stop to seal the win. Tanner Ritter would do just that.
On fourth down, he broke up the pass from Quinn Wentling and the Hornets took over on downs. Jake Fotta led the offense into victory formation sealing a well deserved 38-28 victory over Whitehall to remain undefeated.
Emmaus improved to 4-0 and the Zephyrs fell to 2-3. Emmaus will head to Parkland next week to conclude the shortened season. Whitehall will play the Konkrete Kids of Northampton, both games on October 30th.