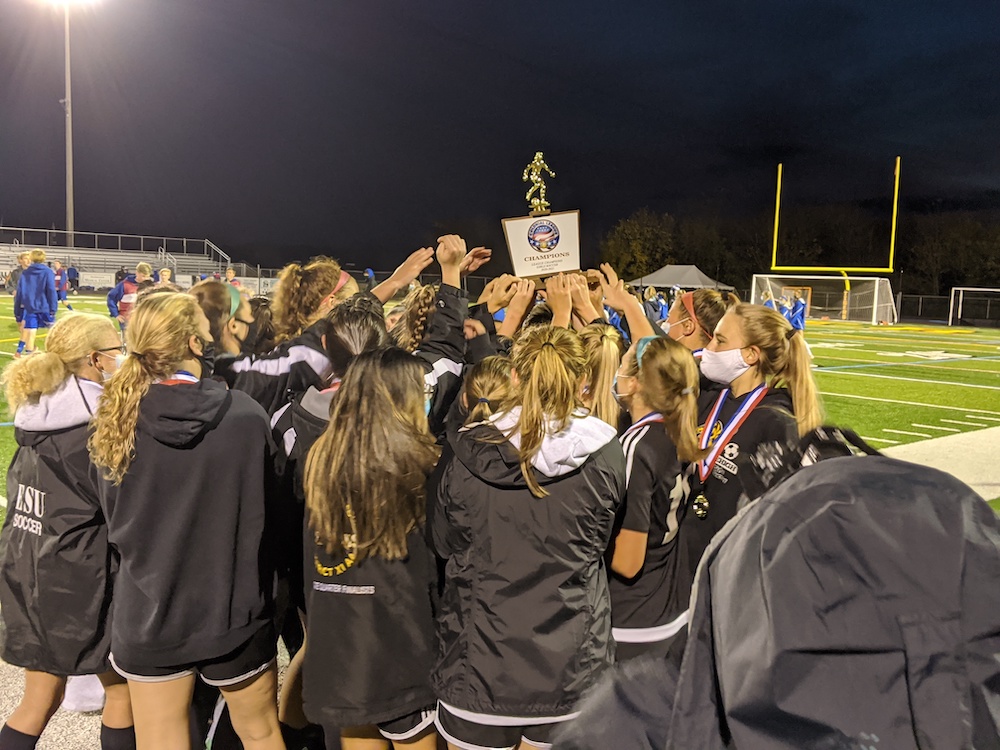 Northwestern Lehigh is sending a message that they're next up for a Colonial League dynasty in girls' soccer. For the second season in a row, the Lady Tigers downed Southern Lehigh in the league championship game to win their second straight championship, doing it against the team that had won five straight league trophies prior to Northwestern winning. Sophia Motolese and Kylie Zentz picked up goals the traditional way, with Camryn Fitch being awarded a goal when Southern Lehigh accidentally put the ball into their own net in the Tigers 3-0 win.
Early on, Southern Lehigh controlled the tempo of the play and put a lot of pressure on sophomore goalkeeper Naomi Glassberg. Just over 10 minutes into the game, a Southern Lehigh shot hit the crossbar and came back onto the field, but the Lady Spartans weren't able to get an open look and it all went down as a missed opportunity.
Just that quickly, a flip was switched and Northwestern had seized control of the game. Kayla Bardonner headed a ball off a free kick with the shot going just wide of the net. Within minutes, Sophia Motolese took a pass from Olivia Motolese and beat goalie Ava Foran to put Northwestern up 1-0.
"I was kind of nervous at first, but when we got that first goal, it helped me to settle in a little bit," said Glassberg of weathering the early pressure. "From there, I just kept my composure the rest of the game and the extra goals certainly helped."
If being up 1-0 helped, 2-0 really took the pressure off; especially since Southern Lehigh gave the point to the Lady Tigers. After holding off pressure from Northwestern, a Spartans defender looked to send the ball back to Foran for her to kick downfield. The pass went wide of Foran who had to scramble after the ball and wound up being just out of reach as the ball squirted through the mouth of the goal. Fitch was the last Northwestern player to have touched the ball and was awarded the goal.
In the second half, Foran and Glassberg both made nice saves on shots to keep the game at 2-0. Southern Lehigh's best opportunity came when Ashley Meinhold hit a looping shot on goal from 30 yards out and Glassberg made a nice play to catch the ball.
With just over seven minutes left in the game, Sophia Motolese delivered a long kick 20 yards in front of the net. Zentz played the ball off a header by a Southern Lehigh defender and put a shot past Foran to give Northwestern a 3-0 lead and a lot of room to breathe.
"When we went up 3-0, we just settled down and kept our heads up after that because we knew we were in good shape and we were going to be going into districts as a league champion," said Zentz.
Southern Lehigh coach Andrew Filler knows that his team will still be one of the favorites in district play, which starts next week, but he really wanted this one.
"It's always good to have that league championship under your belts going into districts," Filler admitted. "We worked hard for this one and we knew it would be a battle. We definitely wanted this one, but we'll recoup and be back."