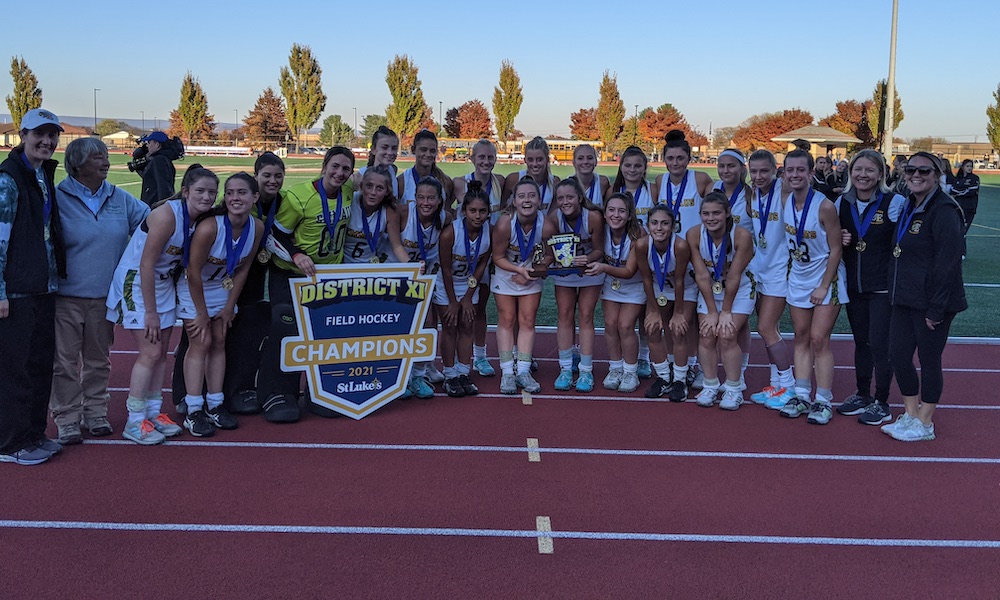 More than in previous seasons, there were a few question marks lingering around the Emmaus Green Hornets field hockey team as they entered district play looking for their 33rd straight District 11 championship. The questions came from seemingly close regular season games against Easton (3-1) and other games where they couldn't put opponents away quickly. Their margins of victory were smaller than in most seasons, leading some to think this may be the year the streak ended. Then, the playoffs hit. Emmaus blew through their three EPC tournament games by a 15-1 margin. In districts, they again showed no signs of letting their streak die on the vine as they outscored their opponents 26-0 to again pick up district gold, beating Parkland 5-0 Saturday at the Whitehall Sports Complex.
"I don't think that we sent any message at all," said coach Sue Butz-Stavin, about her team's romp through the playoffs. "I just think that we came out to play the game and we wanted to play for 60 minutes and capitalize on offensive corners, and we did today. I think the majority of our goals had something to do with the offensive attack on corners."
Emmaus (22-0) held a distinct 15-3 advantage over the Lady Trojans (16-7) in corners, which never bodes well for their opponents. The Emmaus attack on corners is ferocious and they typically convert a high number of corners into goals.
Parkland did a good job of handling leading scorer Ava Zerfass, who has 51 goals on the season, but there are only so many players an opponent can surround at one time. The rest of the Emmaus attack simply took over, including Rachel Herbine, who scored her 45th and 46th goals of the season on Saturday. Herbine notched the first goal in the opening quarter and then struck again in the third quarter.
The Hornets held a 1-0 edge after the first 15 minutes and then started to stretch their lead with goals from Autumn Kernechel and Lexi Kociban in the second quarter.
"It was off of a corner," said Kociban of her goal that made it 3-0. "It was just a rebound off the goalie, and I just shot, and it went in."We're focusing on starting out stronger, especially in the two minutes of a quarter or after we score a goal or get a goal scored on us. That approach has been helping us a lot and it's been a game changer for us."
Senior Kyleigh Faust wrapped up the scoring when she took a pass from Herbine off a corner and put a shot past Parkland goalie Tess Garchinsky. Faust, a senior, said she thinks winning this gold was satisfying because it came at the expense of the rival Parkland Trojans.
"It's more satisfying because they're our rivals, it's kind of nice to beat them," said Faust, who will continue her field hockey career at Liberty University. "The feeling never gets old, it's always a different feeling every year and it's great to win a district championship each season that I have been here."
Both Emmaus and Parkland will get home games in the first round of states and will host Souderton at Memorial Field on Tuesday. Souderton is the fifth-place team from District 1 and is 20-2 on the season. Parkland will host Downingtown West (16-4-1), the third-place team from District 1, with that game also being played Tuesday at Parkland High School.