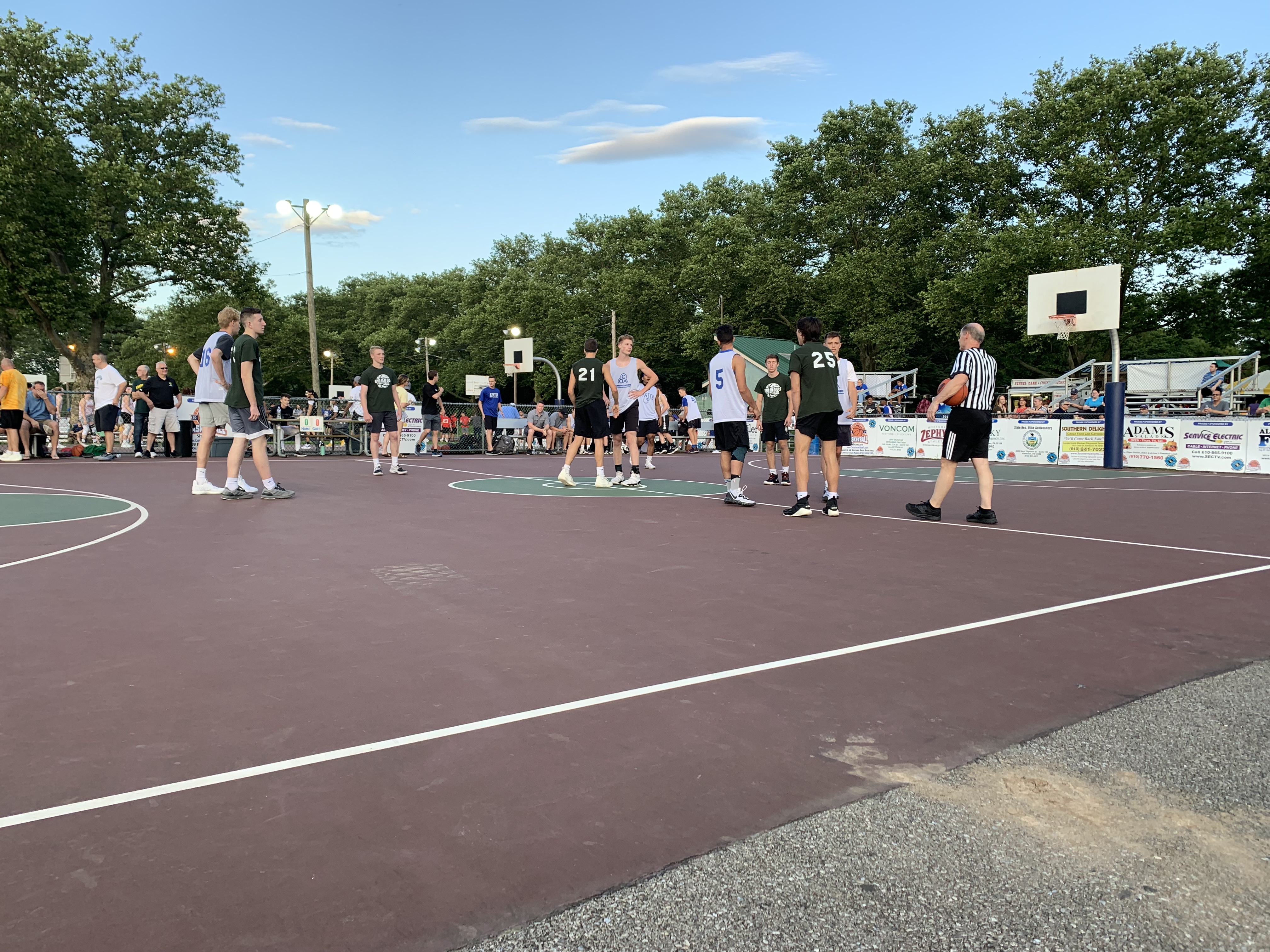 Exeter and Emmaus Varsity Basketball faced off Friday night at Cedar Beach. Exeter came out aggressive and was not missing three pointers.
Emmaus settled in late in the first half battling back. They trailed by as many as 9. They were able to tie and were within one or two many times but couldn't push through for the lead.
Danny Bohman led the Hornets with 18 points. Emmaus will take on Freedom tomorrow at noon.
Mason Boyd with the layup in transition for the hornets. 11-3 hornets. @scotty1021 pic.twitter.com/1nXRnKXVkV

— Joey Draper (@joeydra1) June 12, 2019
Hornets continuing their success they lead 29-16 @scotty1021 pic.twitter.com/D2K5m265sZ

— Joey Draper (@joeydra1) June 12, 2019
49-28 Hornets late second half. Mason Boyd with another transition layup for ehs. @scotty1021 pic.twitter.com/Wjz4hNm4TO

— Joey Draper (@joeydra1) June 12, 2019
A 53-30 finish here at cedar beach in favor of the Hornets. Emmaus will take on Liberty Thursday night at 8. pic.twitter.com/t1yrOVFGNX

— Joey Draper (@joeydra1) June 12, 2019
Interview with Emmaus coach Steve Yoder following the Hornets 53-30 win over Pocono Mountain East. @emmausboysbball @_EHSAthletics @scotty1021 pic.twitter.com/FCy4eag69M

— Joey Draper (@joeydra1) June 12, 2019
Emmaus vs Exeter varsity basketball. @D11Sports @scotty1021 pic.twitter.com/1hyFoFEjCE

— Joey Draper (@joeydra1) June 22, 2019
Danny Bohman for 3 for the Hornets. 10-10 @scotty1021 @D11Sports pic.twitter.com/zQFc5Hkccc

— Joey Draper (@joeydra1) June 22, 2019
Exeter capitalizes off of a Hornet turnover. Exeter blows it open 29-20. @D11Sports @scotty1021 pic.twitter.com/TTvOEGgiVo

— Joey Draper (@joeydra1) June 22, 2019
Danny Bohman having a great start. As he capitalizes in transition. Hornets going to the line now with a chance to cut it to 5. pic.twitter.com/BZPav2aYtL

— Joey Draper (@joeydra1) June 22, 2019
An exciting finish to the first half. Exeter leading 38-36. @D11Sports @scotty1021 pic.twitter.com/ELSwFbloL3

— Joey Draper (@joeydra1) June 22, 2019
Hornets within 3 on this and one opportunity for Gallagher. He would miss the free throw. 43-40 Exeter. @D11Sports @scotty1021 pic.twitter.com/7v3NiSiHs4

— Joey Draper (@joeydra1) June 22, 2019
Exeter by 7 50-43. Time starting to be against Emmaus. @D11Sports @scotty1021 Hornets looking for a way back in the game. Danny Bohman leading scorer looking to bring EHS back. pic.twitter.com/3gW81tU3rF

— Joey Draper (@joeydra1) June 22, 2019
Hornets within 6. Mason Boyd staying down at half court with an apparent ankle injury. @D11Sports @scotty1021 2:19 game time left pic.twitter.com/yQQJqERP4c

— Joey Draper (@joeydra1) June 22, 2019