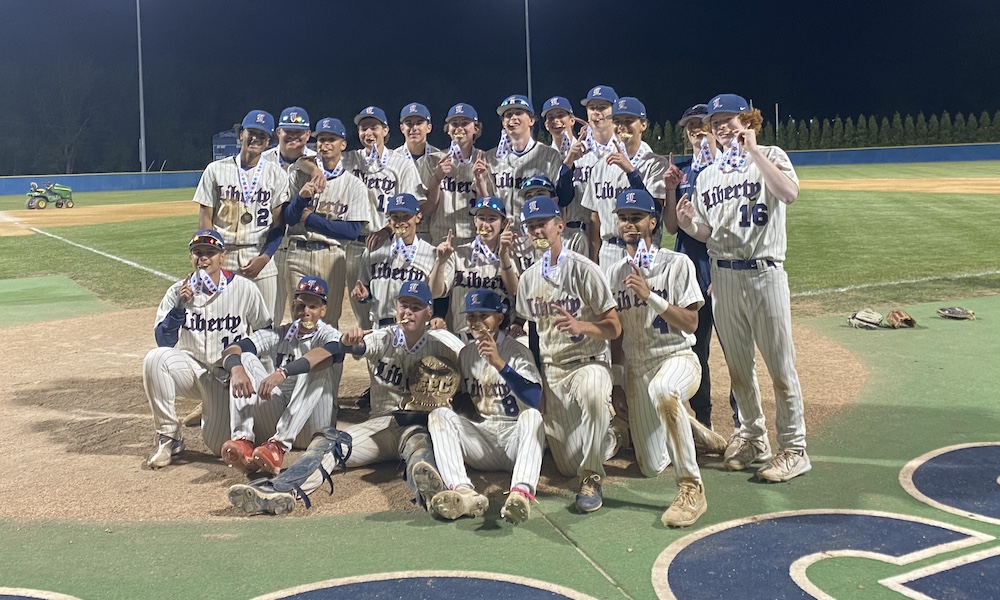 In a one sided slugfest that showcased the talent and determination of the Liberty Hurricanes Baseball team, they emerged triumphant, clinching the coveted 2023 EPC championship with a resounding victory over the Parkland Trojans. The Hurricanes' exceptional performance, highlighted by a stellar pitching display and key offensive contributions, cemented their place in EPC history.
The game took an exciting turn in the second inning when Liberty's #5, Tate George, stepped up to the plate with two outs. George delivered a clutch two-run single, propelling the Hurricanes to an early 2-0 lead. This breakthrough spurred on Liberty's momentum, setting the stage for a commanding performance.
Not content with their lead, the Hurricanes continued their offensive onslaught in the third inning. Braylen Gonzalez drove in another run with a well-placed RBI single. However, it was the Parkland Trojans' defensive mishap, as Matthew Razzis allowed a passed ball, that gifted Liberty another run, extending their lead to an impressive 4-0.
As the game progressed, Liberty showed off their resilience and determination, refusing to relinquish their advantage. In the fourth inning, an error committed by Parkland first basemen Jaiden Wanamaker presented an opportunity for Liberty to capitalize. The Hurricanes seized the moment, capitalizing on the mistake and adding two more runs to their tally, further solidifying their commanding lead.
While the Hurricanes' offense was firing on all cylinders, it was Liberty's pitcher, John Galgon, who truly stole the show. Galgon delivered a masterclass on the mound, going the distance and pitching a complete game. With incredible poise and precision, he allowed Parkland only one hit throughout the contest. Galgon's exceptional performance was further highlighted by his seven strikeouts, leaving the Parkland batters frustrated and struggling to find their rhythm.
The collective effort of the Liberty Hurricanes, both on offense and defense, propelled them to a well-deserved victory and secured their status as the 2023 EPC champions. The game served as a testament to their unwavering dedication, teamwork, and skill, according to head coach Andrew Pitsilos.
As the final out was recorded, the Liberty Hurricanes celebrated their triumphant victory, hoisting the EPC championship trophy high in the air. The team's path to victory was paved with moments of brilliance, from Tate George's crucial two-run single in the second inning to John Galgon's dominant pitching performance. As they bask in the glory of their championship triumph, the Hurricanes can proudly declare themselves the kings of the EPC, a title earned through sheer determination, unwavering commitment, and an unrelenting desire to be the very best.