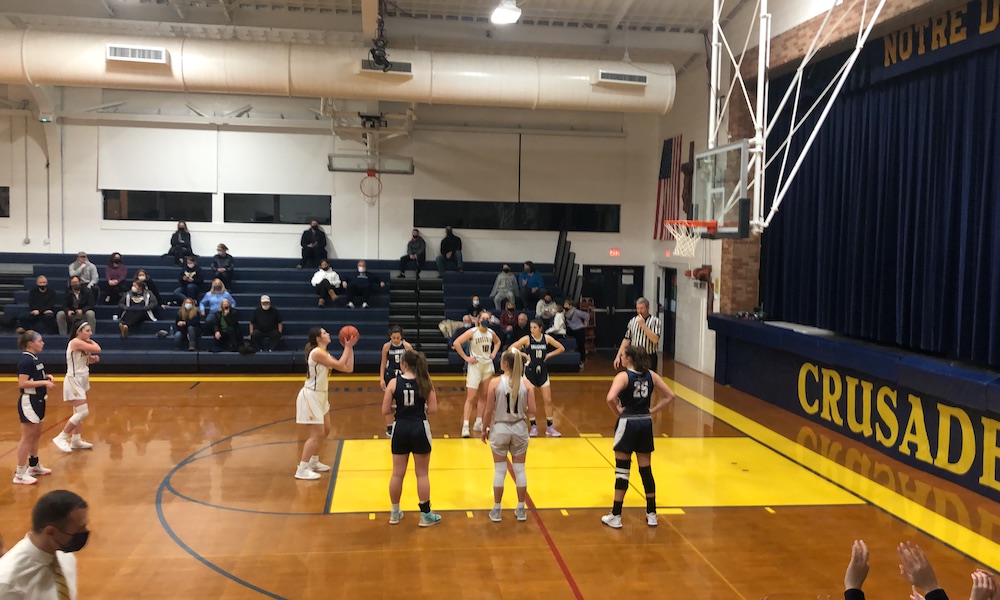 The Lady Crusaders Basketball team played host to the Salisbury Falcons in a girls basketball competition Monday night. Notre Dame Green Pond Girls Basketball started their evening strong with their starting five, Jr. Emma Altmire, So. Rylin Becker, Sr. Raegan Cooper, So. Skyler Howlett, and Sr. Anna Micklos. It was a close first quarter as the score battled back and forth between the Crusaders and the Falcons. At the end of
the first quarter, the Lady Crusaders trailed the Falcons 12-11.
In the second quarter, the game remained close as less than three minutes was left on the clock when Sr. Anna Micklos went under the basket for two. The score was then 17-16 Crusaders until Salisbury´s Quinn Wittman and Desiree Nales added to the board, taking the score to 20-17 Falcons with a little under two minutes to go in the first half. That was until Sr. Raegan Cooper sank a shot for three to make the score 20-20 with a minute and 30 seconds to go in the half. Salisbury´s Angela Bitar gave the Falcons the lead at halftime as she hit a three with seconds to go in the first half. The score was Salisbury 23, Notre Dame 20.
The Lady Crusaders came out strong in the third quarter, but it was not until the fourth quarter that they kicked into a new gear. Jr. Julia Pohl and So. Olivia Schweitzer´s free throws helped the Crusaders take the lead by ten. The Crusaders captured the win with a final score of 53-32. The Lady Crusaders look forward to Wednesday's matchup away at Palmerton.