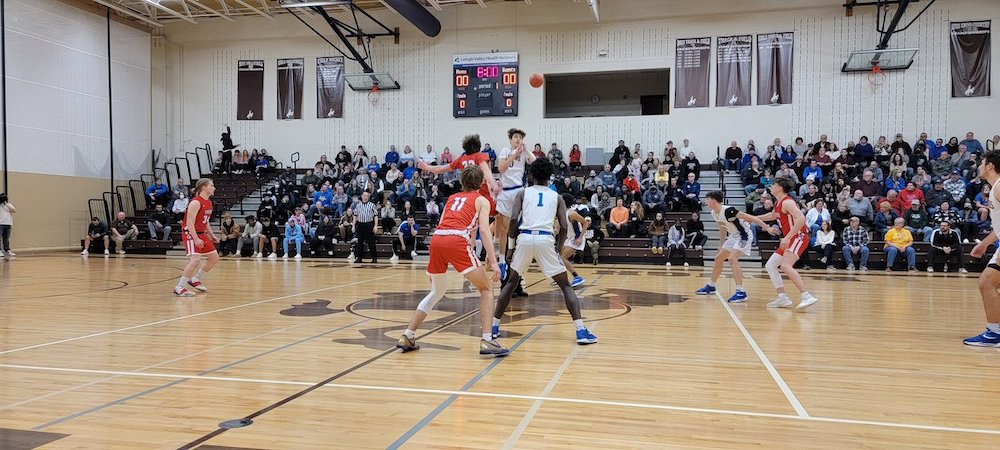 CATASAUQUA – Wilson's Na'shawn Jones scored eight of his game high seventeen points in the fourth quarter Tuesday night. His twelve-foot baseline jumper with two seconds left gave the Warriors a 44-42 win over North Schuylkill in a District XI 4A boy's semifinal contest and advance to face Bethlehem Catholic Friday night.

Wilson, behind Jones and Shamel Gibson, jumped out to a quick 16-5 lead after one quarter, with Gibson tallying eight points of his own in the quarter. The Warriors' stingy defense forced three early turnovers into points.

North Schuylkill's Jack Keiter and Adam Scott rallied their squad back to close the gap at 25-20 going into intermission as Scott pumped in ten of thirteen points in the second eight minutes of the game. Keiter also tallied 11 rebounds on the night.

Neither team could find enough momentum to pull away in the third quarter. The largest deficit was three points as both teams seem to find a lock on the basket with Wilson leading 34-31 heading into the final quarter.

Jones then exploded in the final stanza, a thunderous slam dunk and a crucial charge call on North Schuylkill. A subsequent Warrior score by Anthony Shaw from Shamel Gibson extended the lead to 38-31 with about seven minutes left in regulation.

"That got us fired up," Jones said of his slam dunk. "Cayden Stem drew the charge call that gave us momentum as we were sluggish up till that point."

The Spartans would not go away as they rattled off seven straight points, five by Keiter on a three-point basket and a transition layup. Jones then added a couple baskets of his own giving Wilson a 42-38 lead with a few minutes left on the clock. The game was tied at 42 with under two minutes on buckets by Scott and Miller.

Jones was then hit with a double dribble call, but made amends with a steal of a North Schuylkill possession with 1:10 left. On their turn with the ball, Wilson let the clock go to just under twenty seconds before calling another timeout. Brady Westbrook fed the ball to Stem near the top of the key, who then found Jones along the baseline for the tie-breaking bucket with 2.1 seconds left.

North Schuylkill had one chance left to either tie or win, but the inbounds pass hit the rafters and fell harmlessly to the floor.

"My heart just dropped. I thought I put too much on it when it went up but just thankful it dropped," Jones said of his game winning basket.
Nashawn Jones with the bucket 2.1 seconds left @WASDAthletics1 up 44-42 @D11Sports @KeithGroller pic.twitter.com/IFVZl1ePau

— Brian Ptashinski (@BPtashinski) March 2, 2022
End of 3rd quarter @WASDAthletics1 34 @NSAthletics1 31 @D11Sports @KeithGroller @circlewsports @PFNDan570FB pic.twitter.com/iic4QvFVDa

— Brian Ptashinski (@BPtashinski) March 2, 2022
Halftime score Wilson Area 25 North Schuylkill 20. @D11Sports @KeithGroller @CoachWeaver3 pic.twitter.com/2SUIYCUv3s

— Brian Ptashinski (@BPtashinski) March 2, 2022
Brady Westbrook with the shot near the end of 1st quarter giving @WASDAthletics1 a 16-5 lead over @NSAthletics1 @D11Sports @CoachWeaver3 @KeithGroller pic.twitter.com/CMBWSId2kv

— Brian Ptashinski (@BPtashinski) March 2, 2022