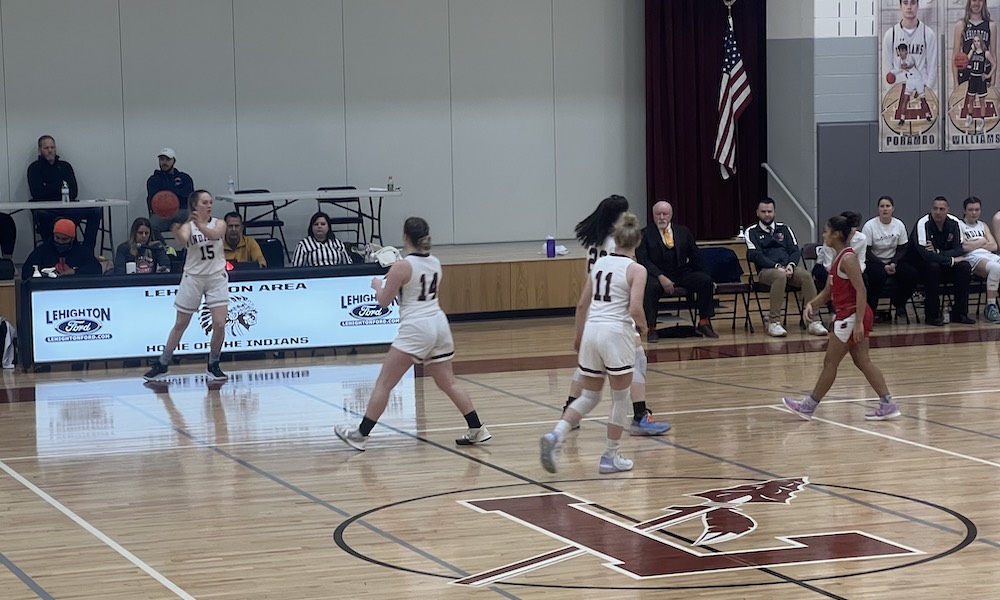 The Lehighton Indians welcomed the Pocono Mountain East Cardinals for a girls basketball match. A win for Lehighton would secure a district playoff spot. Lehighton entered the event with a 10-11 record, while Pocono Mountain East came into the game with an overall record of 6-14.
Lehighton jumped out to a 10-9 lead over by the end of the first quarter. Aaliyah Fisher scored two three-pointers and all of Lehighton's points in the second quarter giving them a 16-15 lead heading into the half.
Pocono Mountain retook the lead 32-26 at the end of the third quarter. Lehighton closed the gap 36-35 with just 1:08 remaining in the game. The Indians rallied ahead on a three-point shot by Emma Repsher and three successful foul shots by Charli Mchugh to win the game 41-36 and clinch their spot in the district playoffs.
"I think we played really hard," Repsher said, "We tried our best the whole game, we started off a little slow but towards the end, we really pulled through and made sure that we got the win to go to districts."
Despite making the three-point shot to take the lead, Repsher praised Mchugh for her five total foul shots made in the final quarter.
"I think that Charli, with those foul shots, really pulled us through to the end."
TOP SCORERS: Aaliyah Fisher led Lehighton with 13 points along with nine from Hailey Miller. Zoe Cruz and Jayla South each finished with nine points for Pocono Mountain.
"It was very aggressive," Fisher said. "We played very well as a team and we made the big shots when we had to."
Lehighton improves to 11-11 on the year and advances to the district playoffs. Pocono Mountain falls to 6-15 overall on the year.