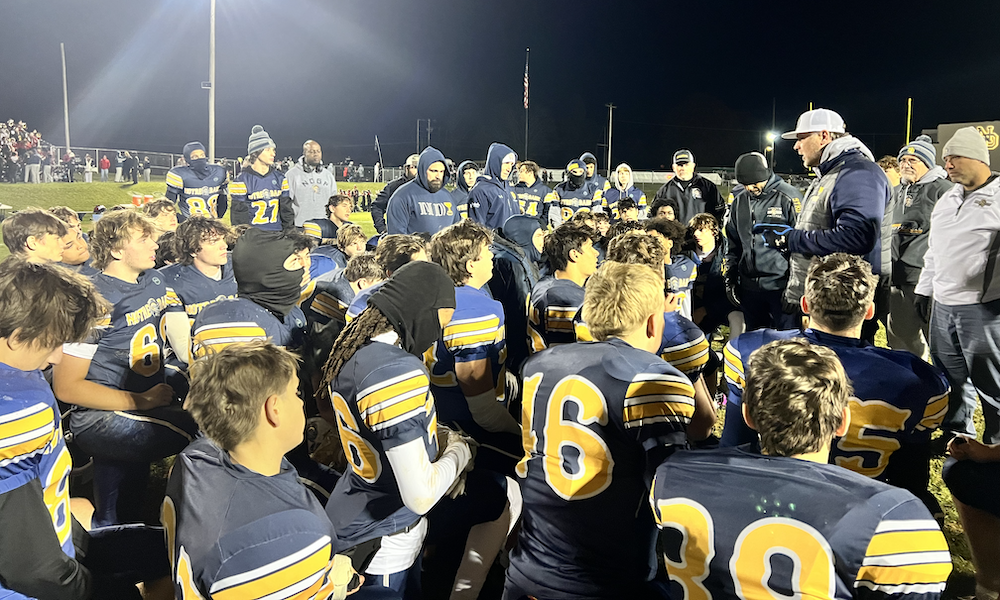 EASTON – Last night was probably the last football game for the Notre Dame Green Pond seniors on their home turf. It was a focus to showcase the seniors one last time in front of the hometown crowd.
One senior who stood above the others last night was Josh Ludlow. His six touchdown performers Thursday night led the No. 4 Notre Dame Green Pond over No. 5 Saucon Valley 56-20 in the first round of the District 11 Class 3A playoff game.
"He is a kid that works hard and lays it on the line every day and cares deeply about the program and our school", said Notre Dame Green Pond Head Football Coach Phil Stambaugh. "He represents Notre Dame at a high level all the time and to see him have a big night in our seniors' last game was special tonight."
Another senior who got things going on a cold Thursday night was quarterback Danny Darnor. On the Crusaders' first drive, Darno used his legs and had runs of 15, 6, and an 11-yard touchdown run with 9:59 left in the first quarter. Mark Talpas' kick put Notre Dame Green Pond up 7-0.
Saucon Valley drove all the way down to the Crusaders 1. But Notre Dame Green Pond's defense was up for the challenge and got the big stop on fourth down.
Things got a little sloppy by both teams late in the quarter. The Crusaders' next possession ended in a turnover. A bad snap was recovered by Panthers' Landon Beckowski on the Crusaders' 30. But Saucon's drive ended on a backward pass that was recovered by Crusaders' Jaysen Blacknail-Farmer on their 40. Darno ripped off a 34-yard run setting up a Ludlow 12-yard touchdown run. It was 14-0 Crusaders with 17.3 seconds left in the first quarter.
The Panthers cut into the lead on a 70-yard run by Constantine Donahue. As fast as the Panthers celebrated the touchdown run, Notre Dame Green Pond answered right back. It took one-play and Ludlow went up the middle untouched for the 59-yard touchdown run.
"He is a big-time player for us and that was a big-time run that gave us momentum in the first half," said Stambaugh.
The Crusaders weren't done in the second quarter. Defense and special teams stood out. Blacknail-Farmer intercepted a Jared Rohn pass for a 30-yard return and Ludlow added a 63-yard punt return. The Crusaders headed into halftime leading 35-7.
Blacknail-Famer finished the night with two interceptions and a fumble recovery. "Jaysen has had a great season for us," said Stambaugh. "He is really starting to come into his own and he had a big game for us on defense tonight."
The third quarter was back and forth. The Panthers scored on a Donahue 39-yard touchdown run and a Rohn touchdown pass to Jack Robertson for 10 yards.
"I knew they weren't going to stop fighting," said Stambaugh. "They have tough kids over there and have a wrestler mentality. The Crusaders answered in the third quarter. Ludlow had touchdown runs of three and seven yards.
"We told our kids to keep playing and regardless of the score, up, down, tied, whatever, just play the situations," said Stambaugh. At the end of the third quarter, Notre Dame Green Pond led 49-20.
Ludlow finished the night off with his fifth rushing touchdown of the night. This time it was from seven yards out. He finished the game rushing for 181 yards
NEXT UP: Notre Dame Green Pond (8-3) travels next week to face top-seed unbeaten Northwestern Lehigh (11-0) on Friday night.
"We are right back where we were last year and we know it's going to be a great game," said Stambaugh. "I have a lot of respect for Josh and what he does with his program over there. So we will get back to work tomorrow and go after it next Friday night."
Notre Dame Green Pond 56, Saucon Valley 20
| | | | | | |
| --- | --- | --- | --- | --- | --- |
| Final | 1st | 2nd | 3rd | 4th | Final |
| Saucon Valley (5-6) | 0 | 7 | 13 | 0 | 20 |
| Notre Dame Green Pond (8-3) | 14 | 21 | 14 | 7 | 56 |
Score by Quarters
First Quarter:
N: Danny Darno 11 yard run (Mark Talpas kick good) 9:59
N: Josh Ludlow 13-yard run (Mark Talpas kick good) :17.3
Second Quarter:
S: Constantine Donahue 70 yard run (Braeden Schriffert kick good) 10:25
N: Josh Ludlow 59-yard run (Mark Talpas kick good) 10:07
N: Jaysen Blacknall-Farmer 25-yard interception return (Mark Talpas kick good) 9:19
N: Josh Ludlow 64-yard punt return (Mark Talpas kick good) 6:37
Third Quarter:
S: Constantine Donahue 39-yard run (pass failed) 10:03
N: Josh Ludlow 3-yard run (Mark Talpas kick good) 8:26
S: Jack Robertson 10-yard pass from Jared Rohn (Braeden Schriffert kick good) 5:10
N: Josh Ludlow 5-yard run (Mark Talpas kick good) 2:56
Fourth Quarter:
N: Josh Ludlow 5-yard run (Mark Talpas kick good) 9:21