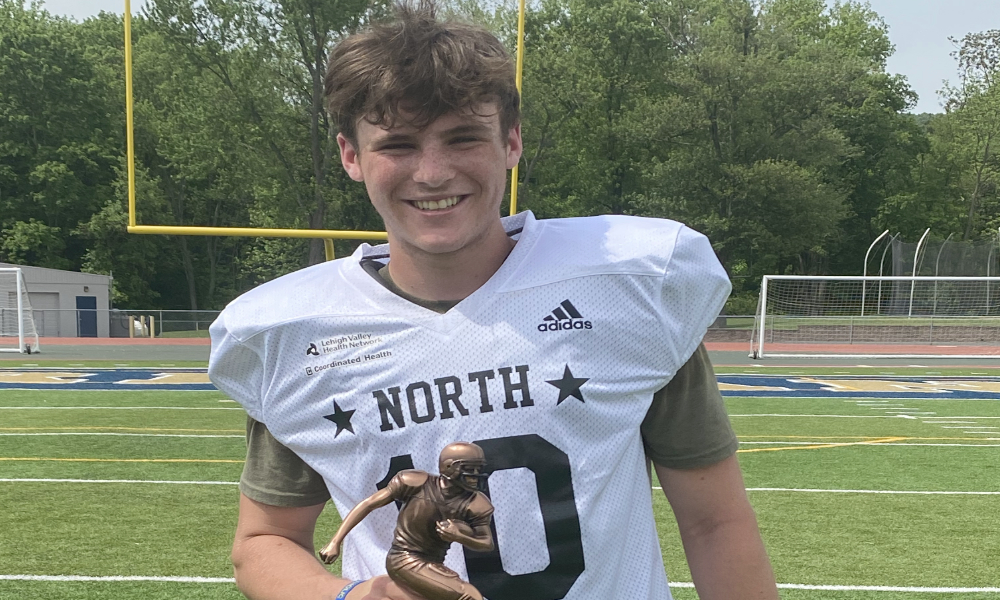 SCHUYLKILL HAVEN – The North All-Stars pitched a shutout Saturday afternoon in a 24-0 win at Schuylkill Haven's Rotary Field. 
The first touchdown came in the first quarter. Mahanoy Area's Ben Terry powered in from one yard out. Mike Baloga from Marian Catholic added the extra point, which made it 7-0 North with 2:21 left in the quarter. 
The South's best chance to score in the game came late in the first quarter. They got down to the North three yard line. The North defense stuffed the South All-Stars on four straight run plays from the three-yard line. 
The North made it 14-0 with 8:04 remaining in the game. Lehighton's Richard Fronheiser hit Jim Thorpe's Chris Strika who made an amazing catch over three defenders for the touchdown. 
With under a minute to play in the game, the North scored the final ten points of the game. Late in the fourth quarter, Baloga kicked a 47-yard field to add to the North's lead. "I put my foot on it and kept my head on it and it was fun."
North Schuylkill's Dylan Dietz intercepts a pass on the last play of the game and went 40-yards for the score.
Baloga would be named Most Valuable Player. The Bloomsburg University-bound kicker also kicked four balls in the end zone. He punted four times for an average of 44.2 yards per punt. "It was fun to be out here today," said Baloga. "I am happy and was surprised." He is the first kicker to win this award.
The South MVP was Pine Grove's linebacker, Brody Robinson. He is heading to Lebanon Valley College.  
The victory by the North was their second straight and the North's overall record is now 19-14. 
North head coach Wally Hall of North Schuylkill said, "Great effort by our guys. We had limited practices and they really came together."
| | | | | | |
| --- | --- | --- | --- | --- | --- |
| Final | 1st | 2nd | 3rd | 4th | Final |
| North | 7 | 0 | 0 | 17 | 24 |
| South | 0 | 0 | 0 | 0 | 0 |
1st Quarter
N — Ben Terry 1 run (Mike Baloga kick) 2:21
4th Quarter
N — Chris Strika 19 pass from Richard Fronheiser (Baloga kick) 8:04
N — FG Mike Baloga 47 :49.5
N — Dylan Dietz 40 interception return (Baloga kick) :19