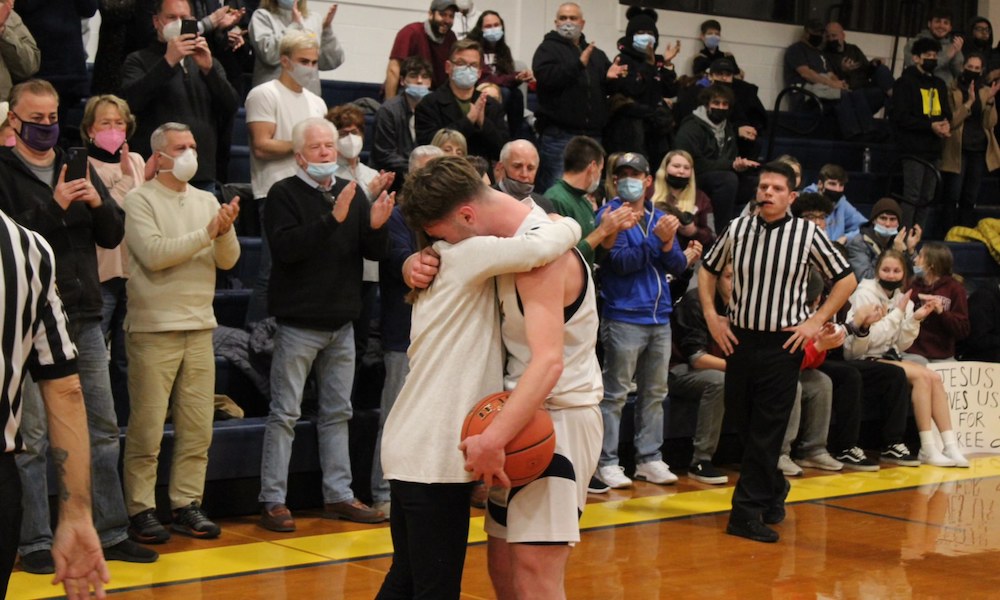 Senior Brendan Boyle of the Notre Dame Crusaders' Boys Basketball team will remember today, Tuesday, January 25, 2022, for the rest of his life. An emotional night for Brendan Boyle, Coach Pat Boyle, and the rest of the Boyle family, as Brendan became Notre Dame Green Pond's All-Time Leading Scorer. He surpassed the record (1,742) of the late Jeff Dailey. When speaking with Brendan Boyle after his game, he spoke of this emotional moment, "Jeff was my idol and I looked up to him ever since I was little."
The Crusaders played the Bangor Slaters in this milestone game. The Crusaders started out a bit slow in the first quarter with a score of ND (17) – Bangor (12). It was early in the second quarter that Brendan Boyle had his milestone moment. At that time, the clock stopped and the crowd gave Brendan a standing ovation. Brendan walked over and received the ball along with a hug from his dad to take in the moment.
Brendan was not finished there and neither was the crowd, as they continued to cheer him on as Brendan went and hugged his mom and Jeff Dailey's family. The Crusaders kept the lead at halftime, 41 – 24. It was a strong third quarter for the Crusaders, as they took the lead by 26 points to finish the third quarter ND (66) – Bangor (40). Notre Dame Green Pond Boys basketball finished the night with a dominating win over the Bangor Slaters 79 – 44.
Jeff Dailey lived by the saying "I am my brother's keeper" and portrayed that through his time at Notre Dame, as well as in his day-to-day life. Jeff will always be remembered by the Notre Dame community for basketball and so much more. Now, Brendan Boyle carries the legacy of his idol, the culmination of his ND basketball dreams, and the long history of Crusader basketball into the future.
Photos by D11 Sports Student Photographer, Alex Cruz