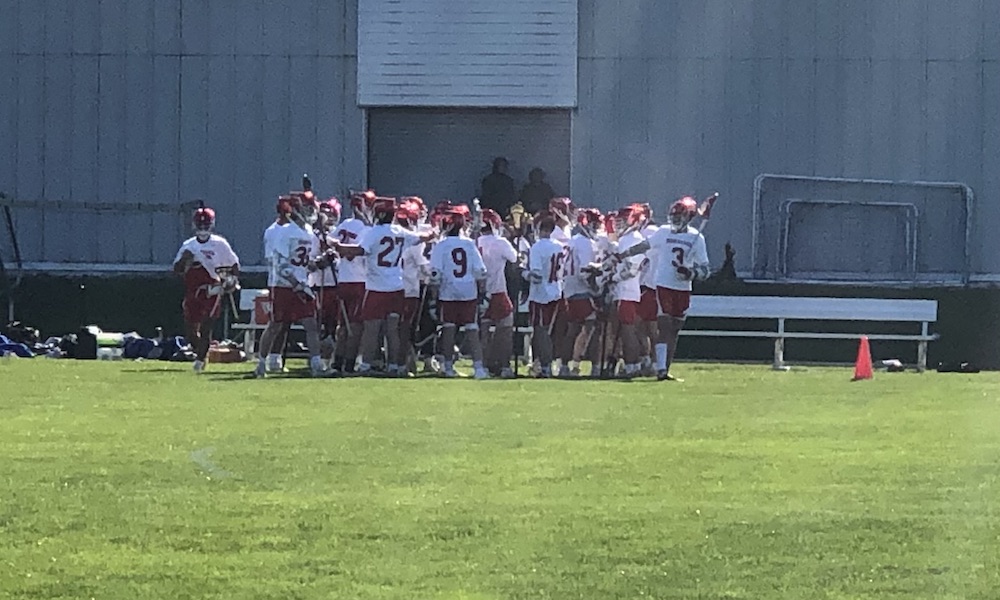 The Moravian Academy Boys' Lacrosse team played host to Southern Lehigh Thursday afternoon in what was a dominant performance for the Lions. The windy conditions of the game made for a difficult start for the Lions, but they "adjusted well" according to Notre Dame Green Pond Senior Captain Gavin Gibbs.
Notre Dame Green Pond has a cooperative agreement with Moravian Academy that allows Notre Dame Green Pond students to play for Moravian as Notre Dame does not have a team. Notre Dame students that currently play for Moravian include:
Seniors: Cristofero Cucciuffo ( C ), Gavin Gibbs ( C ), Angelo Luzzetti, Tyler Seifert, and Trevor Shay
Juniors: Greg Gianforcaro, Liam Gregory, and Luke Grindrod
Sophomores: Brenden Ferraro, Jace Schmalz, Logan Shoudt, Vaughn Wagner, and Robert Wendland; and
Freshman: Stephen Bialek, Logan Gibbs, Meade Grindrod, and Nick Stambolis.
The Crusaders join with Moravian and become one team, and that is exactly what they did in Thursday's winning effort over the Spartans.
Senior Captain Gavin Gibbs helped the Lions to a 13-2 win over Southern Lehigh with four goals and two assists. Senior Angelo Luzzetti also was an asset for the team with three goals and six assists. Notre Dame Freshman Logan Gibbs helped the Lions to the win as he took it to the net. Moravian's freshman Chris Fanning had quite a game with four goals and one assist to help the team to the win. Moravian's
AJ Lozano's goal brought the team to a 13-2 win.
Moravian Academy's Boys Lacrosse team looks forward to their next game versus Saucon Valley at Saucon Valley at 10 am on Saturday, April 30th.