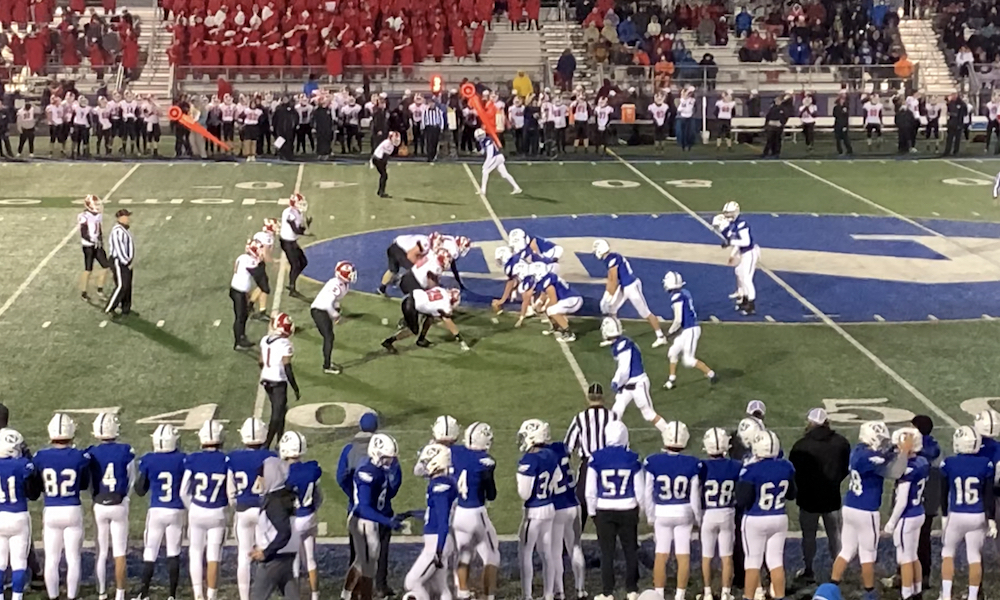 Although the night of October 29th didn't have the most ideal outdoor conditions for a high school football game, (or any kind of sporting event for that matter), but regardless it was still a very big deal despite both teams having already qualified for playoffs. Given that both Nazareth and Easton were coming off wins the week prior against Whitehall and Emmaus respectively, both teams were in high spirits going into their rivalry match.
Starting off in the first quarter, Nazareth kicked the ball off to Easton. While Easton was caught struggling against Nazareth's defense, Nazareth's Tyler Rohn went for a tackle in the end zone for a safety, granting Nazareth two points. After receiving the ball from Easton, Nazareth's Mason Kuehner went on to catch a 43-yard touchdown pass against Easton. Bugbee kicked for the extra point. The score was brought up to 9-0 against Easton.
Easton wouldn't let themselves come out of the first half empty-handed, though. They kept pushing towards the end zone, making first down after first down until they scored themselves a one-yard touchdown, but failed to score the extra point. The clock continued to run throughout the quarter. Easton found themselves quite short on time once the ball was turned over to them. As a last-ditch effort, they attempted a 51-yard field goal, with the ball just barely flying into the goal post, tying up the score to 9-9 just in time for halftime.
The second half of the game proved to be quite uneventful. Nazareth was the only team to score during the second half, running just a three-yard touchdown run and a kick for the extra point, bringing them to their final score of 16-9.
In the following week, Nazareth would play against Emmaus at Andrew S. Leh Stadium and fall short by one point, losing 19-20. Easton was also kicked from the playoffs by Freedom, losing 14-44 at BASD Stadium.