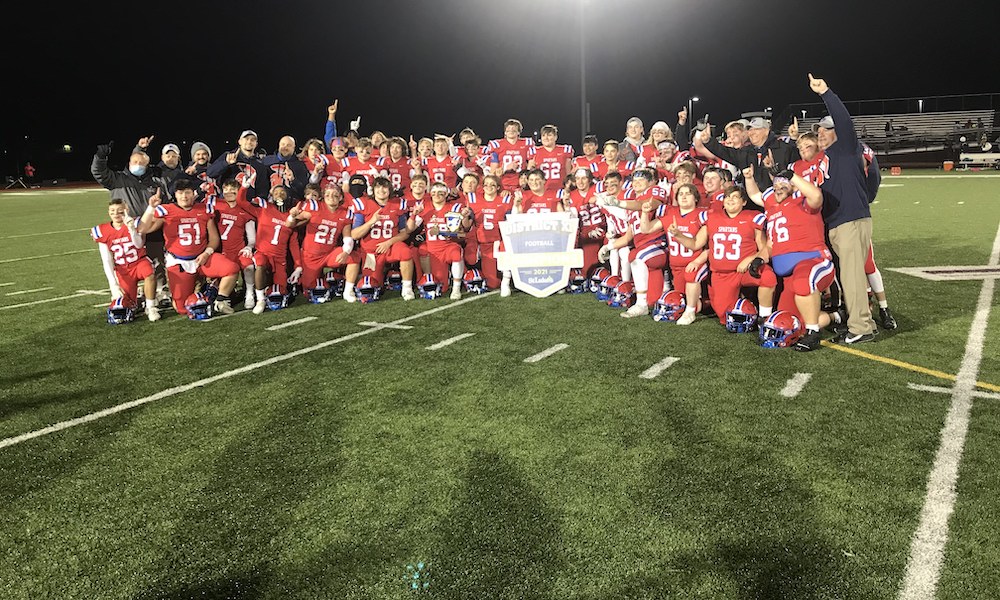 The Jim Thorpe Olympians faced off against the North Schuylkill Spartans at Lehighton for the PIAA District XI 3A Football Championship. Jim Thorpe entered with an overall record of 7-4, while North Schuylkill entered with an overall record of 9-1. North Schuylkill's high-powered offense and dominant defense led them to a 40-7 championship victory over Jim Thorpe. "It (the game) went tremendously as planned," said quarterback Jake Hall. "The execution was perfect on both sides and we had a huge special teams play that I think gave us a lot of momentum throughout the game."
North Schuylkill put together an opening 85-yard drive leading to a six-yard touchdown pass play from quarterback Jake Hall to Joey Flail to give the Spartans an early 6-0 lead. After forcing a punt, North Schuylkill capped off an 83-yard drive on a one-yard touchdown run by Jaxson Chowansky. The Spartans forced another Jim Thorpe punt that was blocked by Terry Thomas. Two plays later Hall hit Flail for a 46-yard touchdown pass giving North Schuylkill a 19-0 advantage over Jim Thorpe with 1:38 remaining in the first quarter.
On the Spartan's next possession, Jaxson Chowansky punched it in from the one-yard line for another North Schuylkill touchdown. North Schuylkill was in total control, up 26-0 early in the second quarter. On Jim Thorpe's next punt, Flail fielded the kick and took it back 68 yards for the score giving North Schuylkill a 33-0 lead over Jim Thorpe. Later in the second quarter, Hall scampered 30 yards for another Spartan touchdown giving them a 40-0 advantage heading into halftime.
A scoreless third quarter gave North Schuylkill a 40-0 lead heading into the final quarter of play. With 7:51 remaining in the game, Camron Tinajero ran 20 yards for a Jim Thorpe touchdown. Time expired with North Schuylkill winning the PIAA District XI 3A football championship back to back over Jim Thorpe by a score of 40-7. "It's a major goal for us(to win Districts)," said Hall, "It's something we've worked and dreamed for. It's a great feeling to win."
Jim Thorpe's season ends here with an overall record of 7-5. North Schuylkill now has an overall record of 11-1 and will advance to the state playoffs. They will face off against Neumann-Goretti on Friday, November 19th at 7:00 PM at Cardinal O'Hara High School.