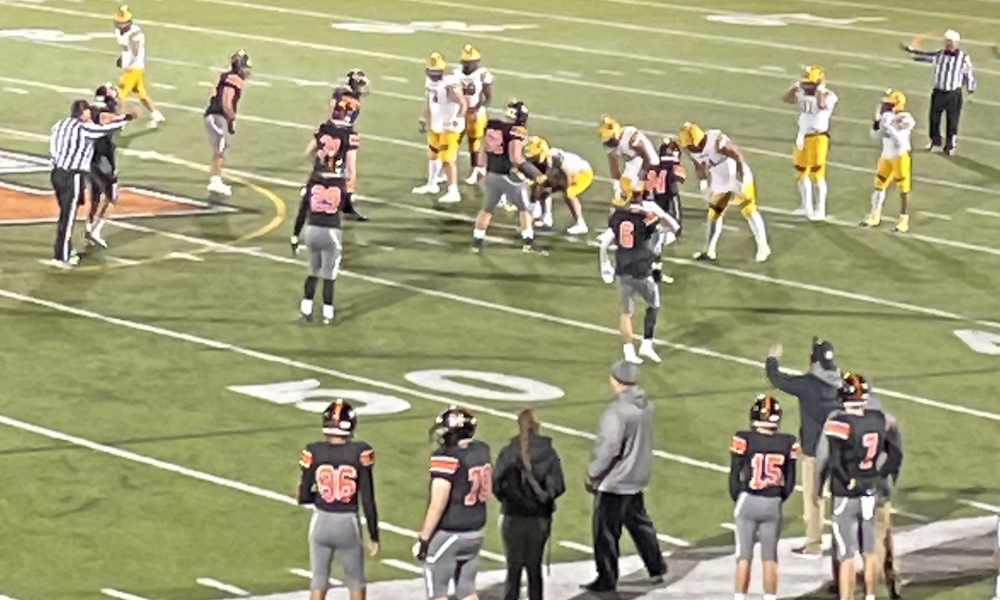 Emotions ran high throughout both sides of Al Erdosy stadium. Both teams wore their supporting colors as they waited in suspense for the game to begin. The game began with fierce intensity with Freedom and Northampton dueling for a berth in the playoff semi-final. The fans on both sides were cheering vigorously for their team, determined to score the first touchdown in order to gain the early lead.
Freedom began the game with a marathon first drive that was capped with a touchdown run by Brian Taylor for the game's first score with 7:23 left in the first quarter. Next, Freedom scored their point after attempt which put them in the lead with a score of 7-0. As the game progressed throughout the first quarter, Taylor scored the second touchdown for Freedom with 3:21 left. The Patriots then completed the point after making the scoreboard 14-0.
After the second Patriot touchdown, the K-Kids defense settled in and shut down the Freedom offense for the remainder of the first half. Northampton got onto the scoreboard as Vincent Santostefano split the uprights with a 42-yard field goal with 3:30 left in the third quarter which made the score 14-3.
After the field goal, momentum swung in Northampton's direction. Soon after, Northampton had their third interception of the game when Caden Reph intercepted a pass and took it into Freedom territory. This interception set in motion a touchdown play in which Cooper King caught a screen pass eluding defenders and running for 35 yards to pay dirt. The following two-point conversion attempt failed. Freedom's lead was slipping away with the score now at 14-9. Northampton was within striking distance of a lead. After all of Northampton's latest efforts to catch Freedom, Freedom was finally able to ice the game with another touchdown and point after to secure their lead with 4:31 remaining in the game. They had a comfortable lead at 21-9.
With this loss, Northampton ends its undefeated streak of ten wins and heads to its Thanksgiving Day rivalry against Catasauqua while Freedom heads to the finals to face off against Emmaus. Overall, the game was a close match and much more suspenseful to watch than the scoreboard would suggest with some critical changes in momentum.