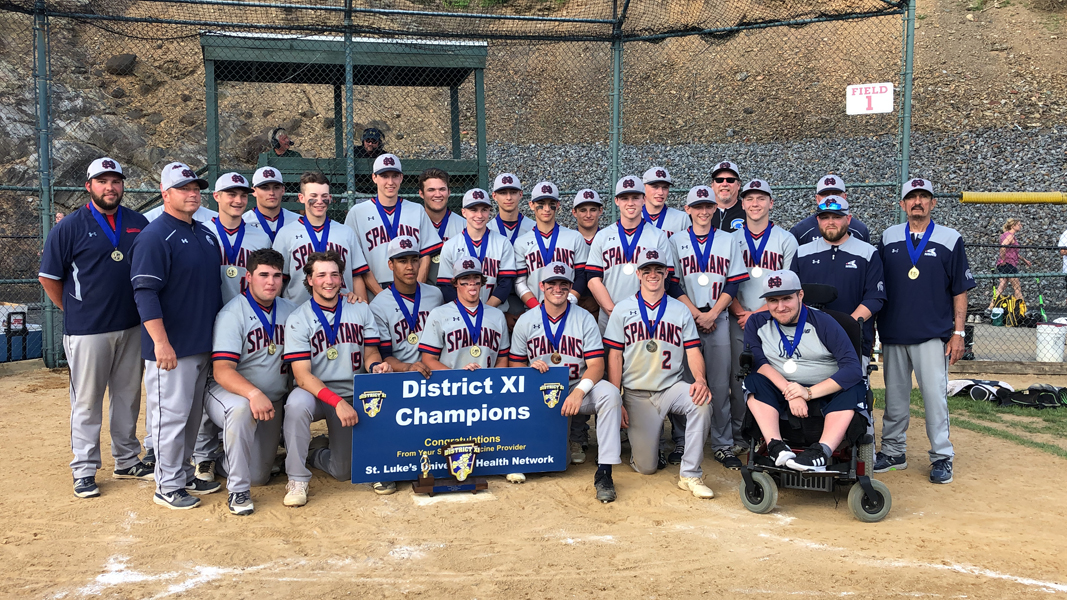 It was expected to be a great matchup between two teams playing their best this time of year and it was exactly that.
On Sunday afternoon, defending District XI 4A Champion Northwestern (21-3) went head to head with defending District XI 3A Champion North Schuylkill (20-3) for this years 4A title.
The Tigers loaded the bases in the top of the first inning but MLB Prospect Reggie Crawford struck out the side to end the threat. Crawford would strike out 8 batters and was the winning pitcher as North Schuylkill beat Northwestern 3-2 getting two runs in the bottom of the 7th inning to win the title.
The Tigers will continue their season and will take part in the state play-in game on Friday against District 4 runner-up Selinsgrove/ Danville.
North Schuylkill improves to 21-3 in the year and will face the District 12 Champion in the opening round of states on June 3rd.
The @PIAADistrictXI 4a Baseball Championship on the line. @NDub_Baseball vs @NSAthletics1 from Pottsville. pic.twitter.com/fd6NcwUWXR

— D11Sports (@D11Sports) May 27, 2019
The @NDub_Baseball get a double by Rafe Perich and load the bases in the top of the first inning. @NSAthletics1 pic.twitter.com/0nVbCNKskw

— D11Sports (@D11Sports) May 27, 2019
Reggie Crawford gets out of a bases loaded jam as he strikes out the side for @NSAthletics1 to end the first vs @NDub_Baseball pic.twitter.com/5GaiMhtDL5

— D11Sports (@D11Sports) May 27, 2019
.@NSAthletics1 look to jump out to the 1-0 lead on @NDub_Baseball but the play at first is https://t.co/tONS35ZYad score after one. pic.twitter.com/0FvDZaQ3Py

— D11Sports (@D11Sports) May 27, 2019
.@NSAthletics1 take a 1-0 lead in the bottom of the second after their 1-0 lead in the first was overturned on a call at first base. @NDub_Baseball pic.twitter.com/8OuezahVoQ

— D11Sports (@D11Sports) May 27, 2019
We are all tied at 1-1 as @Holmes5Justin reaches base scoring @brandon_mengel. @NDub_Baseball @NSAthletics1 pic.twitter.com/irNX7A49xi

— D11Sports (@D11Sports) May 27, 2019
Check out the play at first by Jake Green to rob @Holmes5Justin of a hit. Still tied 1-1 thru five innings. @NSAthletics1 @PIAADistrictXI @NDub_Baseball pic.twitter.com/k0znIv6HsQ

— D11Sports (@D11Sports) May 27, 2019
Top of the 7th in Pottsville. @55_DHolmes delivers a sacrifice fly to center field to plate the go ahead run. @NDub_Baseball leads @NSAthletics1 2-1 as we head to the bottom of the 7th. pic.twitter.com/0xkRI0PJKL

— D11Sports (@D11Sports) May 27, 2019
Bottom of the 7th @NSAthletics1 gets the bats going as Zack Stokes comes up with a big double to put runners on second and third down 2-1 to @NDub_Baseball. pic.twitter.com/0jqFZCJkgA

— D11Sports (@D11Sports) May 27, 2019
We are all tied up at 2-2 in the @PIAADistrictXI 4A title game. Mike Little with the sacrifice fly. Still in the bottom of the 7th. @NSAthletics1 @NDub_Baseball pic.twitter.com/kZXU7fA9Js

— D11Sports (@D11Sports) May 27, 2019
Jake Green draws a bases loaded walk and @NSAthletics1 wins their second straight @PIAADistrictXI Championship 3-2 over @NDub_Baseball. pic.twitter.com/rVPPwGS6bu

— D11Sports (@D11Sports) May 27, 2019
Here are your @PIAADistrictXI 4A Champions. @NSAthletics1 wins 3-2 over @NDub_Baseball. A great game played by both teams. The Spartans holding up the hardware. pic.twitter.com/DQK87XHwUw

— D11Sports (@D11Sports) May 27, 2019
Here is a look at some of the medal presentation as @NSAthletics1 takes in another @PIAADistrictXI Championship. It's now on to the @PIAASports tournament. pic.twitter.com/X1B6rEdiIf

— D11Sports (@D11Sports) May 28, 2019
. @_reginald_c talks about his performance on the mound after @NSAthletics1 beat @NDub_Baseball 3-2 to win the @PIAADistrictXI 4A Championship. @nsbaseball33 talks about his teams performance as they improve to 21-3 and prepare for the @PIAASports tournament. @NorthSchuylkill pic.twitter.com/iHsY0vBq5G

— D11Sports (@D11Sports) May 28, 2019
A tough 3-2 loss to @NSAthletics1 in the @PIAADistrictXI 4A Championship but @NDub_Baseball now gets ready for a @PIAASports play-in game on Friday against Selinsgrove or Danville. The Tigers(21-4) will look rebound from the loss and continue a outstanding season. @nwlehighsd pic.twitter.com/wKRkUoYUuX

— D11Sports (@D11Sports) May 28, 2019