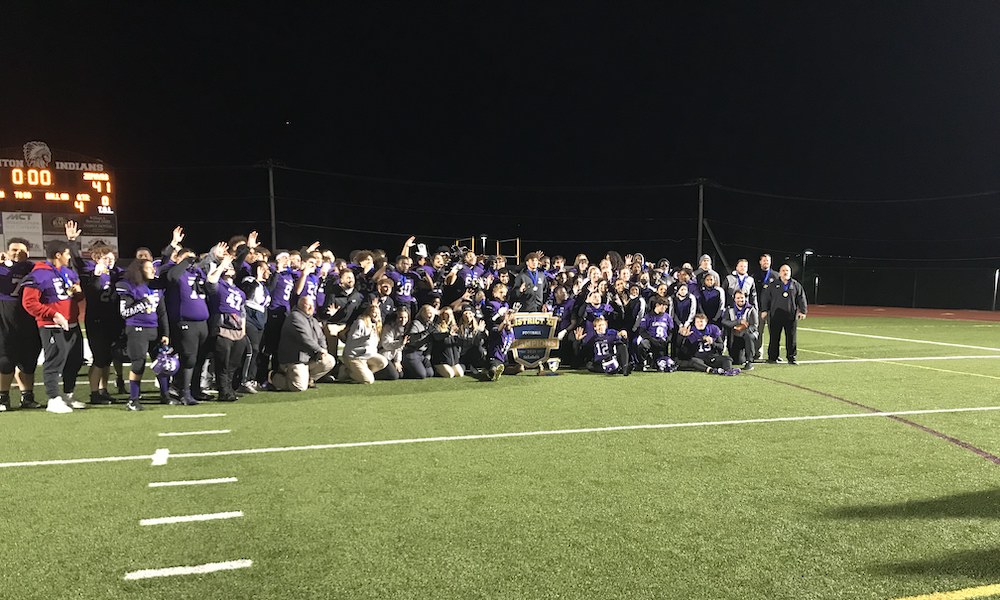 The Whitehall Zephyrs faced off against the East Stroudsburg South Cavaliers at Lehighton for the PIAA District XI 5A Football Championship. Whitehall entered with an overall record of 4-6, while East Stroudsburg came in with an overall record of 7-3.
Whitehall struck first on a 14-yard passing touchdown from quarterback Trey Dogmanits to wide receiver Bryce Bashore giving Whitehall a 6-0 lead after a missed extra point. After forcing a punt, Whitehall drove down the field and scored on a passing touchdown from Dogmanits to Bashore for four yards giving Whitehall a 13-0 lead with 6:15 remaining in the first quarter.
East Stroudsburg South scored their first touchdown on a ten-yard pass from quarterback Bobby McClosky to Colin Burdian. An unsuccessful two-point conversion gave Whitehall a 13-6 lead after the first quarter of play. In the second quarter, East Stroudsburg South marched down to Whitehall's 18-yard line after a 53-yard pass from McClosky to Shane Bulay. East Stroudsburg South was down to the goal line, but a fumble by Ron Blake resulted in a touchback giving Whitehall the ball on their own 35 after an unsportsmanlike conduct penalty by South head coach Matt Walters.
A couple of plays later, Dogmanits hit Bashore for another Whitehall touchdown increasing their lead to 20-6 with 9:09 remaining in the first half. On East Stroudsburg's next possession, Blake fumbled again leading to a Jack Kocher recovery for Whitehall on their own 34. Whitehall running back Damonte Foreman took the ball seven yards for a touchdown increasing their lead to 27-6 with 3:39 remaining in the first half. Just before halftime, McClosky hit Burdian on a fourth and nine for a 15-yard touchdown cutting Whitehall's lead to 27-14 at half after a successful two-point try.
East Stroudsburg cut into Whitehall's lead in the second half on a two-yard rushing touchdown by McClosky. Whitehall responded with a one-yard touchdown run by Foreman making the score 33-21 in favor of Whitehall heading into the final quarter of play.
On the first play of the fourth quarter, McClosky punched it in from two yards out cutting Whitehall's lead to 33-27. Again Whitehall's dominant offense drove down the field and scored on an eight-yard touchdown pass from Dogmanits to Devin Donatelli. A successful two-point attempt saw Whitehall with a 41-27 lead with 8:32 remaining in the game. Whitehall received the ball back and drove down to East Stroudsburg's 17-yard line on a 31-yard rush by Foreman. The East Stroudsburg defense held strong stopping Whitehall on fourth down to take over on their own 32.
East Stroudsburg capitalized on the stop and scored on a nine-yard touchdown pass from McClosky to Burdian. The two-point try was successful with East Stroudsburg still trailing Whitehall 41-35 with 2:23 remaining. On the onside kick attempt, McClosky kicked the ball which went through the hands of Foreman and was recovered by Bulay. East Stroudsburg quickly drove down to Whitehall's six-yard line when Blake took the handoff for the score tying the game up 41-41 with the extra point pending.
Whitehall's special teams came up big, blocking the extra point attempt leaving the game tied at 41 apiece with 19 seconds to play. The game headed to overtime with East Stroudsburg winning the toss and electing to defend. On Whitehall's first attempt to score from the ten, Dogmanits was picked off by McClosky giving East Stroudsburg possession of the ball.
On their second attempt, McClosky hit Bulay for the ten-yard touchdown giving East Stroudsburg the 47-41 overtime victory over Whitehall and the district title. "I'm at a loss for words," said East Stroudsburg head coach Matt Walter. "There were a lot of moments where a lot of people thought this game was over and the way that our kids fought and battled, hats off to our kids."
Whitehall finishes the season with a 4-7 record, while East Stroudsburg improves to an overall record of 8-3
STATS: McClosky finished the night with 283 passing yards, 142 rushing yards, along with six total touchdowns, four passing touchdowns, and two rushing touchdowns. "Last year we didn't have a chance to play in the playoffs because of COVID," said McClosky, so we were hungry all game and it got us with the win." McClosky also had the crucial pick in overtime that helped lead East Stroudsburg to victory. "Coach Shanley said to me, Bobby, I know you can play defense, go out and get that pick and that's exactly what I did," added McClosky. Burdian caught three of McClosky's four passing touchdowns. Bulay caught the other in overtime. Whitehall's Dogmanits finished with four touchdowns on the night. Three of those went to Bashore. Donatelli caught the other. Running back Foreman finished with two rushing touchdowns on the night.
Up next, East Stroudsburg will play District X champion Erie Cathedral Prep next Friday. Time and site to be announced.