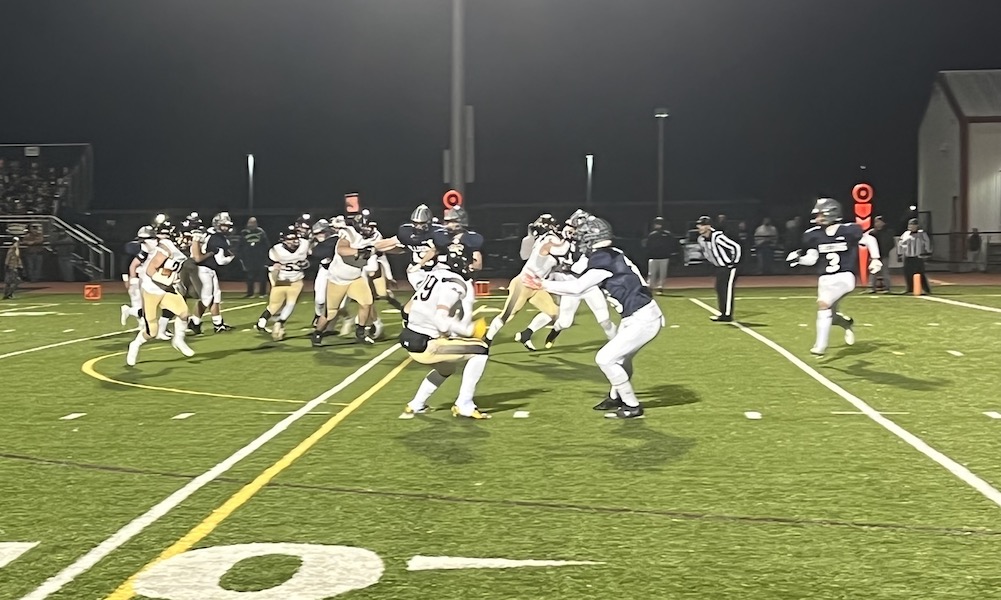 The Southern Columbia Tigers faced off against the Northern Lehigh Bulldogs at Lehighton for the PIAA 2A football semifinal matchup. Southern Columbia entered with an overall record of 13-1, while Northern Lehigh entered with an overall record of 11-3.
Southern Columbia wasted no time as their running back trio of Gavin Garcia, Braeden Wisloski, and Wes Barnes, who combined for 352 yards on the night, led them down the field on their first two possessions to take an early 14-0 lead less than five minutes into the game. Garcia's 34-yard run down to Northern Lehigh's 14-yard line led to a touchdown for Wisloski on their opening possession. On Southern Columbia's next possession, a 45-yard run by Garcia led to a seven-yard touchdown run by Barnes. Northern Lehigh responded with a 49-yard pass from quarterback Dylan Smoyer to Nick Frame putting them deep inside the redzone. Matt Frame then punched it in from one yard out, cutting Southern Columbia's lead to 14-7 with 2:59 remaining in the first quarter. Southern Columbia responded quickly scoring in under a minute on a 53-yard touchdown run by Wisloski making the score 21-7 after one. Midway through the second quarter Barnes scored another touchdown for Southern Columbia on a five-yard run. Unable to move the ball on offense, Northern Lehigh punted the ball back to Southern Columbia which ended up being blocked by Derek Berlitz. The blocked punt led to a 12-yard touchdown run by Garcia giving Southern Columbia a 35-7 lead at the half.
Following a punt by Northern Lehigh, Barnes ran the ball for a 45-yard touchdown giving Southern Columbia a 42-7 lead. On the last play of the third quarter, Garcia picked off Smoyer and took the ball back 102-yards for the pick-six. On the ensuing kickoff, a fumble by Northern Lehigh gave Southern Columbia the ball on Northern Lehigh's 18-yard line. On the very next play, Wisloski took the ball 18 yards for the touchdown putting Southern Columbia up 56-7. With 3:07 remaining in the game, Matt Frame took the ball 16 yards for a Northern Lehigh touchdown. Time expired with Southern Columbia earning the win 56-14.
"I'm proud of these guys," said Northern Lehigh head coach Joe Tout. "We got to the final four in the state of Pennsylvania and that's special. It's gonna hurt tonight, but we will reflect back on this as something special to share." Northern Lehigh finishes the season with an overall record of 11-4, while Southern Columbia improves to 14-1.
Up next, Southern Columbia will play District 7 champion Sierra Catholic, who is also 14-1, Friday, December 10th at 1:00 PM at Hersheypark Stadium.