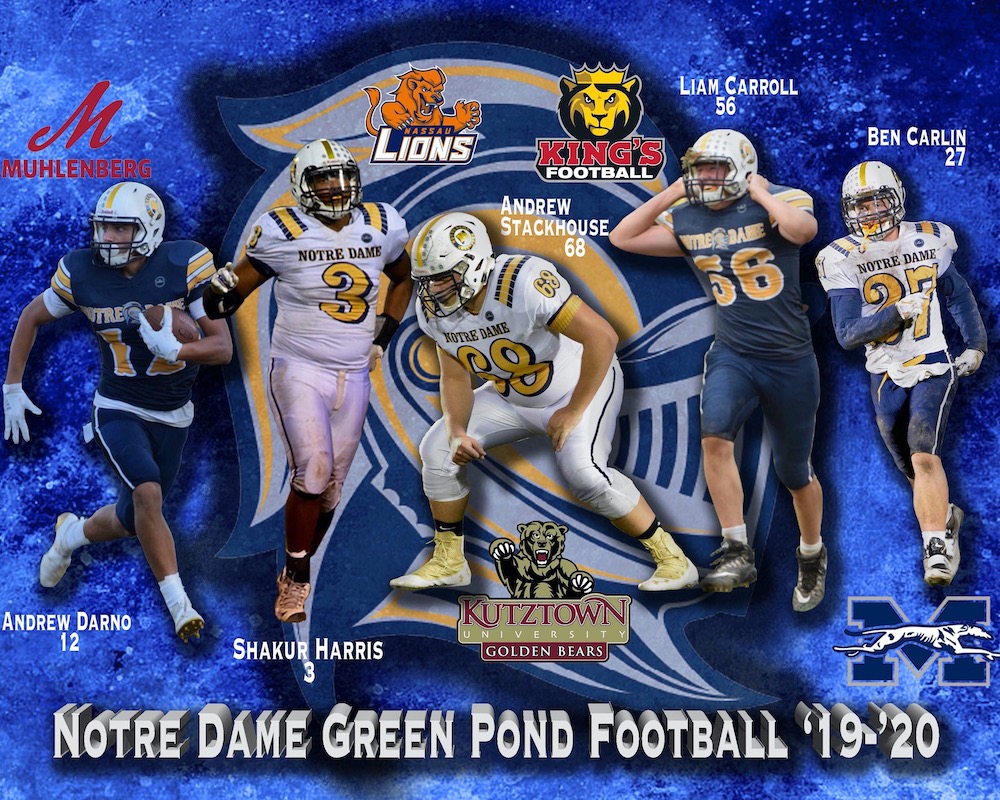 It might seem like ages ago, but the 2019 ND football season was one to remember. From the week one win over Northwestern, to the comeback win on Senior Day against Wilson, the 2019 ND football team showed resiliency and heart. Out of the six senior captains elected, five of them will be playing football at the next level. Andrew Stackhouse, Andrew Darno, Liam Carroll, Shakur Harris, and myself, Ben Carlin, will be playing college football. All of us went through a decision-making process to nail down what school we chose to continue our academic and athletic career. Along with this, we all realize how much the Notre Dame program has helped us to get to this point.
Andrew Stackhouse was a captain this past season and started varsity on the offensive line for all four years at Notre Dame. After the season was done, Andrew had multiple opportunities to play college football. After a visit at Kutztown University, Andrew made his decision to commit there. "I chose to attend Kutztown because it was the school that felt most like home. The football there is great, and the coaches were awesome. It just felt right," said Stackhouse. Andrew was one of many seniors who came up through the Little Crusader football program throughout the years, and he realizes how much Notre Dame means to him. "ND football prepared me for this next chapter because of the coaching. Coach Phil gave me the edge to succeed whether it was through strength, mental toughness, or football IQ."
Andrew Darno proved why he was elected captain, and why he was the 2019 ND Football MVP this past season. Andrew came in as a quarterback his freshman year and then developed into a wide receiver over his sophomore and junior year. Andrew started varsity at wide receiver his junior year and the beginning of his senior year. After standout performances in his first two games of the 2019 season, Andrew was on track to have a tremendous senior season as a wide receiver. After an injury to starting quarterback Collin Quintano in week three, Andrew took the role as starting quarterback. When it came time to look for schools to play football at, Andrew wanted to be scouted as a wide receiver instead of a quarterback. Darno will be catching touchdown passes at Muhlenberg College. "I chose Muhlenberg College because of their rare mix of outstanding academics and outstanding football," said Darno. Andrew and his family have always known the importance of the ND football program. "ND football has prepared me for college football because of the demand and expectation for being the best we can be."
Liam Carroll became the envy of all defensive lineman after securing an interception in the week-ten matchup against Wilson this past season. Liam started varsity on the offensive line, and then on the defensive line the second half of the season. Liam was always known as the player who would never give up and tried his hardest every single snap. Liam had a decision to make between several schools this year. In the end, Liam chose to head up to Wilkes-Barre, PA and attend King's College. "I chose King's because I liked the coaches and the attitudes of the players when I visited. It seemed like the players were a family and I wanted to be involved," said Carroll. Liam has three brothers who have gone up through the Little Crusaders football program along with him, and his father, Michael Carroll, is a coach for the ND high school football team. "ND taught me to work hard for what I want to achieve and to strive to win over everything else."
Shakur Harris joined the Notre Dame football team his junior year. After a year of hard work and dedication, Harris was able to showcase his defensive talents in week two against Bangor. Harris was elected captain for the 2019 season before he even played a game for Notre Dame. This showed that his hard work was recognized by the team throughout the 2019 off-season. This year, Harris decided to continue his academic and athletic career at Nassau Community College. "I chose Nassau Community College because it best fits me. I wanted an extra year to prove myself, and going here is what was best for me," said Harris. Shakur came to Notre Dame and was always appreciative of how quickly he was accepted into the ND family. "ND football prepared me for the next level, because it taught me to believe in others. When I came to ND, I noticed winning was the ultimate goal and personal stats do not mean anything if you are losing. The preparation that went into our practice schedule, lifting, film-study, and team bonding taught me to better myself and take everything more seriously."
Then there's me, Ben Carlin. Not gonna lie, it's a bit hard to write about yourself, but I'll give it a shot. I started a few games my sophomore season at cornerback, but I started my entire junior and senior year at safety and outside linebacker. In my junior season, I received the 2018 ND Football Defensive MVP. I was elected captain for the 2019 season and began the season as a safety. I then moved to the outside linebacker position. I was known on the team as the guy who always had a smile on his face, and was about the "team first" mentality. This year, I was faced with the decision on which school to continue my academic and athletic career, and I chose Moravian College. I chose Moravian College due to their great coaching staff, hardworking and respectful players, excellent academic reputation, and beautiful campus. My father played football and graduated from Moravian College so I am excited to continue the legacy. The Notre Dame football program has helped me throughout my academic and athletic career. ND football taught me the importance of commitment, hard work, teamwork, faith, and academics.
Even though we are all going off to different schools, all of us will be familiar with each other on the football field. Moravian College plays King's the first game of the year every season and Moravian also plays Muhlenberg College the final game of the regular season every year. Former teammates will now battle against each other at the next level. Ultimately, every single one of us would not be in this position without Notre Dame High School, and we are thankful for that.