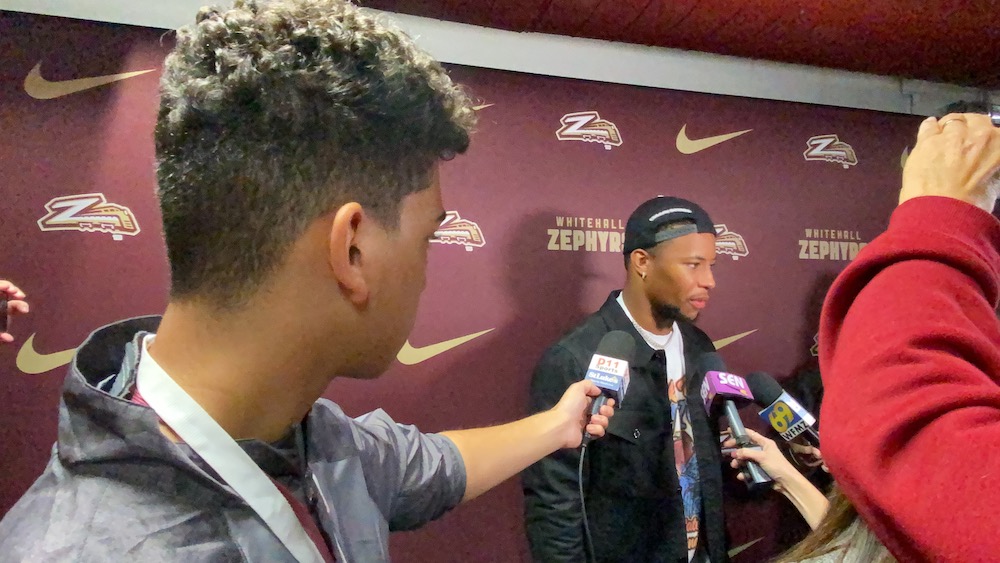 Friday, September 10th, 2021 was a historical day. I am so glad I got to be a part of it.
As a Whitehall student, it is hard to look past Saquon Barkley's fame and accomplishments. From his signed headshot in the hallway, to the memories every teacher seems to have of him, his presence is inescapable. He's a big deal, and he deserves every piece of attention he receives.
This opinion was only amplified when I marched in with the band to Zephyr Stadium this past weekend. As a theatre kid, it has been somewhat difficult to look up to a football player, when I don't plan to become one, and I'm nowhere near friends with any. Seeing this many people come together in one place for one man was enough to put my biases and own problems aside.
The Whitehall student section looked like an American themed Mosh Pit while Liberty's side was the most full I've seen in my D11Sports.com career. This when the game had yet to start, and wasn't starting for another hour and a half. I could tell this was going to be a great night, and I could not wait to get on that field.
Singing the National Anthem and Alma Mater with the Chorale was such an honor. Very nervous, we marched out there and proceeded to sing the songs known by every Whitehall student, past and present, and the song every American knows by heart, we could not mess this up. Luckily, after hearing the applause during the Star Spangled Banner, my confidence was restored for not only a good performance, but an even better experience that was about to commence.
For the past week, I've heard fellow classmates talk about how important this game was, and I must say I was anxious with them. Of course as a player you want to win every game, but this is the game, this is the one your idol (Saquon) will be watching. It happens to be the year of Liberty's 100th anniversary, the game that will go down in Whitehall history. So as I rushed to the field, running on adrenaline, I could already feel the confidence radiating from those athletes, who were nervous a few short hours ago, ready to give it their all, and they did not disappoint.
Leading at the half, it was time for Barkley's number to be retired. Watching him with family and past coaches retire his jersey, was such an inspiration. Though I don't plan to play football at college, being on the field, while he stood only a few feet in front of me, I felt that feeling the school has been trying to give to us. Our paths may be different, but he's just as much a Zephyr as I am. I couldn't be prouder of him for getting the same education I am, and using that to do what he loves. That means we could do the same thing someday.
After a stampede of fans looking for autographs, I was given the amazing opportunity to speak with Saquon Barkley with fellow reporters. Nervous as ever, my mind blanked as it was my turn to ask him something, but I couldn't be more appreciative and thankful of that moment. I was just an arm's length away. I hoped that moment never ended. The press conference ended. The crowd of fans returned, and I stood off to the side, while thinking about how this night is not one I'll ever forget.
The game continued and the Zephyrs won, 30-6. Their next matchup is an away game against Emmaus High School while Liberty will return home to face off against Stroudsburg High School.