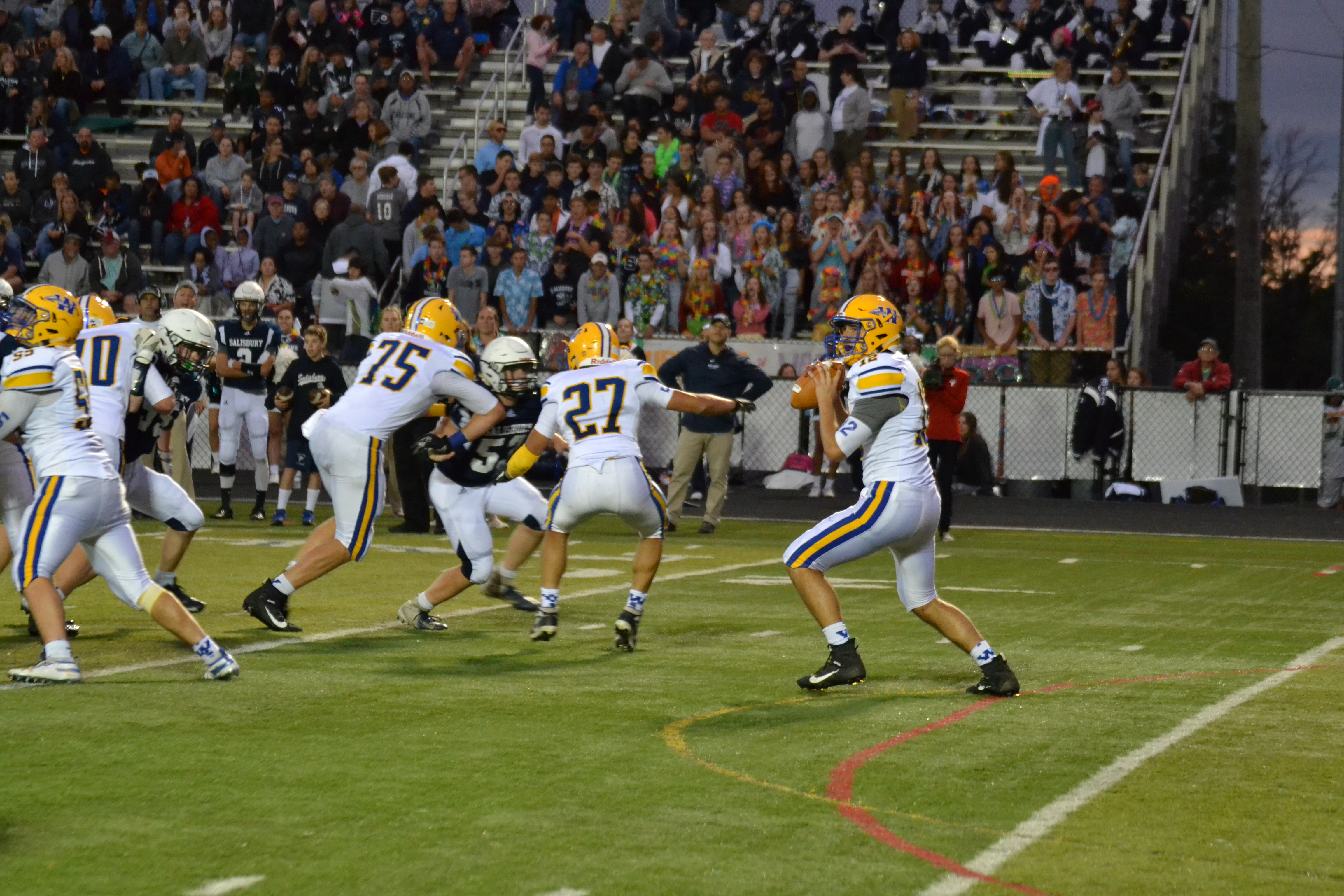 Last Friday night the Wilson Warriors hit the road to take on the Salisbury Falcons. Wilson was coming off of a major comeback against Palisades, 15- 12. Salisbury was arriving after having lost 35-17 to Northwestern. It seemed as though the Warriors had gained momentum from their last win, and came prepared to keep the ball rolling. The Warrior fans on the other hand were anxious to see if Wilson would be able to achieve yet another win.
Wilson began the first quarter by forcing a turnover on the very first drive, which allowed senior co-captain Nick Gara to recover the fumble. Sophomore quarterback Cayden Stem took advantage of the recovery by getting a touchdown off of a three-yard rush. This was, however, the only movement of the ball for the rest of the first quarter. The second quarter saw the momentum fade into the hands of the Falcons, while the Warriors worked to keep the ball moving forward.
In the third quarter, senior captain Alec Synder scored to make the score 14-0 Warriors. This was a turning point for Salisbury, the Warrior's defense were not able to stop the Falcon's offense from scoring 21 consecutive points. Towards the end of the fourth quarter, with one minute left, Stem connected with sophomore receiver Zack Gillen to tie the score, which pushed the game into overtime.
Warriors won the overtime coin toss, and chose to go on offense. Lorenzo Sigue, a junior kicker for Wilson, scored a field goal. This field goal ultimately brought the score to a narrow 24-21. Salisbury had other plans, however, seeing as junior quarterback Quintin Stephens found wide receiver Chad Parton and scored the game winning touchdown (27-24).
I spoke with Wilson senior Jacob Lutri and asked him how the team can put this loss behind them, and move on to face Northwestern. Lutri stated, "We are going to learn from our mistakes, and continue to fix the little mistakes that we made. We are going to come out and have a hard working week of practice, along with positive attitudes for the game on Saturday. We are going to continue to compete in practice and on the field, and we are going to stick together, side by side with one another." The Warriors are playing the Northwestern Tigers at home this coming Saturday at 1:30 pm.