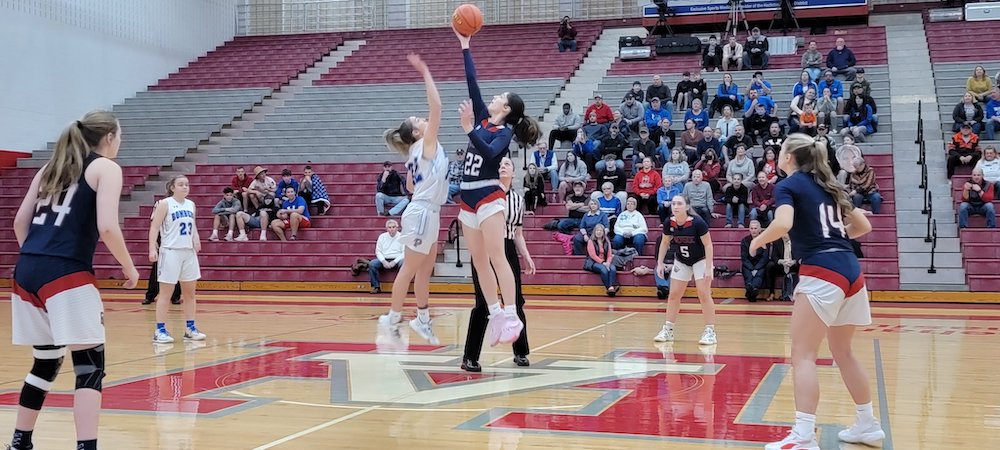 Lady Vikes Size and Quickness Too Much To Overcome
HAZLETON- There's always an X-Factor when participating in the PIAA State Basketball Tournament. Sometimes you face a team for the first time and all you have to prepare is what you have on video. Friday night the Lady Blue Bombers of Palmerton found out what you see on video can be deceiving, as the Riverside Lady Vikes used their size, quickness and speed to overwhelm the District XI champs 64-28.
"We knew coming in that Kylie Lavelle was the one player we thought would be our focus of stopping," stated Palmerton coach Dan Beck. "They were connecting on their three-point baskets and #11(Kaitlyn Sloboda) made everything tonight. You really can't go by what you see on film. What you think you can do just doesn't work when you see a team in person," he concluded.
Kaitlyn Sloboda led a balanced scoring attack with 18 points. Lavelle, who is a Drexel commit, added 17 on the night. Including combining for six of the teams seven buckets from behind the arc.
The closest Palmerton came to making it a game was a score of 21-14 early the second quarter. Riverside then scored the next 18 points, effectively putting an end to any thoughts of a Blue Bomber comeback to a commanding 39-14 advantage.
Complimenting the Sloboda-Lavelle duo was Lillie Pon and Paige Olanovich who combined for 25 points for the District Two champions. Riverside also dominated on the boards 38-23 with Lavelle leading that category with 17.
The Lady Blue Bombers were forced into 14 turnovers and just two for 17 from the three-point line, many of those coming when the game was already decided.
Bethie Morgan and Brianna Moore led Palmerton in scoring with ten and eight points respectively. Moore came in averaging 16ppg.
Palmerton ends their season at 24-2, while Riverside (22-4) will advance to the quarterfinals on Tuesday to face Imhotep Charter (15-9) a 46-45 winner over Trinity.
End of 3rd quarter Riverside leads Palmerton 56-25 @D11Sports @CoachWeaver3 #pagirlshoop @NEPABasketball @LLHoopsNEPbeat pic.twitter.com/QJHJMiuzG4

— Brian Ptashinski (@BPtashinski) March 12, 2022
1:59 left to play Riverside 64-26 over Palmerton @D11Sports @NEPABasketball @LLHoopsNEPbeat @CoachWeaver3 pic.twitter.com/SwPjiJCCAK

— Brian Ptashinski (@BPtashinski) March 12, 2022
Final score Riverside 64-28 over Palmerton @D11Sports pic.twitter.com/wZflkOTNAJ

— Brian Ptashinski (@BPtashinski) March 12, 2022