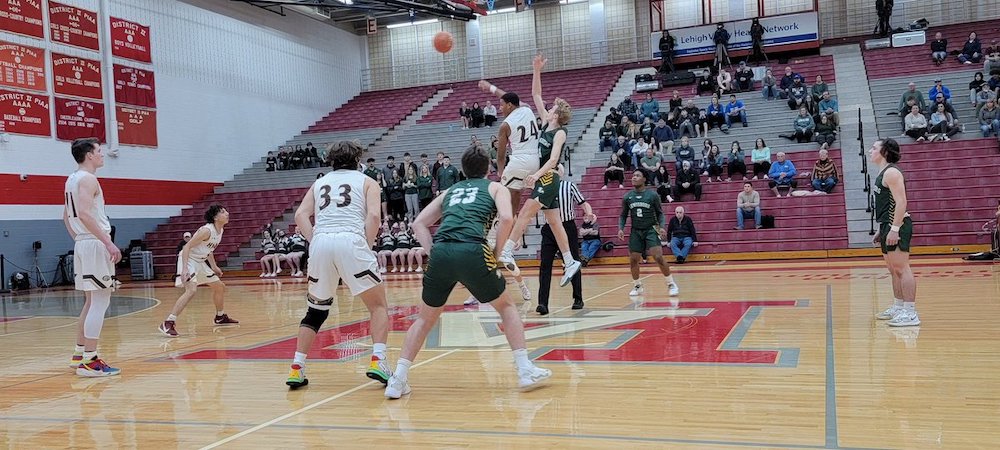 Quarterfinal matchup with Neumann-Goretti is set
HAZLETON – There is a unique opening at Hazleton's McGeehan Gymnasium. The lights go down for both the National Anthem as well as player introductions. The Golden Hawks of Bethlehem Catholic got in the spirit and turned out the lights on the District Four Champions, the Lewisburg Golden Dragons, Friday night, 49-29, to advance to the quarterfinal round of the 4A Boys bracket Tuesday night.
Lewisburg did manage to match the intensity of Becahi early and was even at 10-10 after the first eight minutes. They tied it up again at 16, three minutes into the second quarter. After a 30 second timeout, then the athleticism and tenacious defensive effort took over, as the Golden Hawks went on a 13-1 run to end the half making the score 29-17.
The second half was much more methodical for the Hawks. Working the ball around the perimeter more and focusing on taking a better quality of shots. Paced by Alex Cercado and Edixon Gomez who tallied 13 and 11 points respectively, the score was 37-25 heading into the final quarter.
Lewisburg was just five of 17 shooting in the second half and a dismal two for 15 in the fourth quarter alone.
In the final eight minutes, Bethlehem Catholic outscored the Green Dragons 12-4 while holding the two best players on Lewisburg, Cam Michaels and Jacob Hernandez, to just three baskets combined. Lewisburg came into the contest averaging 60 ppg.
"Defense ruled the day for us," said Golden Hawk coach Scott McClary. "We held them to just 17 points at the break and then just 12 in the second half. It is a credit to those kids for keeping up that intensity."
The Golden Hawks will face Neumann-Goretti, who defeated Scranton Prep Friday night 57-51 at a site and time to be determined Tuesday night.
Next up Boy's 4A State playoff @BecaBasketball vs Lewisburg Green Dragons @D11Sports @CoachWeaver3 @circlewsports pic.twitter.com/BeT8NvGsDY

— Brian Ptashinski (@BPtashinski) March 12, 2022
Halftime score @BecaBasketball 29-17 lead over Lewisburg @D11Sports @CoachWeaver3 @PaulRobertsCuse @PAcatholic pic.twitter.com/H1GBmaCyJz

— Brian Ptashinski (@BPtashinski) March 12, 2022
Final score @BecaBasketball 49 Lewisburg 29 @D11Sports @PAcatholic @Becahi_Hawks @CoachWeaver3 @circlewsports pic.twitter.com/yE6U9WQr7V

— Brian Ptashinski (@BPtashinski) March 12, 2022