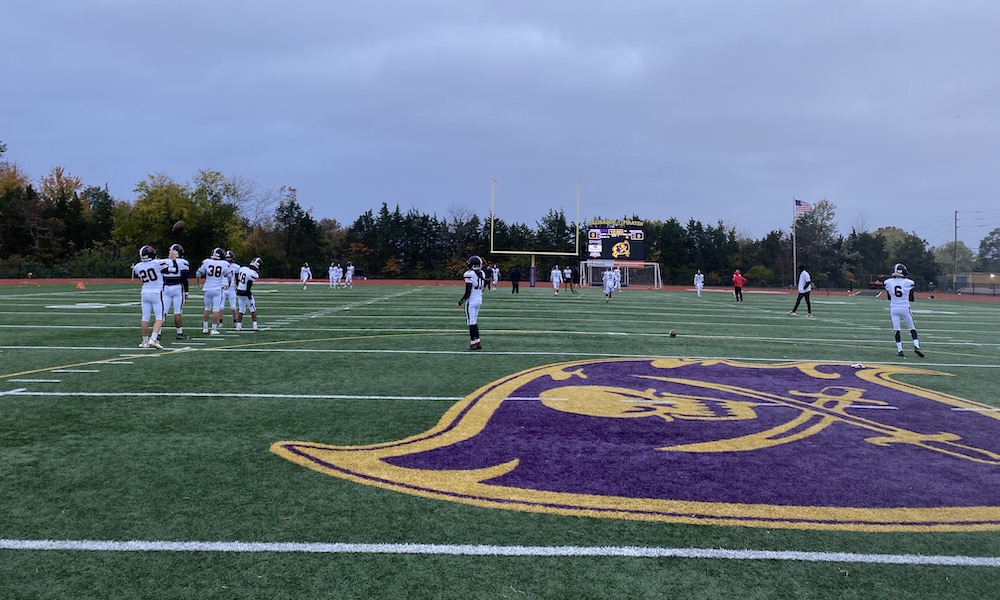 On a cold and rainy evening, the Palisades community gathered in Walter T. Rohrer Stadium to celebrate the many seniors of the Pirates football team, marching band, and cheerleading squad. Those honored for the football team were: Brooke Balsamo, Nathan Carr, Nicholas Gawronski, Mason Kalman, Kyle McGrath, Jaden Newton, Nick Petrillo, Liam Riexinger, and Michael Wallbillich. The Palisades vs. Saucon Valley matchup was both teams' final regular season game and both wanted to win after missing their game last year due to Covid.
The game started early at 5:35pm in order to beat the worsening weather, but the teams were met with heavy rain and wind anyway. After the Pirate kickoff, Saucon Valley started on offense. The Panthers got ahead to an early lead with a touchdown pass to wide receiver Alex Magnotta. The extra-point was good and Saucon led 7-0 after the first minute of play.
Palisades was unable to move the ball out of their own territory and the opening quarter had Saucon pretty much in control. They increased their lead to 10-0 after a 29-yard field goal by senior Jacob Christopher.
When the Pirates had the ball in their possession, they drove down field but weren't able to find room for a touchdown run. On fourth down, kicker Michael Wallbillich came in and executed a 33-yard field goal to get the Pirates on the board. But with 27 seconds left in the first half, the Panthers snuck in a one-yard touchdown by quarterback Travis Riefenstahl. Saucon Valley led 17-3 at halftime.
The second half was back and forth with a general stalemate around the Pirates 40 yard line. The rain began to increase through the third quarter into the fourth making the ball and turf incredibly slippery.
Palisades started to make more use of their possessions but were unable to score. With ten minutes left in the game there was a temporary stop to the game after some of the lights went out.
After both sides agreed, play continued and with 3:43 left on the clock Saucon Valley's Damian Garcia scored a 34-yard touchdown. The extra-point kick by Christopher was good. That was the last scoring of the night.
The Saucon Valley Panthers won 24-3 over the Palisades Pirates. The Panthers finish with a regular season record of 5-5 while the Pirates finish 2-8.