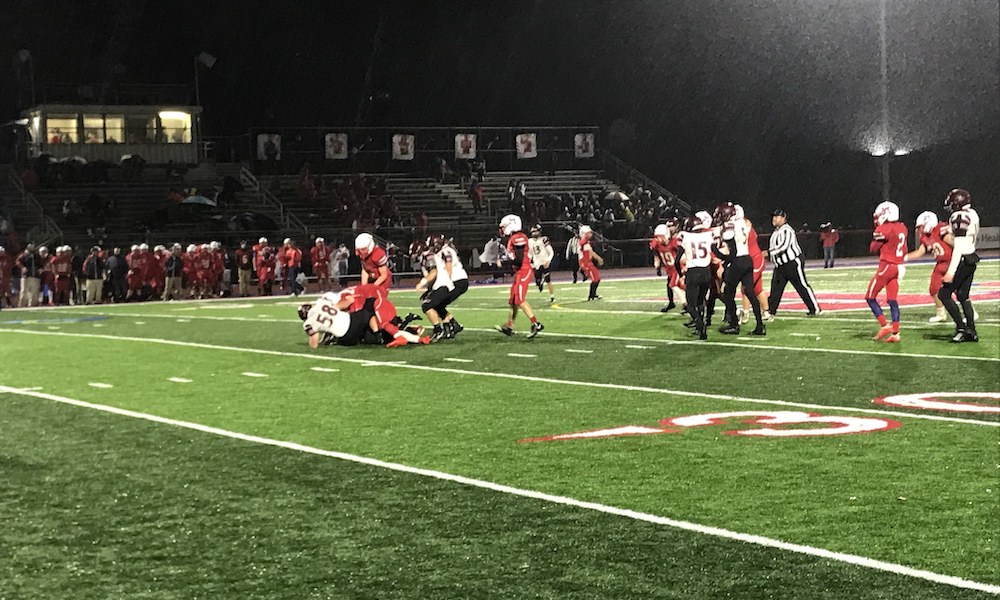 It was a windy and rainy night as the Jim Thorpe Olympians welcomed their rival the Lehighton Indians in the annual 209 Game on Friday, October 29th. Jim Thorpe entered with a 5-4 record, while Lehighton entered with a record of 1-8.
After stopping Lehighton on the opening drive, Jim Thorpe took over on Lehighton's 49-yard line. A couple of plays later, quarterback Brett Balliet hit his receiver Derryl Fisher for a 25-yard pass putting Jim Thorpe down in the red zone. Faced with a fourth and goal from the five, Balliet hit Benjamin Goldberg for a touchdown giving Jim Thorpe a 7-0 lead with 5:15 remaining in the first quarter. Jim Thorpe drove down the field on their next possession down to Lehighton's nine on a big 33-yard juggled pass from Balliet to Bryson Heydt. Jim Thorpe punched it in a couple of plays later on a five-yard run by Salvatore Capria giving Thorpe a 14-0 advantage over Lehighton at the end of the first quarter.
Jim Thorpe drove down the field for a 70-yard drive on their opening possession of the second half. The drive was capped off by a touchdown run by Camron Tinajero giving Jim Thorpe a 21-0 lead over Lehighton. Jim Thorpe added an insurance touchdown on a 21-yard touchdown run by David Fiorito. Lehighton scored their lone touchdown late in the fourth quarter on a four-yard touchdown run by Hunter Crum. Jim Thorpe defeated Lehighton 28-6 as time expired claiming the 209 Trophy for the fourth consecutive year.
For his rushing efforts on the night, Tinajero was awarded the D11Sports Player of The Game. Jim Thorpe improves to 6-4 on the year and will advance to the District XI 3A football playoffs. Jim Thorpe will travel to Notre Dame Green Pond to take on the Crusaders on Saturday, November 6th at 7:05 PM. As for Lehighton, they finish 1-9 on the season and do not qualify for district playoffs.