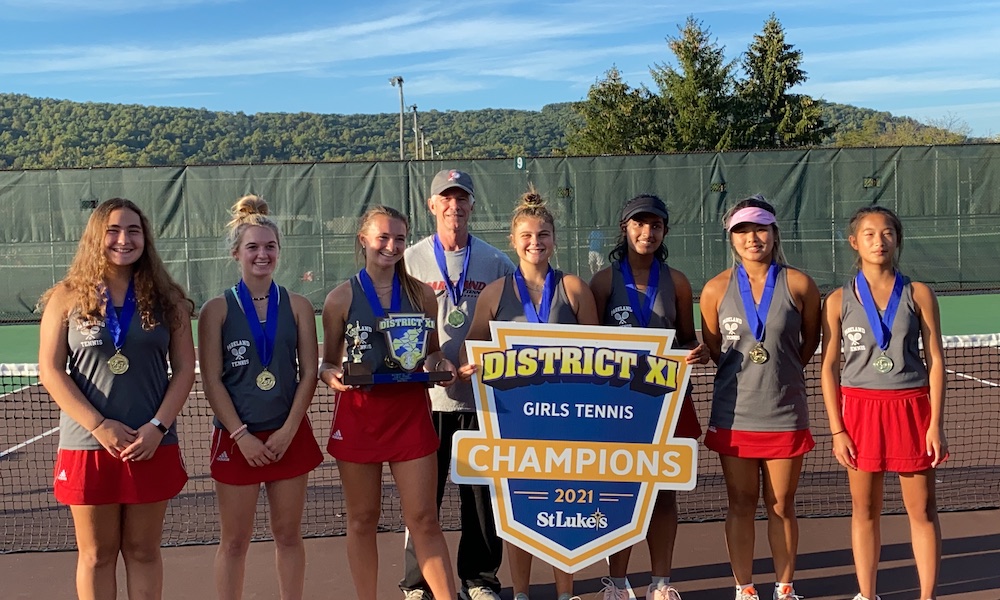 Lehigh University played host to the District XI Team Tennis Championships on Thursday afternoon. The 2a title match featured Bethlehem Catholic , the number two seed and Top seed and defending champion Moravian Academy, while the 3a title match pitted number 3 Stroudsburg and top seed Parkland.
Both matches were very entertaining, but the 3a match lasted nearly three hours before a winner was decided and a match that came down to the wire. The singles matches were never in doubt, with District Xi 3-time singles champion Paraskevi Briegel of Stroudsburg breezing past Erin Joo of Parkland 6-0 6-2 at number one singles. The Trojans controlled it from there as Leah Zolotareva beat Emma Schomberg 6-2 6-2 at number two singles and Gigi Leonzi posted a 6-1 6-0 win over Rachel Traub at number three singles.
As Parkland went up 2-1 in the match, the Stroudsburg duo of Lana Marsh and Sophia Loomis beat Sophia Petrocelli and Sophie Elijovich 6-3 6-2 at number two doubles to make it 2-2 and put all eyes on the number one doubles match. This one was a battle all afternoon, lasting more than three hours. Anshika Gupta and Kaila Miles of Parkland dropped the first set to Alison Willis and Katie Hosko of Stroudsburg 6-7, only to battle back at take the second set also in a tiebreaker 7-6.
The third set was all Parkland 6-1 as Gupta and Miles took control and with that the Trojans captured their second District XI 3a title in three years.
In the 2a class, Moravian Academy battled Bethlehem Catholic, with the Lions looking for the Three-peat and that got just that winning 3-0. The Lions got wins at number 2 and three singles and number two doubles to close out the Golden Hawks.
Francesca Bartolacci beat Taylor Adams 6-1, 6-0 at number 2 singles, Jamilie Atiyeh posted a 6-3 6-3 win over Isabella Bautista at number three singles, while Sophie Brands and Grace Wright beat Maddie Lennert and Ava Burkart 7-6 6-0 at two doubles. Cara Magliochetti of Bethlehem Catholic was leading her match with Isabella Bartolacci at number one singles and Patty Superka and Grace Hartman of the Golden Hawks were leading Yan Yu and Kachan Gupta in the 3rd set. Both matches did not finish after Moravian Academy was declared the winner.
The Lions have now won three straight titles and 10 Championships in the last 14 years.
Both teams now move on to the PIAA tournament, with Parkland in action Tuesday at noon at Winning touch, while Moravian Academy will hit the road for their first round matchup and face District t2 champion Wyoming Seminary.
SIGHTS AND SOUNDS- @MoravianAcademy beats @Becahi_Hawks 3-0 to 3-peat and capture their 10th @PIAADistrictXI 2A Tennis title in 14 years. @mystlukes pic.twitter.com/IYb3bL6yEy

— D11Sports (@D11Sports) October 15, 2021
CHAMPIONSHIP REWIND: Here is a look back at some highlights of the @PIAADistrictXI 3A Team Tennis Championships won by @parklandtrojans over @sburg_ath_activ 3-2. @mystlukes @ParklandAthlet1 @ParaskeviBrieg1 @ParklandSchools pic.twitter.com/Lzqw0qJJk0

— D11Sports (@D11Sports) October 15, 2021
ON TO STATES: @parklandtrojans Head Coach Mike Hingston talks about his teams performance on the court as they battled to the very end to beat a very good @sburg_ath_activ team and win the @PIAADistrictXI 3A Team Tennis Championship. @mystlukes @ParklandSchools @ParklandAthlet1 pic.twitter.com/GZ8Zl2FVy4

— D11Sports (@D11Sports) October 14, 2021
MEDAL AND TROPHY PRESENTATION: @ParklandAthlet1 beats @sburg_ath_activ 3-2 to win their second @PIAADistrictXI 3A Team Championship in three years. @ParklandSchools @parklandtrojans pic.twitter.com/jByVDJDUbY

— D11Sports (@D11Sports) October 14, 2021
WHAT A MATCH. @ParklandAthlet1 beats @sburg_ath_activ 6-1 in the 3rd set and wins the 2021 @PIAADistrictXI 3A Team Tennis Championship in a match that lasted over three hours. pic.twitter.com/O7V9gfqrFD

— D11Sports (@D11Sports) October 14, 2021
THREE-PEAT FOR THE LIONS— @MoravianAcademy Head Coach Rick Brown talks about his team and how they worked hard to beat @Becahi_Hawks and talk home their 3rd consecutive @PIAADistrictXI 3A Championship. pic.twitter.com/5G42fLCGH0

— D11Sports (@D11Sports) October 14, 2021
THE BATTLE CONTINUES: The @PIAADistrictXI 3A Championship between @ParklandAthlet1 vs @sburg_ath_activ is still going on. The Match is tied at 2-2 and the number one doubles to decide a winner— is even at one set a piece. Some great doubles points in this one. @mystlukes pic.twitter.com/302WXJIH1U

— D11Sports (@D11Sports) October 14, 2021
MEDAL AND TROPHY PRESENTATION: Moravian Academy wins their 3rd straight @PIAADistrictXI 2A Tennis Championship over Bethlehem Catholic. More to come!!! @MoravianAcademy @Becahi_Hawks pic.twitter.com/xeq4zv0amo

— D11Sports (@D11Sports) October 14, 2021
The feature match in the 3A Team Championship features a rematch of the @PIAADistrictXI Singles championship between Erin Joo vs Paraskevi Briegel. @sburg_ath_activ @ParklandAthlet1 @ParaskeviBrieg1 pic.twitter.com/Q1o3ZZpCdb

— D11Sports (@D11Sports) October 14, 2021
CHAMPIONSHIP THURSDAY: Lehigh University the site for the @PIAADistrictXI Team Tennis Championships.The 3A final will feature #3 @sburg_ath_activ vs #1 @ParklandAthlet1 while 2A title match features #2 @Becahi_Hawks vs #1 @MoravianAcademy. pic.twitter.com/BjW8UCqr3Z

— D11Sports (@D11Sports) October 14, 2021