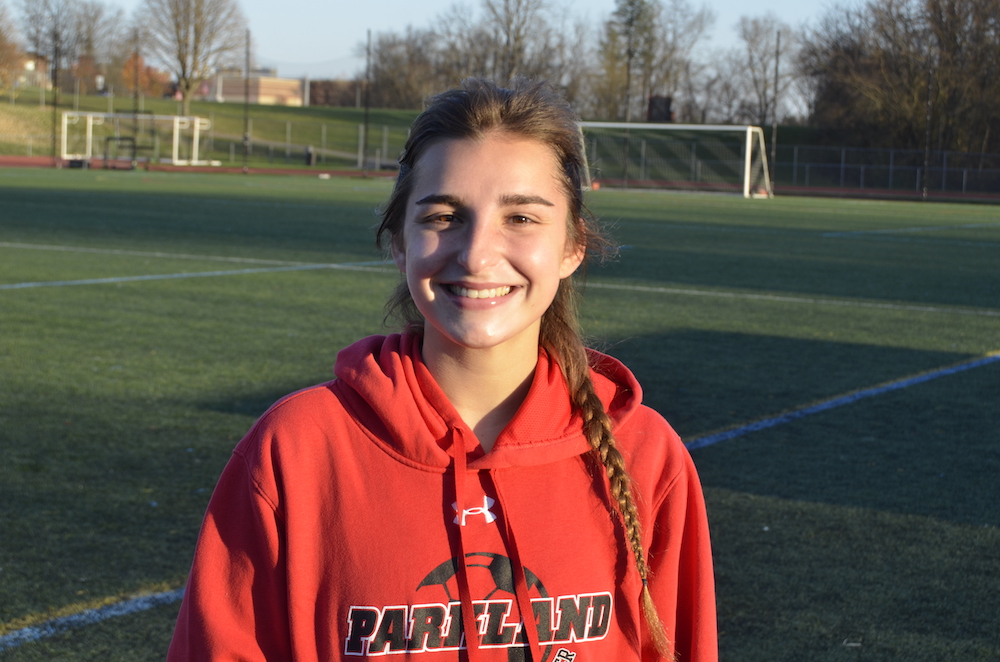 Parkland's girls' soccer team doesn't fear the unknown.
The Trojans simply adapt and overcome.
Facing an unfamiliar foe, it didn't take Parkland long to pick apart Williamsport in a 3-0 victory in the PIAA Class 4A quarterfinals on Saturday.
"What we told the girls is we know nothing about them, but we do know that they won a district championship (District 4) and they didn't give up any goals," Trojans head coach Al Haddad said of the Millionaires. "So that we have to respect.
"Our job when we play a team like this, one of the things that we focus on in the first two to three minutes, is understand the mirror. If I'm a right back, know that that left forward is all about; understand what kind of athlete she is. If she's a little bit better than you, OK. But if you're better than her, let's go at them. And I thought after the first three or four minutes, our girls knew that it was going to be a matter of time."
The victory sends Parkland to the Class 4A semifinals and a date with District 1 champion Pennridge on Tuesday.
Against the Millionaires, a team the District 11 champion Trojans had never played in 33 years, they worked quickly to establish control.
First half goals by Alex Marsteller and Aristea Gougoustamos set the tone for another dominant Parkland performance.
"We knew we had to come out and play hard and play our game, and that's what ultimately led to the win," said Marsteller. "I think that's what we did a really good job of, and our defense played very well."
The quick start carried over into the second half, where Marsteller recorded her second goal of the contest to push the lead to 3-0.
"It's huge, because it allows the girls to run downhill," Haddad said of the quick start. "Anytime you can get up on somebody, especially when you are controlling the possession of the game, it builds a confidence level in you that says, 'We're gonna get another.'
"And that's what they knew. They knew the goals were going to come."
The Trojans held a 7-0 advantage in shots on goal in the first half.
"In the beginning of the game, the center backs kind of stepped up to our center forward, Emma Schock, and there was a little space in behind so I had the opportunity to make some runs," said Marsteller. "I scored the one goal, but then I had another opportunity, and I just kind of kicked it to the goalie.
"I think the runs in behind were really on because we spread out the defense and brought them forward and I think me and Demi (Olatilo) both had opportunities to get in behind and that's how I had my chances to score."
Parkland also had several opportunities in the second half, including one where Schock took a ball in front of the net and pushed it just over the crossbar.
Marsteller's play has been vital throughout the postseason run.
"She's a tremendous leader," said Haddad. "She's a been a two-year leader, a great technical skill set; she has speed; she understands the game, where to be and what to do.
"And I thought Demi (Olatilo) played a great game, along with Emma (Schock) up top and Zuzu (Mohamed) on the right side. I think the girls all stepped up to a level that starts to say, 'Why not us?'"
The Trojans' also recorded another shutout after posting three in the district tournament.
"I think that we played very well, but I think that we haven't fully played an 80-minute game hard," said Marsteller. "I think our district championship (a 2-0 win over Nazareth) was a very hard game, but I still don't think that it was a complete 80-minute game when everyone is going hard for 80 minutes, and it's a hard game and intense.
"I think that Pennridge will be a very good competition to play on Tuesday to show us that."
Parkland is prepared for whatever comes next. Just like it has been all season.
"We know without a doubt that the opponent we're going to face on Tuesday is going to be an even stronger opponent," said Haddad. "You get one day of practice to try and think about it, and hopefully find some scores that give you an idea.
"But we're going to have a barnburner on Tuesday night."
DISTRICT DOMINANCE … Parkland's shutout victories in the district tournament came with a 3-0 win over Northampton; a 1-0 victory over Easton; and a 2-0 triumph against Nazareth to claim the title.