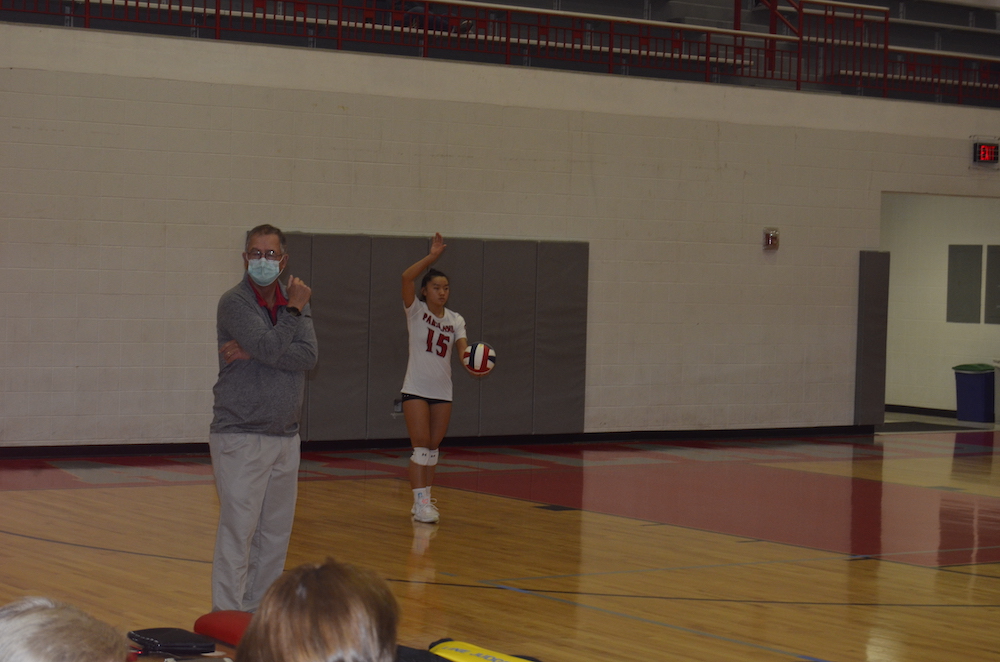 Excellence is earned.
No one knows that better than the Parkland girls' volleyball team.
A dominant force in District 11, the Trojans have won seven titles in a row.
But there's something else they're after.
A spot in the state final is something an already accomplished program yearns for. Parkland took a step closer to that goal by sweeping Delaware Valley 25-18, 25-10, 25-12 in the PIAA Class 4A quarterfinals on Saturday.
The Trojans will play District 1 champion Unionville Tuesday in the semifinals.
"I think coming from Parkland, and this big of a team, I think we have a really big legacy (and a big target on our back)," said senior Leah Brunnabend. "So we just try to play the best we can, and control what we can control. Being in this just really means a lot to us."
Parkland fought off a strong challenge from the Warriors, champions of District 1, in the first set.
Delaware Valley held a 13-10 advantage before the Trojans put together a 6-0 run after a timeout to take the lead and never trailed before closing out the first set.
"Defense is a really strong part of this team, even our offense and our hitters are really good at it," said Brunnabend, who is the team's libero. "In practice, we work on that a lot, just making those scrappy plays and I think those plays are what helps us get the energy that we need to continue on throughout the game."
An error in the rotation during the first set caused Parkland some trouble, but it didn't last long.
"That was on me," Trojans' head coach Mike Krause said of the issue. "We tried something, which was good, because there could be a situation where if we do get out of sync, they felt uncomfortable and they experienced that, but they kept on coming back. And that's what helped us a lot."
Parkland flexed its muscle the rest of the way, keeping Delaware Valley from mounting a comeback.
"I think coming into it, we were very jittery," said Brunnabend. "We didn't know much about them. Just coming in, especially after that timeout that we had (trailing 13-10 in the first set), just made us come together, control our side and relax a little bit to come back out on the court and be strong."
Krause praised Brunnabend's ability to help the Trojans shake off the sluggish start and hit their stride.
"I think Leah did a heck of a job," he said. "Her passing, and defense – she had her 1,000th dig this year – she's really stepped up on defense and her passing has really given us stability with that first contact.
"(Defense) has to be (the backbone). Because we're not going to terminate on the first play, but we're going to get our opportunities the second and third time across the net. It's defense, and she's the one that's responsible for it."
In a season of uncertainty caused by the coronavirus pandemic, Krause attributed his team's success to its veteran leadership.
"The opportunity and the chance to be here is really special because of the unknowns," he said. "But the kids came into the gym expecting to (be here); that's the only thing we could do, is do what they could control and just hope that it would stay in system as far as repetition.
"They did a really good job of that. Our senior leaders, Leah (Brunnabend), Emily (Mohr) and Jackie (Malitzki), they are great communicators and they kept everybody with that expectation that we're going to play until they tell us no."
Where they're going now is back to the state semifinals.
The Trojans have seen their season come to an end in this round of the state tournament for the last three seasons, falling each time to Bishop Shanahan.
"I think the biggest thing is to make sure they know what they can accomplish," said Krause. "We try to instill in them the opportunity that's in front of them, that they can do this, and to be hungry to do this.
"They know that this can be over in the blink of an eye, like the other teams that aren't playing right now. And that's again a tribute to our seniors."
SERIOUS SUCCESS … The Trojans won back-to-back state titles in 2014 and 2015 and also made it to the final in 2016. They have won the last five District 11 Class 4A titles, and previously captured two straight 3A titles in 2014 and 2015 before the classification expanded to four.