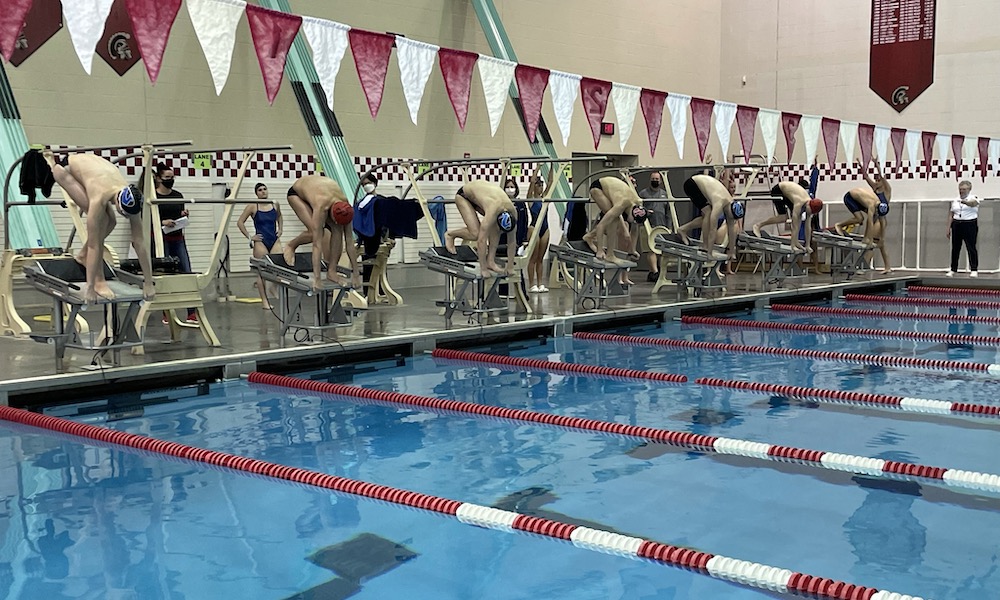 The Parkland Swimming and Diving Teams hosted Nazareth on Tuesday. The Parkland girls advanced to 5-0 with a 128-57 over the Blue Eagles while the boys team lost to Nazareth 101-85, falling to 3-2 on the season. Both teams put on a show for the large crowd which also featured many of Parkland's future Trojans on hand to watch the meet.
The Lady Trojans kicked off the meet with an exciting 200 medley relay (Sophia Cerimele, Sada Fleischaker, Kayla Johnson, Claire Weaver) that out touched Nazareth's medley relay by .09 seconds. Senior Kayla Johnson won both her individuals, the 200 free and the 100 backstroke. Senior Claire Weaver tied for first in the 50 free with Nazareth swimmer Cameron Alvino, and won the 100 free. Additional event winners included junior Natasha Goldman in the 200 IM, sophomore Sophia Cerimele in the 100 fly, and junior Sydney Platt in the 500 free. As for diving, senior Nicole Stofko placed first with a score of 196.70 and senior Leah Webb placed second with a score of 166.50.
The boys put up a battle against Nazareth just falling short of a victory. There were still plenty of great swims and dives along the way. Senior Nick Zaffiro placed first in the 200 IM. Senior Luke Willard had an impressive swim in the 100 fly and placed first by .34 seconds. Another great swim on the boys side was senior Harrison Kim's first place finish in the 100 breast. Leading the 1-2-3 finish for diving with a score of 282.20 was senior Ethan Radio, in second was junior Ryan Beltrame, and in third was freshman Bradley Kunz.
The next meet for Parkland will be against Whitehall at Parkland on Friday starting at 4:00pm. The team will continue to keep pushing themselves and working hard as they move closer to districts and the championship season. Good luck teams.